Mocktails go mainstream

---
These days, creative concoctions aren't reserved only for those willing to imbibe. Mixologists at local bars and restaurants are now putting as much effort into their non-alcoholic mocktails as they are into the strong stuff. Pair your pulled pork with a unique "spirit-free cocktail" at BRQ, where the bartenders aren't afraid to put something bubbly beside the hearty barbecue fare. Pictured above, the Think Pink combines raspberries and blueberries with ginger beer and Sprite, while the Strayhound takes things in a tart direction with lemon, lime, ginger, blackberries and basil, plus a splash of grapefruit soda.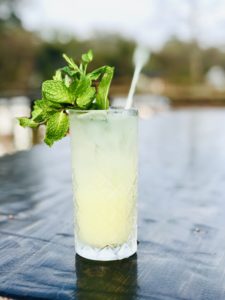 This Perkins Road Overpass hotspot might be getting a lot of buzz, but you won't when you partake of one of the bar menu's mocktail options while hanging out on the rooftop deck or in the Relic Room. The Patio Surfer is a mashup of mint leaves with ginger beer, lime juice and almond-infused Orgeat syrup. Also available is a rotating assortment of housemade seasonal lemonades—available plain or spiked—in flavors like blood-orange honey turmeric and ginger rosemary.
The new mocktail menu at Beausoleil includes the Lavender-Lime Fizz, which features lavender syrup and soda finished with blueberries and lime peel. Other options include the Spicy Grapefruit Sodarita, which turns up the heat on grapefruit and lime juices with the addition of pineapple habañero, and the Mocktail Mule, which comes complete with a copper mug—minus the vodka.
Don't let the name throw you. This hot new Government Street spot offers plenty of cocktails—and non-alcoholic drinks—along with its extensive lineup of lagers and IPAs. Let herbs refresh your palate when you order the Blackberry Basil Sparkler, which also features a tangy note of lemon, or go for the Sparkling Rose Lemonade, infused with ginger and pure rose extract. New Orleans-brewed Big Easy Bucha, Louisiana's nod to the probiotic beverage known as kombucha, is also on tap in a variety of flavors.