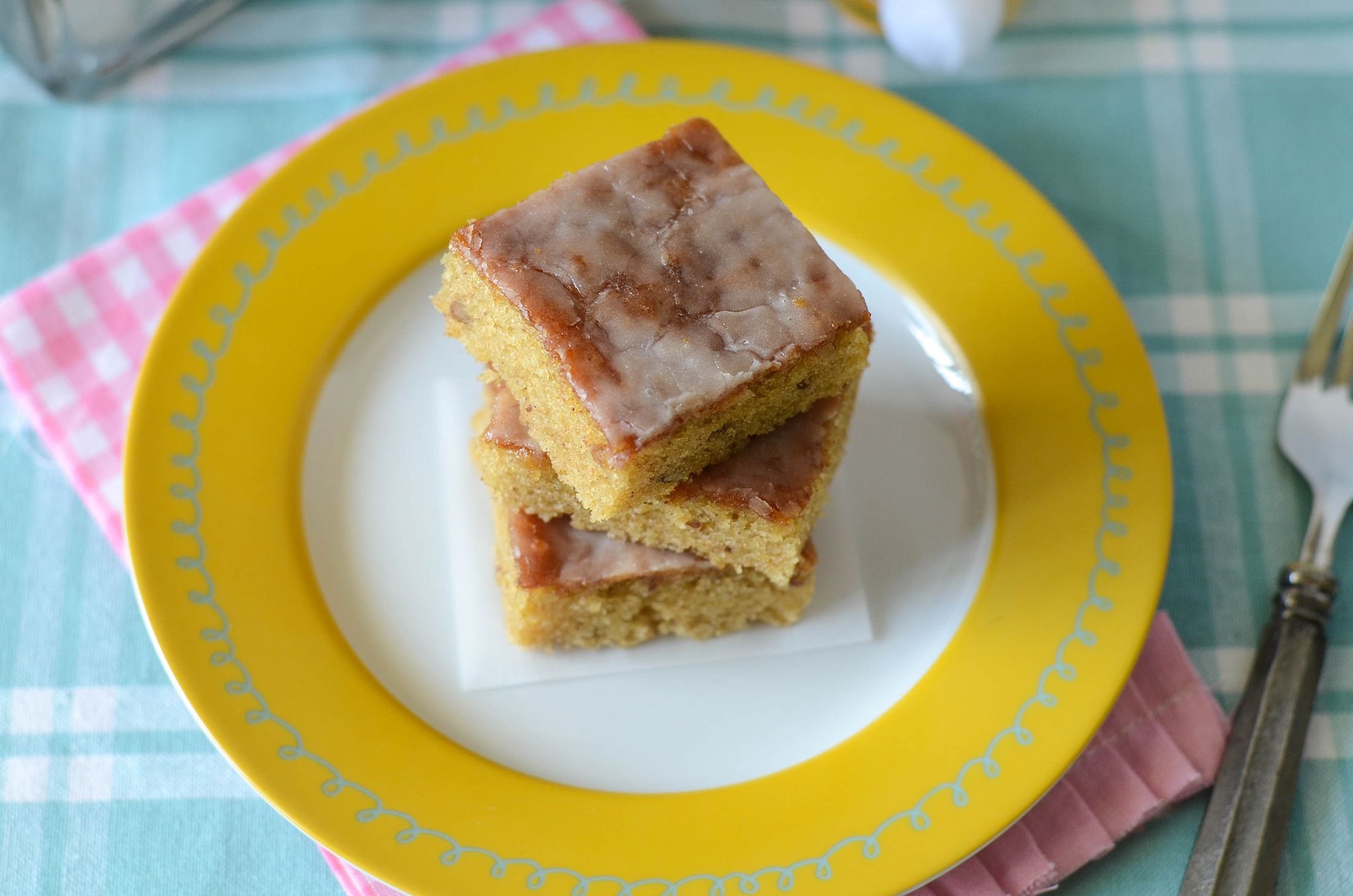 Aimee's Pretty Palate: Topping the Easter table
While April showers may very well bring May flowers, I am most looking forward to April's Easter celebrations. When I sat down to compile the recipes I wanted to share with you, however, I became downright paralyzed. Do you celebrate with brunch? Prefer a casual lunch? Or full-on family holiday pull-out-the-china-and-let's-have-ham kind of celebrate? I always aim to include something that will be beneficial for your personal celebrations and, well, it would be helpful if I knew what that was!
Growing up, my family was far from traditional. In fact, we celebrated Easter Sunday with a change of church clothes and an afternoon crawfish boil complete with an oversized handmade lazy Susan designed by my grandfather specifically for his famed picnic- table crawfish boils. My husband's family is far more traditional.
Our compromise is a bit of both.
The Chicken & Pecan Waffle Bites are bite-size perfection for brunch celebrations. Homemade honey butter plus crispy chicken plus pecan waffles equal a salty-sweet combination made in heaven. Watch how fast they disappear!
I have also included an easy Carrot Soufflé recipe for those of you who prefer a more traditional route. You've probably seen a variation of this recipe in any tried-and-true old-fashioned heirloom cookbook. My recipe came from a handwritten note in my grandma Eloise's sorority cookbook with a 4-star annotation and a message to include cinnamon. I've taken the liberty to add powdered sugar as well, mainly because Carrot Soufflé isn't the most aesthetically pleasing dish on its own.
And finally, it would be uncharacteristic of me not to include a dessert. The Honey Bun Cake tastes exactly as it sounds—like a honey bun in cake form. In fact, I find it even better than a store-bought honey bun because of the slightly hardened icing on top. Y'all. Somebunny in your family would like this for Easter. Get it? "Somebunny?" I'll go now. Happy Easter!
---
Chicken & Pecan Waffle Bites with Homemade Honey Butter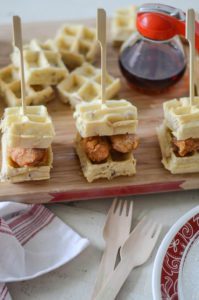 What could be better than chicken and waffles, you say? Bite-size chicken and waffles! These beauties are perfect for brunch entertaining and a crowd pleaser for adults and children alike.
Pecan waffles:
2 cups all-purpose flour, sifted
3 tsp. baking powder

1

⁄4 tsp. salt


3

⁄4 cup pecans, chopped
2 eggs, separated
1

1

⁄2 cups milk
6 Tbsp. butter, melted
Sift together first 3 ingredients, then add pecans. Beat egg yolks until light and fluffy; combine with milk and butter, then add to dry ingredients, mixing just until smooth. Beat egg whites until stiff and fold into batter. Cook in a hot waffle iron. Keep warm in a 200-degree oven until ready to serve.
Chicken:
1 lb. chicken tenderloins, cut into bite-size pieces
2 Tbsp. Creole seasoning
1 egg

1

⁄4 cup milk
1 cup all-purpose flour


1

⁄4 tsp. pepper


1

⁄4 tsp. dry mustard
Vegetable oil
Toss cut-up chicken pieces in Creole seasoning. Set aside. Whisk egg and milk together in a shallow bowl; set aside. Combine flour, pepper and mustard in another shallow bowl. Working in batches, dip seasoned chicken into egg, then into flour mixture. Place chicken on a cooling rack lined with paper towels and allow to rest before frying.
Heat about 1 inch vegetable oil in a deep fryer (I have a mini Fry Daddy that I use just for this purpose) to 340 degrees. Fry chicken pieces until golden brown and crispy, about 5 minutes. Drain.
Honey butter:

1

⁄2 cup butter, softened


1

⁄4 cup honey


1

⁄4 tsp. cinnamon
Place all ingredients in a bowl and whip with an electric hand mixer until mixture is light and fluffy. Refrigerate until ready to use.
To assemble:
Cut each waffle into 4 squares. Top 1 waffle square with a piece of chicken, followed by a dollop of honey butter, then a second waffle square. Hold together with a skewer or toothpick. Serve with warm maple syrup. Makes 6-8 servings.
---
Carrot Soufflé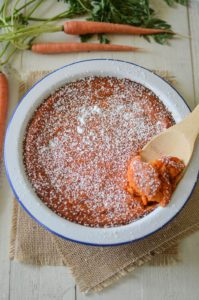 Don't think you have to be a fan of carrots to love this Carrot Soufflé. Coming from a girl who eats around carrots in a chicken pot pie, this dish is an Easter Sunday staple in our home.
1
1

⁄2 lbs. peeled carrots, sliced


3

⁄4 cup sugar
1

1

⁄2 tsp. baking powder
1

1

⁄2 tsp. vanilla extract
2 tsp. cinnamon
2 Tbsp. flour
3 eggs
1 stick butter, softened
Powdered sugar (enough to sprinkle over top)
Boil carrots over medium-high heat until soft and tender; drain. While carrots are warm, add sugar, baking powder, vanilla and cinnamon to a stand mixer and whip until smooth. Add flour. Beat eggs separately, then add to carrot mixture, blending well. Add butter. Once well blended, pour mixture into a baking dish and bake at 350 degrees for about 1 hour or until top is light brown and mixture is no longer wiggly. Allow to cool slightly, then sift powdered sugar on top prior to serving. Makes 6-8 servings.
---
Honey Bun Cake Squares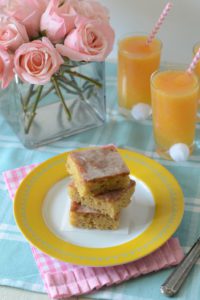 1 box yellow cake mix
1 box instant vanilla pudding mix
1 cup buttermilk

3

⁄4 cup vegetable oil


1

⁄2 cup sugar
4 eggs
1 cup light brown sugar
3 tsp. cinnamon
1 cup pecans, chopped
1 cup powdered sugar
1 teaspoon vanilla extract
3 tablespoons milk
Preheat oven to 350 degrees. Grease a 9 x 13-inch baking dish; set aside.
In a stand mixer, mix together cake mix, pudding mix, buttermilk, oil, sugar and eggs. In a separate bowl, mix together brown sugar, cinnamon and pecans. Fold into batter and combine by hand. Bake for 30 to 35 minutes or until a toothpick inserted into center of cake comes out clean.
For icing, mix together powdered sugar, vanilla extract and milk. Pour over cake while warm. Cut into small squares. Makes 8-10 servings.
---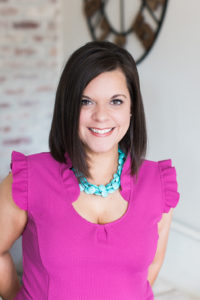 Aimee Broussard is a Southern food blogger and award-winning author. Her recent cookbook Picnics, Potlucks & Porch Parties debuted exclusively on QVC. Join Aimee for weekly recipes with a side of Southern hospitality on her blog, southernfromscratch.com.