Aimee's Pretty Palate: The Canine Mushroom Movement
---
Until recently, mushrooms and I did not have the best relationship. I attribute that to having been exposed to canned mushrooms years ago. While others raved over topping their pizzas, I turned up my nose confident in my decision to let the mushroom aficionados enjoy their slimy delicacies in my absence.
It wasn't until a couple of years ago when I began transitioning my dogs away from kibble under the advisement of VetNaturally's Dr. G that I began to give mushrooms a second glance. It was during that time I discovered mushrooms (ones falling into the medicinal category) routinely included in holistic veterinarian recipes due to the overwhelming presence of health benefits, specifically in the prevention and treatment of certain types of cancer. As a result, I slowly started adding fresh, sauteed mushrooms to my own diet.
In the spirit of kicking off the new year on a healthy note, one that includes our furry friends, I am sharing some ways to incorporate mushrooms into your pet's diet. To aid in digestion, mushrooms need to be cooked and not served raw.
Similar to adding bone broth for added nutrients and hydration to your dog's diet, the same is true for adding a mushroom broth. Inspired by The Forever Dog book author Dr. Karen Becker, the Mushroom Broth Meal Topper users fresh shiitake and lion's mane mushrooms purchased from local mushroom producing powerhouse Mushroom Maggie's, the owners of which I met at the Farm to Menu Benefit Dinner featured on page 50. The shiitake mushroom, known in Asia as a "superfood," has been proven to protect against cell damage, support the immune system against cancer, and boost white blood cell production. Lion's mane mushrooms benefit mental and physical health and get added to our simmering pot on occasion as well.
My Mini Turkey Mushroom Meatballs became a lifesaver for getting my senior dog Tucker, for whom The Rally Bear Foundation was established last July, to take his many medications. The medications, combined with all the supplements and Chinese herbs he was being given, were quite obnoxious, and concealing the medications became a challenge. That is, until I began stuffing them into meatballs. Meatballs are also how I incorporated a nutritious topper into my other dog's meals as well. I now make them every single Sunday evening without fail, rotating the addition of mushrooms (either fresh or powdered) every other week.
Speaking of Sundays, include your doggos in your Sunday brunch plans with some mini Veggie and Mushroom Egg Cups. They are quick to make and your canine crew will go absolutely nuts over them. You can also take a bite if you insist, but probably want to add a bit of seasoning to yours.
Bone appetit!
These recipes are provided as nutrition-boosting additions and not recommended as balanced diets. While the author is a passionate pet owner who does her research, it is recommended you consult with your veterinarian or animal nutritionist when incorporating new foods into your pet's diet.
---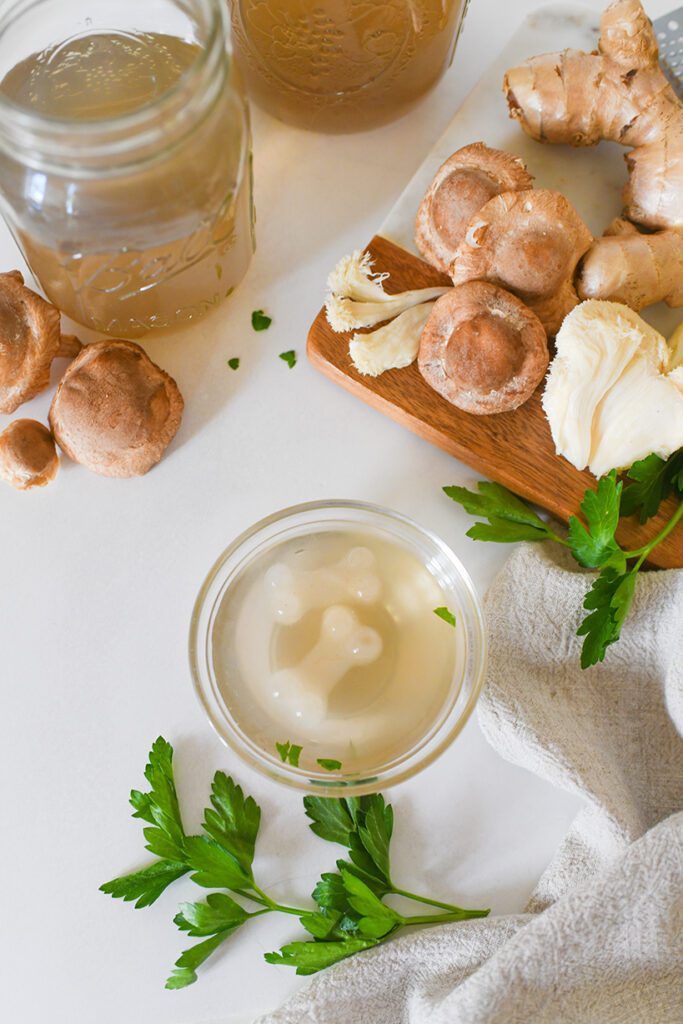 Mushroom Broth Meal Topper
Ingredients:
2 cups filtered water
1 cup fresh shiitake mushrooms (or other mushrooms of choice like maitake, turkey tail, reishi, etc.)
½ tsp. grated ginger

¼

tsp. turmeric powder
1 Tbsp. finely chopped fresh parsley
Combine all ingredients in a large pot and simmer for 20 minutes. Allow to cool, then purée in a blender until smooth. Using a fine mesh sieve, strain (if desired) into a large mason jar to remove any pulp.
Serve over your dog's routine meals for additional nutrients and hydration, or pour into an ice cube tray and freeze for later use. They can be served as an ice pop in warm weather months, thawed and reheated to accompany meals, or served as snack water.
Recommended dosage is 1 ounce for every 10 pounds of body weight.
Broth can be stored in an airtight glass container in the fridge for 5 to 7 days or in the freezer in a freezer-safe bag for up to 3 months.
---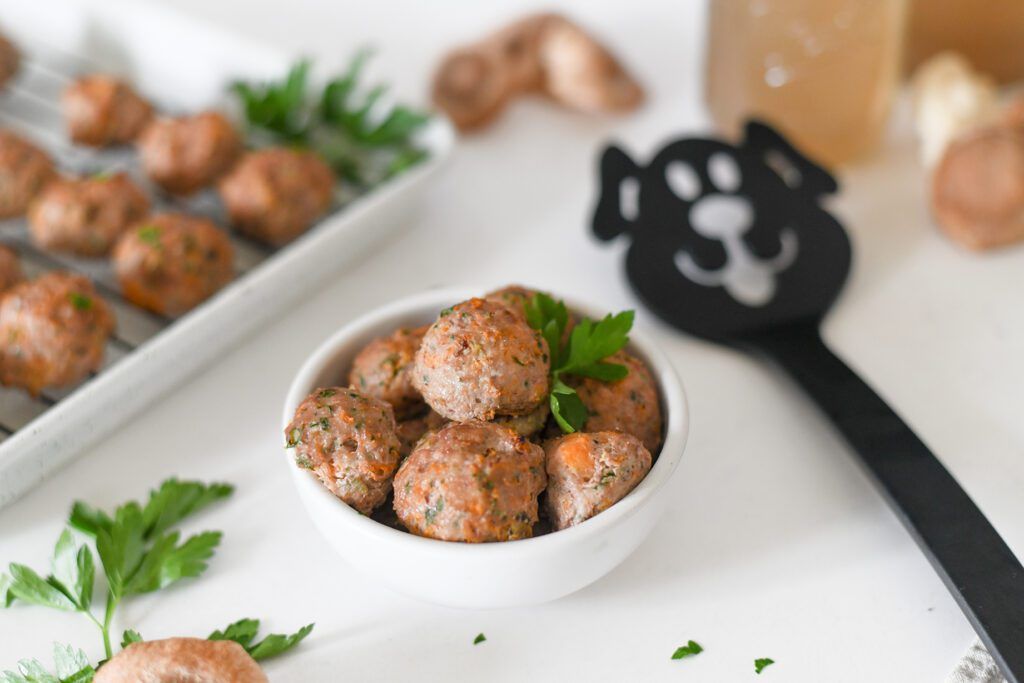 Turkey Mushroom Mini Meatballs
Ingredients:
1 lb. ground turkey
1 Tbsp. fresh ginger root, grated
6 oz. butternut squash, finely chopped
4 oz. kale, finely chopped
4 oz. shiitake mushrooms, finely chopped
Preheat oven to 325 degrees. Line a rimmed baking sheet with aluminum foil (for easy cleanup); set aside. (Because we are not adding eggs or rice, these meatballs will release a lot of moisture as they cook.)
In a large bowl, combine all ingredients. Use a mini cookie scoop to form meatballs and place on prepared baking sheet. Bake for 25 to 30 minutes or until centers of meatballs are no longer pink. Once cooled, serve as a snack, in lieu of a pill pocket to conceal medications, or as a tasty dinnertime addition.
Meatballs can be refrigerated for up to 1 week or frozen and thawed when needed for up to 3 months when sealed in an airtight container.
Makes approximately 24 mini meatballs.
---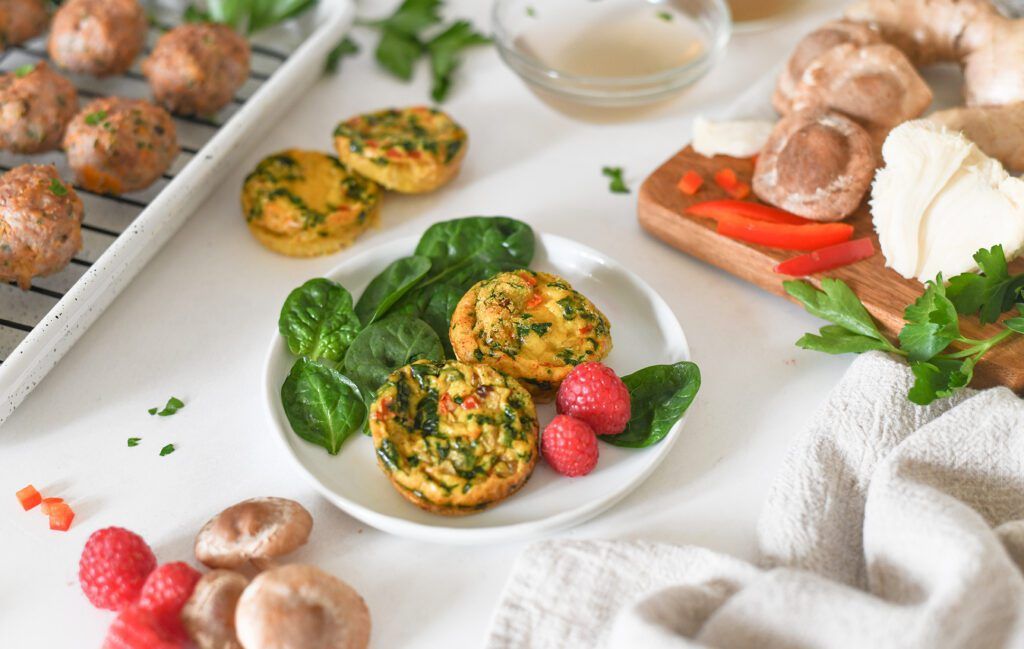 Veggie and Mushroom Egg Cups
Ingredients:

¼

cup baby spinach, finely chopped
1 Tbsp. red bell pepper, finely chopped
1 Tbsp. shiitake mushrooms, finely chopped
3 large eggs
1 tsp. freshly grated ginger root


½

teaspoon turmeric
Preheat oven to 350 degrees. Spray a mini muffin tin with nonstick cooking spray, or brush with olive oil and set aside.
In a small skillet, heat 1 tsp. coconut oil over medium-low heat. Sauté spinach, red bell pepper and mushrooms until bell pepper begins to soften, about 3 or 4 minutes.
In a medium bowl, whisk eggs together with ginger and turmeric. Add sautéed vegetables. Fill each muffin tin cavity with about 2 Tbsp. egg mixture. Bake for 25 minutes or until egg cups are no longer runny. Leftover egg cups can be refrigerated in an airtight container for up to 3 days.
Note: Don't be alarmed when egg cups rise in oven but the lack of structure causes them to deflate once cooled. You can add a bit of flour if you prefer them more muffin like.
Makes 8 mini muffins.
---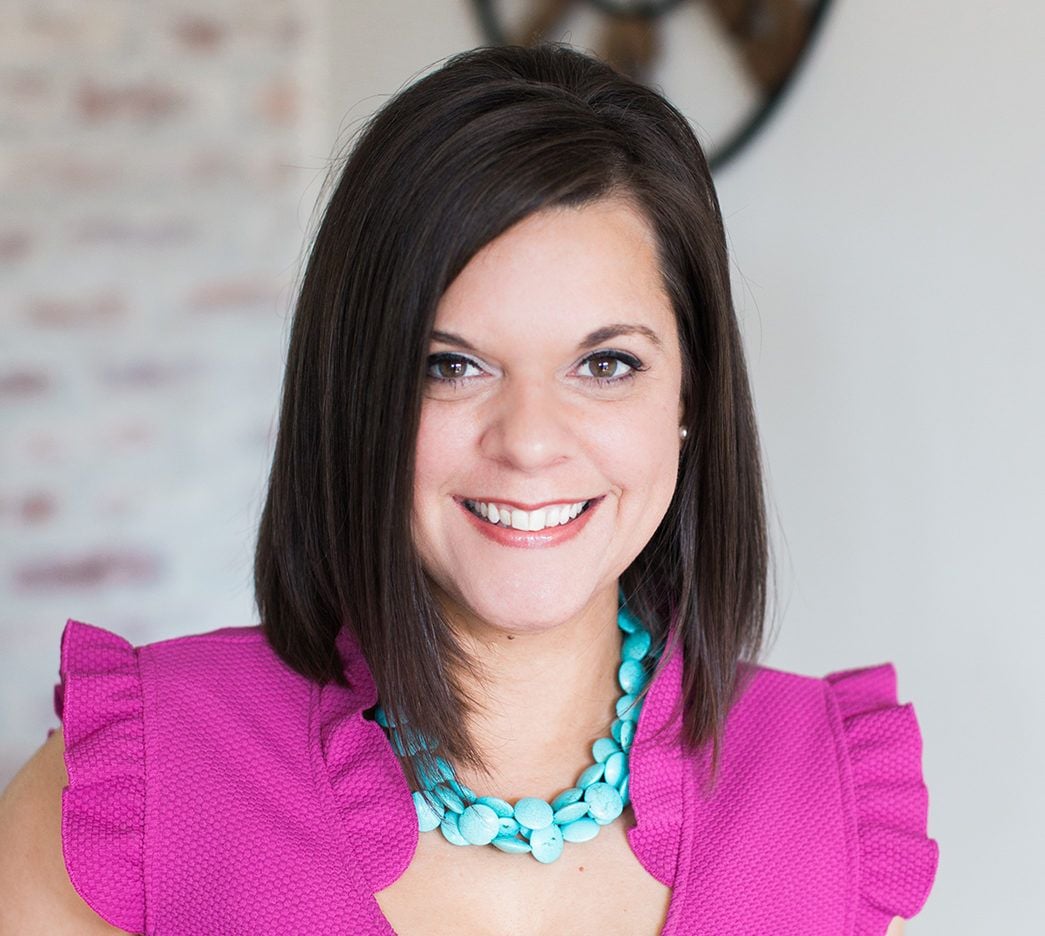 Aimee Broussard is a Southern food blogger and award-winning cookbook author. Seen on QVC, Rachael Ray and more, she is a self-proclaimed accidental entrepreneur with a penchant for porches and sweet hospitality. Find her online at aimeebroussard.com.