Local jewelers share the sparkliest trends in engagement rings
Wedding season is in full swing, and that means engagement ring shopping. This bauble, like nothing else you'll ever own, is a personal yet public expression of a shared and enduring love.
Perhaps it's no surprise, then, that while 94% of men proposed to their beloved with an engagement ring in hand, most of them didn't choose the ring entirely on their own, according to the most recent Engagement & Jewelry Study by The Knot.
"The trend now is that the bride-to-be is more involved," says Lee Michaels Bocage store manager Anthony O'Connor. "It isn't about you surprising her, it is getting her what she wants, and the new bride wants to be involved in making her ring her own."
Showstoppers are definitely what women are looking for these days, and the hottest of these settings is the halo ring. Halo rings are favored for their slightly vintage appeal. And due to the halo design, the solitaire appears larger than actual size. "Halos are a beautiful way to accentuate the center stone and can be used with any shape diamond to make the ring appear larger and more eye-catching," says Johnny Patrick of Patrick's Fine Jewelry and Gifts.
Staging a comeback this year are rings in yellow gold. Adds Patrick, "White gold and platinum use to be the go-to trendy pick for young couples, but now we're seeing more and more brides turn back to classic yellow gold styles."
Shopping for engagement rings is no easy task, as there are simply too many beautiful options to consider. Timeless and classic engagement rings are a symbol of love and commitment—and a purchase that will last a lifetime.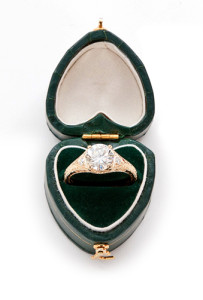 14kt yellow gold filigree setting with 1.31ct center diamond, $9,500; Barker's Antique Jewelry; Photo by Kleinpeter Photography
Platinum ring with 1.40ct round brilliant-cut diamond surrounded by .65ct of baguette and round diamonds, $15,990;
Classic Jewelers;
Photo by Kleinpeter Photography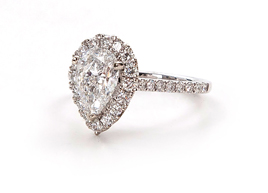 14kt white gold halo ring with 1.50ct pear-shaped center diamond surrounded by .62ct diamonds, $14,7000; Robert Roth Jewelers; Photo by Kleinpeter Photography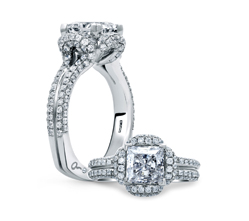 14k white gold ring with 1.51 center diamond surrounded by .98ct of diamonds in a semi-halo and halfway down shank, $18,600; Hannon Jewelers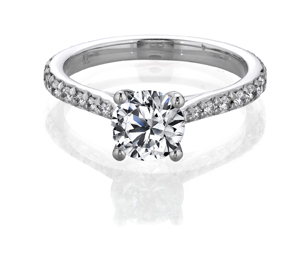 14kt white gold ring with 1ct round center stone and pavé diamonds down shank, $8,000; Lee Michaels Fine Jewelry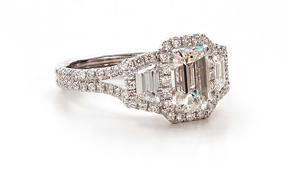 $12,700 18kt white gold ring with 1.51ct emerald-cut diamond surrounded by .59ct round brilliant-cut diamonds and two .45ct trapezoid diamonds, $12,700; Anton's Fine Jewelry; Photo by Kleinpeter Photography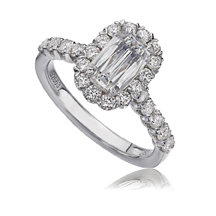 18kt white gold ring with 1.20ct rectangular brilliant-cut diamond and shared prong round full-cut diamond halo and 0.78ct shoulder accents; $9,500; Boudreaux's Fine Jewelers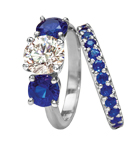 Platinum ring with 1.50ct diamond and 1.16ct round/brilliant-cut sapphires; 18k white gold eternity band with 26 sapphires; Prices upon request; Adler's
18kt white gold ring with 1.11ct emerald-cut diamond accented by .22ctw trapezoid diamonds surrounded by .54ctw diamond halo and shank; $16,900
Patrick's Fine Jewelry; Photo by Kleinpeter Photography