Just press play: Sentimental videos are the new wedding albums
Like miniature Nicholas Sparks movies, wedding videos are taking the place of the still photos that fill the pages of albums. These videos aren't just footage of the day's events, however. They are artful videos complete with romantic soundtracks, behind-the-scenes clips, voiceovers, and more, all of which bring the audience into the couple's love story and, if you're like me, induce tears.
"My hope when I'm putting together one of these is to capture the story of the day and truly let the couples' personalities take the spotlight of the film," says filmmaker Stephen Satterlee. "The most exciting moment for me is finding the perfect song to represent the feeling of the day. Seeing all of the events of the day tie together into one colossal celebration is so cool to see."
We've rounded up a few of our favorites from beautiful couples around Baton Rouge for your viewing pleasure. Turn the sound all the way up and be sure to grab a box of Kleenex–you're going to need it.
---
Lindsey & Timothy Lopez, video by Stephen Satterlee
---
Bonnie Kate & Max Zoghbi, video by D. Jones Wedding Films
For some bonus tears, check out their engagement video here. And continue to follow their love story here.
---
Erin & Alex Veillon, video by Montoto Productions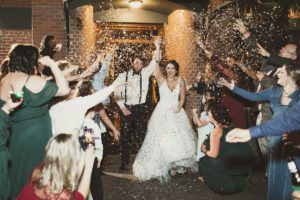 To get a peek at the Veillons' special day, check out their video here.
---
Brittney & Dwight Fusilier, video by JCW Productions
https://www.youtube.com/watch?v=MzahPDKq7KI
To see Dwight and Brittney's whole wedding, check out their Signature Wedding feature from last year's inRegister Weddings issue.
---
John Luke & Mary Kate Robertson, video by Loupe Theory Wedding Cinema
OK, they aren't technically locals but we all know them, right?
---
For more beautiful bouquets and happy couples, check out this year's Weddings issue, on newsstands now.