Think outside the box this holiday season with unique ideas for packaging pretty holiday presents from a host of creative Capital City residents.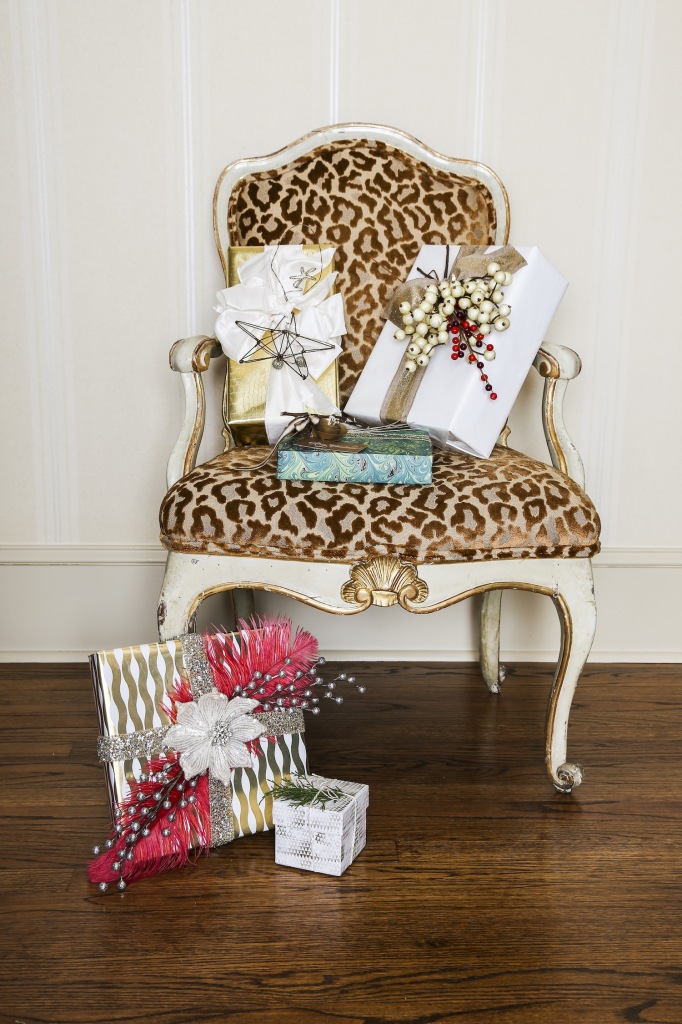 Top left:
"I love texture, so this embossed croc paper is one of my favorites to use. I also love a tie-on; it's like a bonus treat! This one is rustic, and I think it's a fun mix with the glam of the gold croc."
Emily Godfrey, artist
Top center:
"My artist friend Kathleen Joffrion, who recently worked with me to create custom marbled papers for wedding envelope liners, produced this fabulous, one-of-a-kind, hand-marbled paper using ancient techniques. I added embellishments including luxurious silk taffeta ribbon, hand-made paper roses, hand-dyed silk ribbon and, of course, my hand-calligraphed, letterpressed gift tags."
Kathryn Podorsky, Della Carta Studio
 Top right:
"I'm always putting a little extra love into my giftwrap. For this gift I chose a cream-colored textured paper and dressed it up with a gilded burlap ribbon. The topper is a hearty twig of ecru berries with a tiny touch of red to add the spirited look of Christmas."
Ashley Lambert, graphic designer
Bottom left:
"I have never been conventional or traditional when it comes to wrapping gifts. I love to incorporate vintage trimmings or sentimental objects. For this gift I used a mod gold and white foil paper, 1960s dress trim for the ribbon, a 1950s rhinestone brooch and a 1980s bold flower sequin appliqué for the bow. Two hat feathers and sprigs top it off. All these trimmings can be reused to make a 1920s-inspired flapper headband for later use!"
Joshua Holder, H.I.P. Vintage/Time Warp Boutique
Bottom right:
"I took inspiration from my newest line of jewelry, GEOluxe. The jewelry is mostly white porcelain stamped with the same pattern I stamped on the gift box. The colors are white, black and gold. My style has continued to evolve to be more simple, leaving space to explore texture and shape with room to add color later. My background is in landscape architecture, so naturally I had to include something green."
Madeline Ellis, mimosa by m.e.
---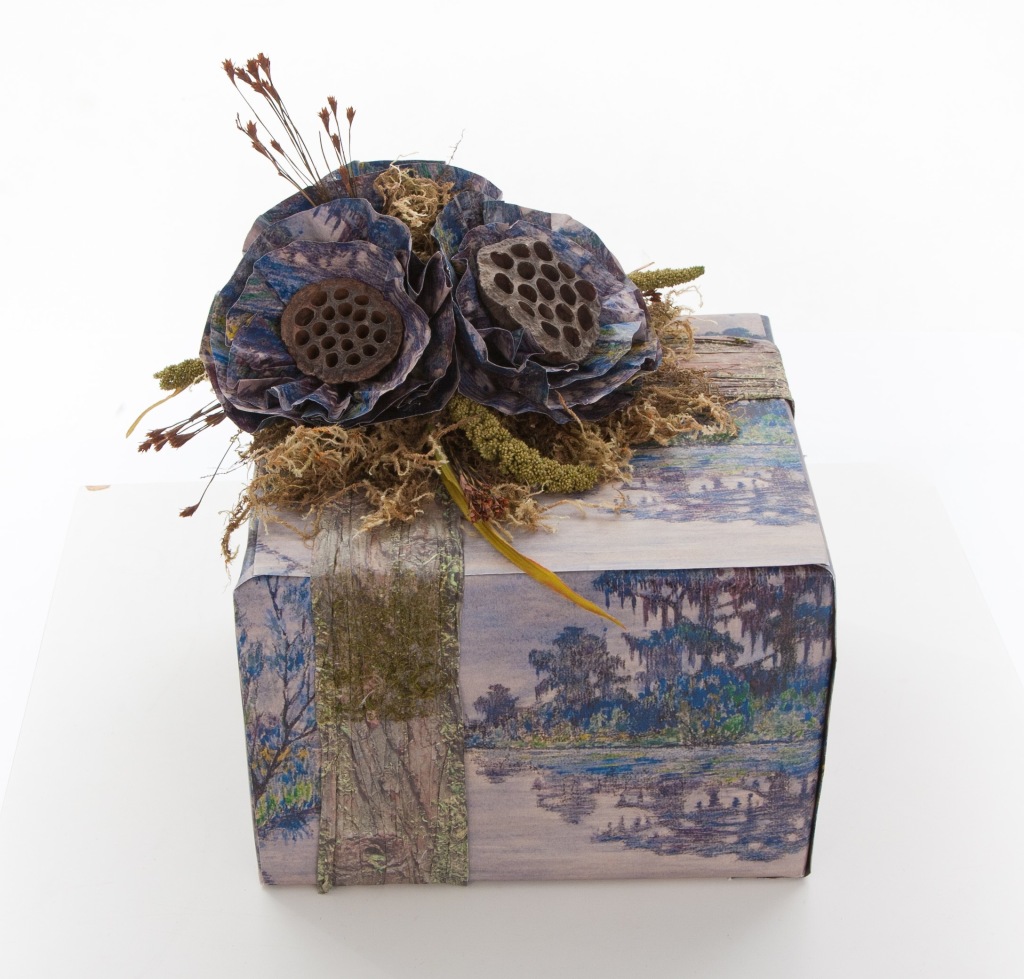 "To create this giftwrap design, I chose a beautiful 1920s watercolor painting in the museum's collection, Louisiana Bayou Scene by Cynthia Littlejohn. I made my own wrapping paper from an image of the painting, and then I gathered materials like Spanish moss to create an all-natural bow that recreates the look of the bayou. I moved to Louisiana five months ago, and one of the things I'm most grateful for is the opportunity to experience the state's beautiful natural landscape. There is nowhere else like it in the world!"
Katie Pfohl, curator, LSU Museum of Art
---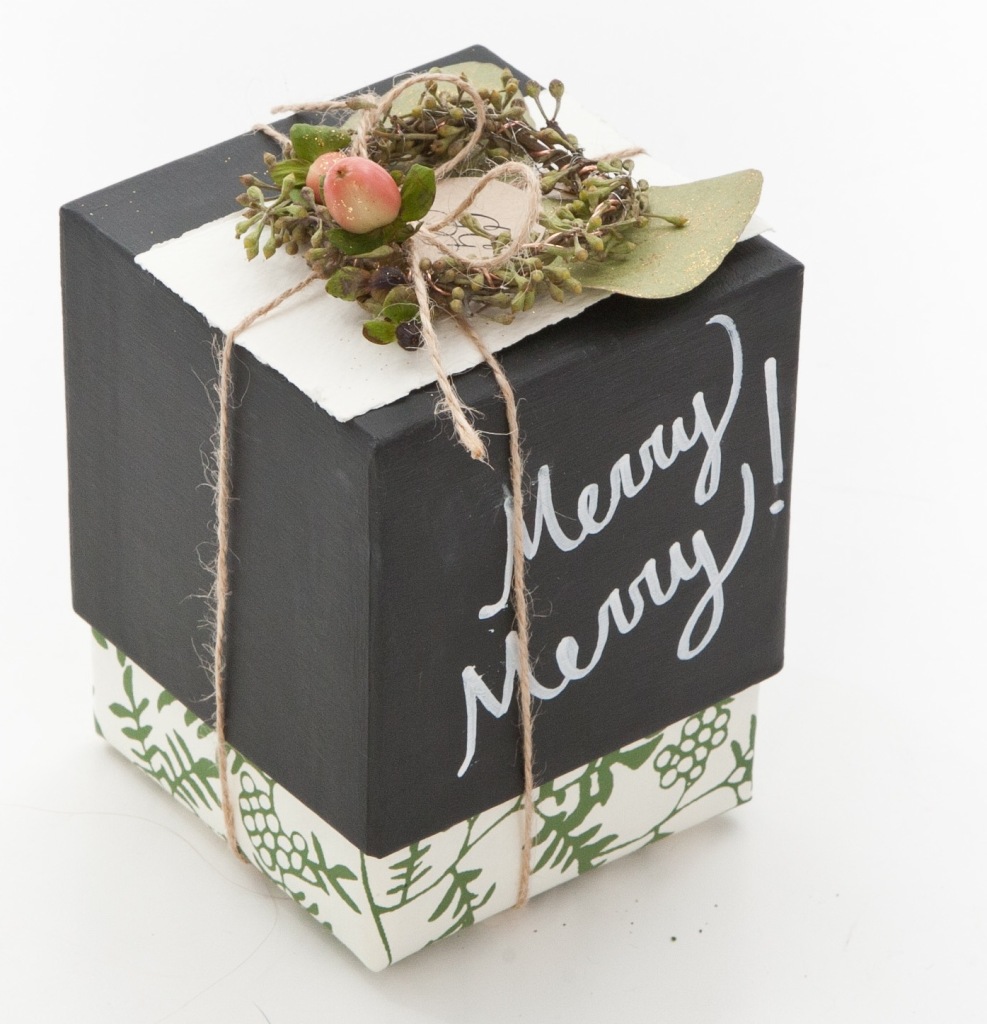 "I love using fresh herbs from the garden both in cooking and decorating. I made a mini berry wreath and combined it with blackboard chalk paint so I could write a message. I sprinkled the wreath with a little glitter to make everything merry, then wrapped the package in one of my favorite Midori papers from The Queen Bee."
Kathy Mangham, Gourmet Girls
---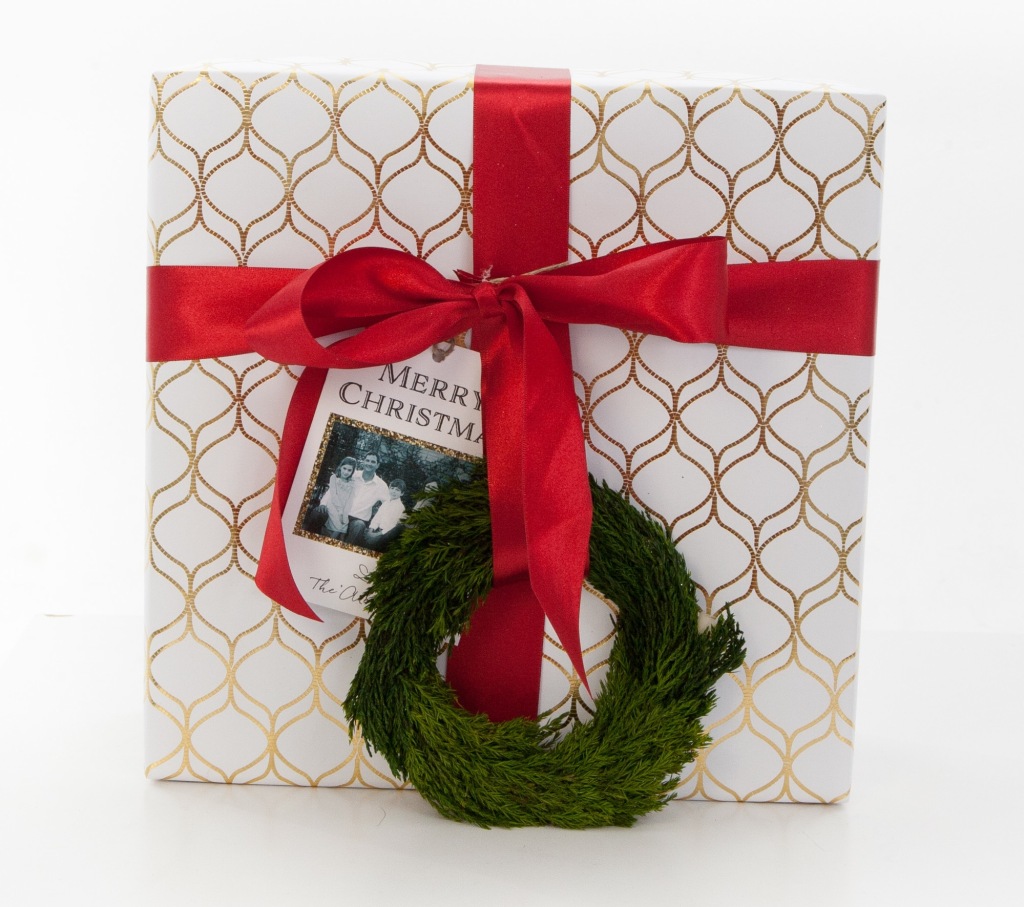 "Sleek and seasonal was the idea behind this gift. I used a gold foil wrapping paper in a geometric design, topped with a tiny wreath of fresh greenery and a classic red ribbon. The finishing touch was a personalized photo gift tag."
Amanda Alexander, The Keeping Room
---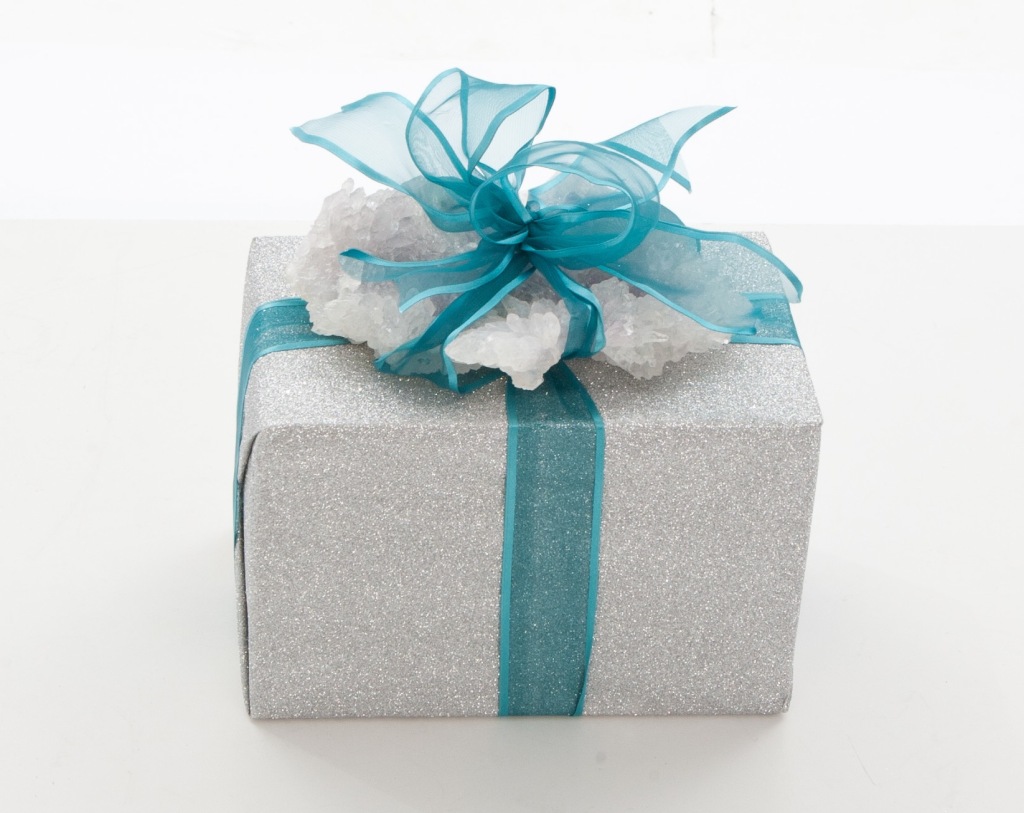 "Get excited about wrapping presents with whatever bit of flair you choose, like this chunk of natural stone. Use materials that get you in the mood, like sparkly paper and brightly colored wired ribbon, and you'll guarantee that your presents will be at the top of the pile."
Laura Roland, Fireside Antiques
---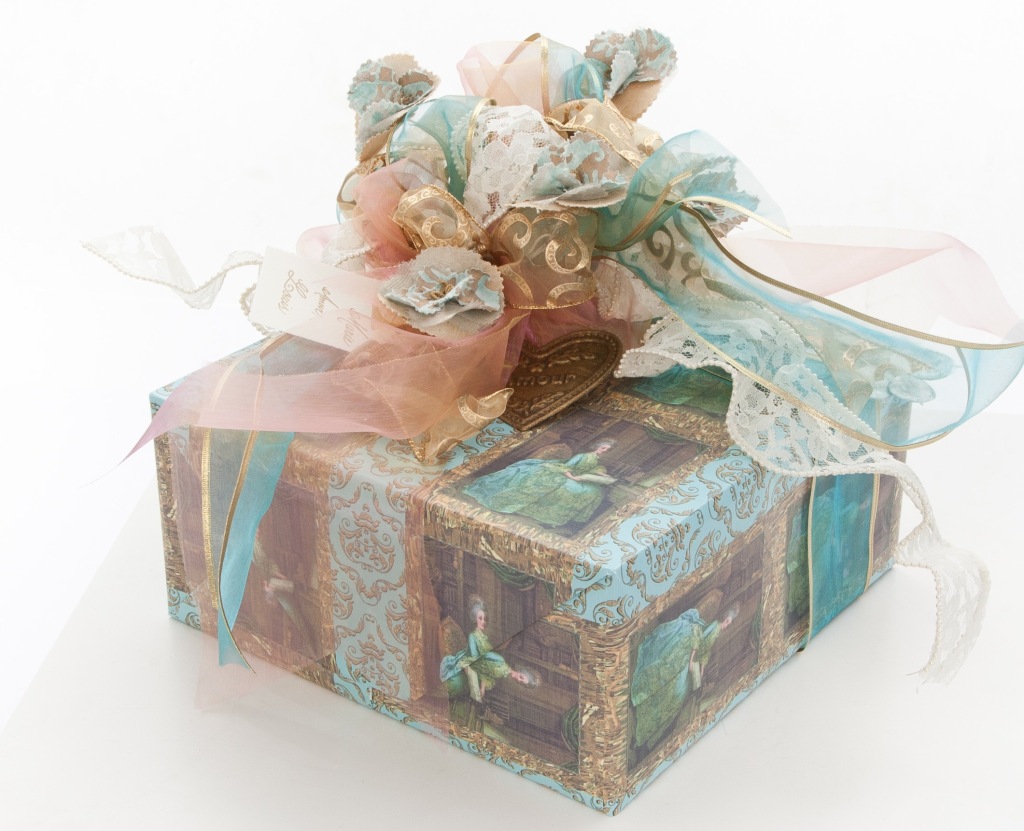 "Because we are known for our over-the-top giftwraps and for our love for all things French, we thought it would be fun to do a Marie Antoinette-themed wrap. A custom wrap sheet was used for the paper, and antique Italian Fortuny fabric handcrafted into French flowerettes, along with lace and other ribbon, were used to create the bow. We added a French brass plaque and handwritten note to give it a romantic touch."
Michelle Beauboeuf, The Queen Bee
---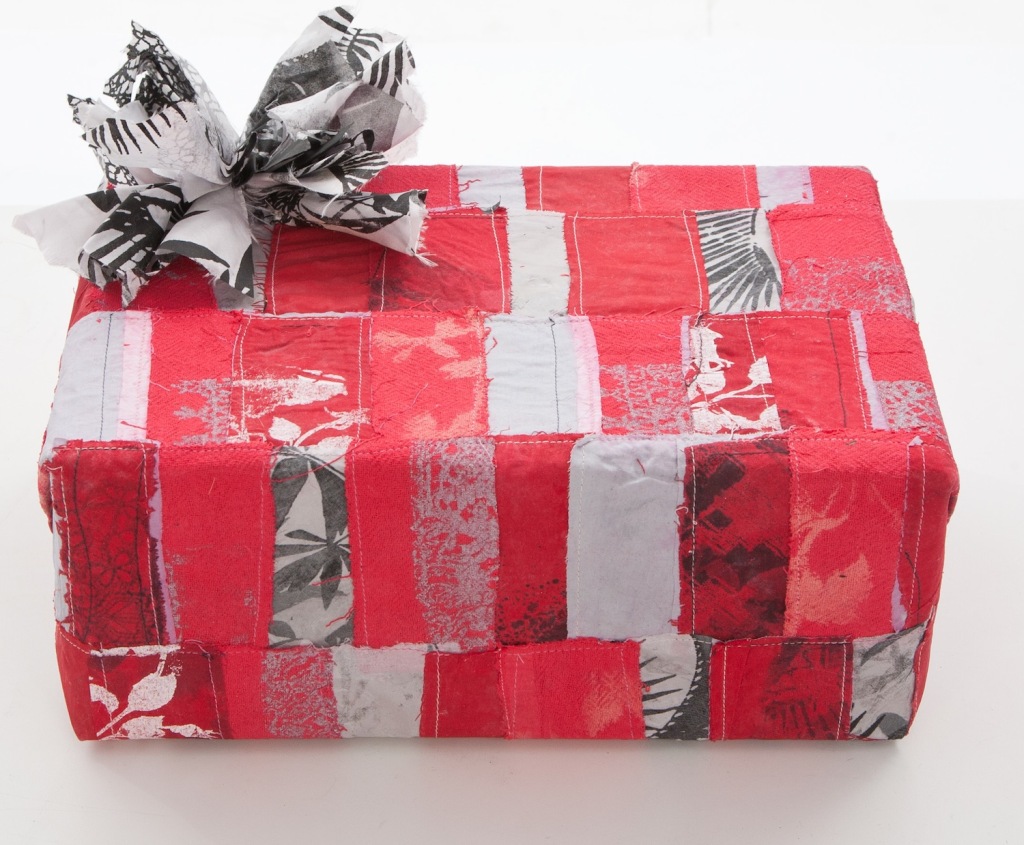 "For a lot of my design projects, I find it best to use sustainable sources of materials. My clothing line, Fair Fit, features hand-dyed and printed cloth, so I have a variety of scraps on hand to create patchwork textile designs. Here I created a holiday patchwork palette from dyed and printed scraps. When you add liquid starch to cloth, it becomes stiff like paper, creating fabric giftwrap! I teach techniques like these in our sewing and dye classes in Mid City."
Andrea Eastin, Fair Fit, thefairfit.com