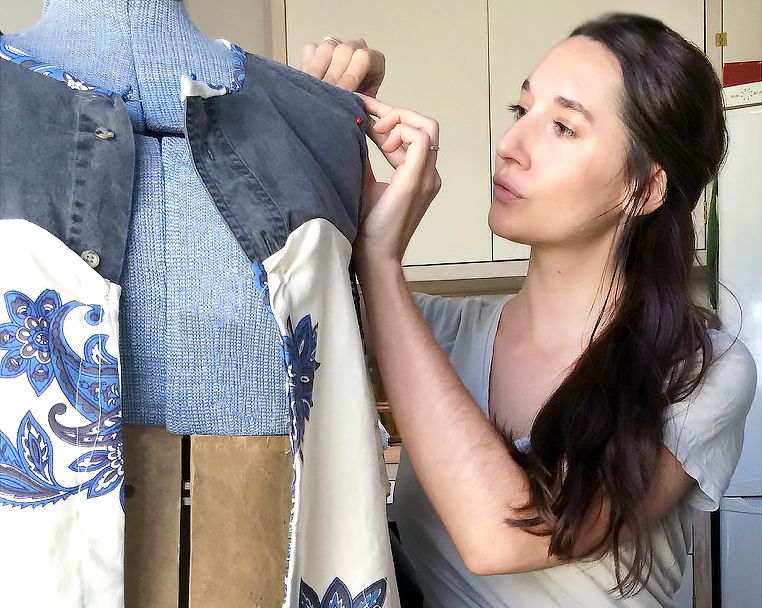 Sustainable style: Designer Erin Blank's one-of-a-kind looks
Designer Erin Blank uses her eye for revamping vintage to create one-of-a-kind pieces out of recycled fabrics
---
When you're flipping through a magazine or scrolling through a blog and see a carefully tousled bed complemented by a set of perfectly plump pillows, it may be the work of Erin Blank. Freelance photo stylist by day, ethical clothing designer by night, Blank's work life is an entrepreneurial grind of creativity, freedom and some necessary evils to supplement her income.
This visual merchandising expert can carefully craft a scene to be photographed. She uses this skill to nurture her design company, ErinElsie, currently housed in the Brooklyn studio apartment she shares with her photographer husband. She works freelance photo-styling gigs for companies of all sizes. "Styling is creating an illusion," she says, "showing products the best way they could ever look." For clothing shoots, she says, the samples never fit anyone perfectly. "So we have to pin, tuck…almost like altering a garment, but with pins." And styling bedding is much more cumbersome than one might imagine. "Everything has to be perfect. It's not just a mattress…it's lined in layers of batting and then has to be ironed or starched," which she usually winds up doing, "then held in place with T-pins." The pillows photographed in magazines are also wrapped in batting, usually with cardboard in the back to make them stand up straight. "It's sweaty work," she says. "My hands are not in great shape."
After graduating from Louisiana Tech University, Blank got a visual merchandising job with women's fashion retailer Coldwater Creek in Baton Rouge. She went on to travel around the country doing store openings for the brand, then as a photo stylist in the company's virtual store in Idaho. "Any store you walk into has a floor plan that is strategically planned by someone on a merchandising team. When the designers of a company are planning the clothes they are going to produce, they want to see how it looks," she says, so they set up a dummy store. Blank worked in all areas of that job for several years, learning the aspects of the business that she loved and those she didn't, before making a quantum leap—moving to New York to "make it work" on her own.
In the Big Apple, Blank began again by assisting on photo shoots, and she now makes a steady living as a freelancer, which gives her the time she needs to grow her personal design business.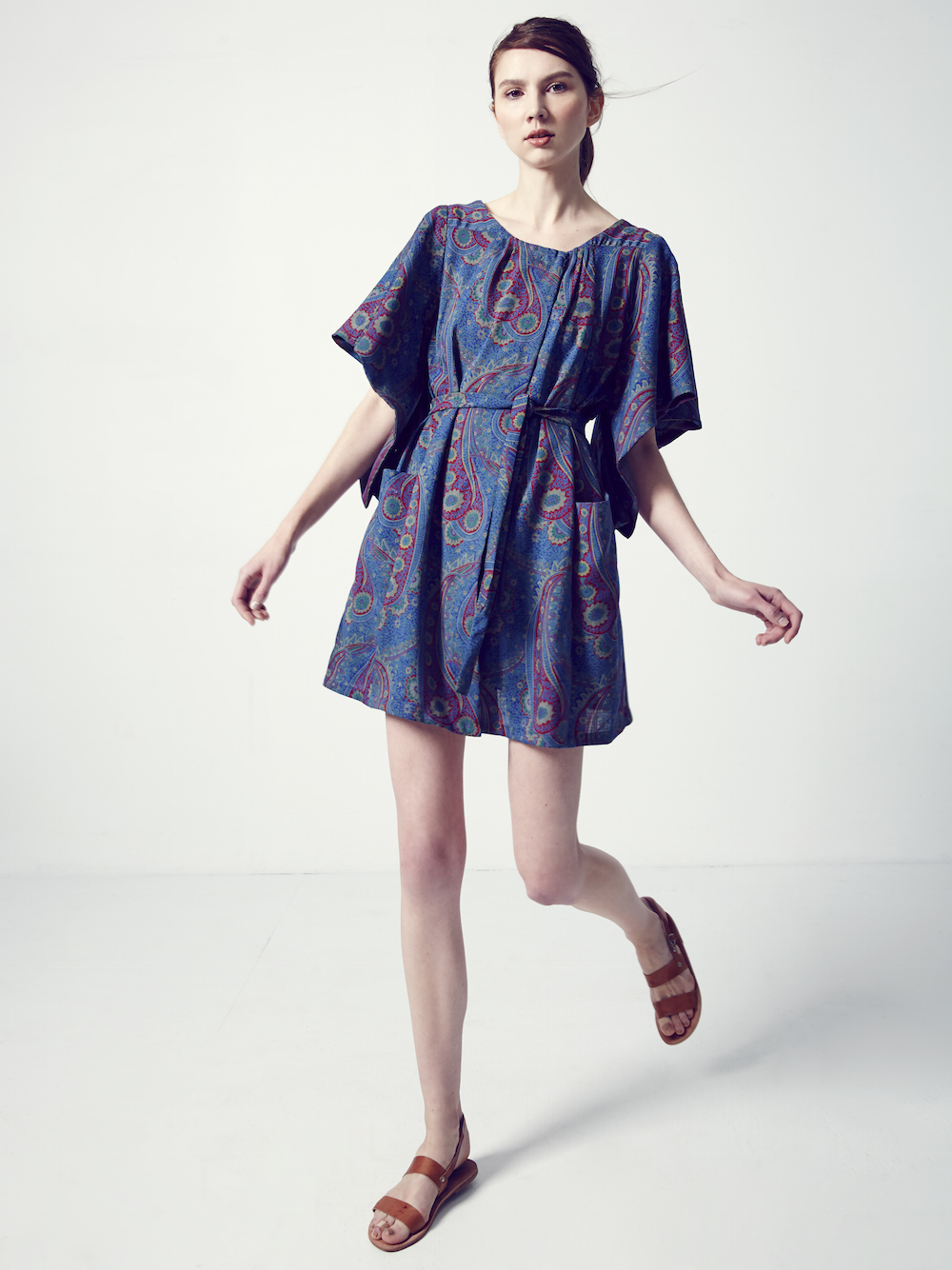 ErinElsie, a combination of her name and her grandmother Elsie's, utilizes exclusively vintage or recycled fabrics to create new apparel, from kimonos and jackets to zipper pouches, wallets and beanies, as well as what she calls "convertible dresses," which use ties or cinches as closures and are adjustable. "Elsie represents the old and nostalgic, and Erin is the modern take on it," she explains.
Blank goes to great lengths to source genuinely vintage materials for her one-of-a-kind pieces. Last year, she and her husband traveled to Hawaii for a wedding, but they timed their arrival flight in order to search for a much-desired floral fabric. "I looked up thrift stores and charity stores, and I found a little bitty church that had a thrift store type of thing open only on Saturday morning at noon," she says. "We flew in at 10 a.m. and raced straight there. I found a cute little old man and told him I wanted Hawaiian shirts, and he took me into this back room, opened a closet and there were racks and racks of Hawaiian shirts!" Blank bought as many as she could for 50 cents apiece. "In Brooklyn, they would have been $50 each," she says. "I made a whole collection from the fabric of those shirts."
From time to time, a friend or family member from back home in Louisiana will send a care package of an otherwise-uncool article of clothing—a swath of old lace, or their grandmother's muumuus. To Blank, that's "crazy neat stuff": currency in the eyes of a designer with a vision.
Her completed creations are sold in small boutiques and through the ErinElsie website, and she also creates custom pieces for clients with meaningful fabrics already in hand. To Blank, every scrap has a unique story worth retelling.
"I want to work in a way that values quality craftsmanship, the materials and the history behind those materials," she says. "In an age of disposable fashion, I long to always make things that are special to their owners."