SILVER LINING: NEW PERSPECTIVE AFTER TRAGEDY DRIVES BONNIE KATE AND MAX ZOGHBI FORWARD
Bonnie Kate and Max Zoghbi are unaccustomed to standing still. In fact, even finding a moment to speak to them depended on coffee breaks away from the open road, this time on their way to Nashville. A few days later, they would park "Rosemary"—the renovated Airstream trailer that serves as home and hearth for the young couple—outside the studio of musician Matt Wertz. In the Airstream's tiny kitchen, Bonnie Kate would cook a meal, Max would set up his camera and Wertz would play his songs beneath glittering lights strung from wall to wall. This is a typical "Rosemary Session," just one of the many video series produced by the Zoghbis' unique new business, Adventure Us, whose YouTube channel debuts in September.
The Baton Rouge natives have already garnered about 50,000 combined Instagram followers, an audience they first attracted after Wildflower, Max's self-directed video detailing his elaborate 2014 marriage proposal to Bonnie Kate. The video went viral, catching the attention of national outlets like Today and the Steve Harvey Show.
Since then, the artistry and spirit behind the success of the video has provided them the confidence to upgrade their shared passions into what they call a combination of story and service—creating videos, photographs and features with special guests to showcase travels and tastemakers off the beaten path.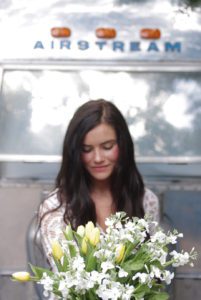 "It's harder than it looks!" says Bonnie Kate. "But it's really a beautiful thing after you're done with all the work. For our last Rosemary Session, for example, we had been so stressed trying to get everything working. I had cooked this amazing, great big meal, and we were tired from working so hard, but when everyone was there playing music together, laughing and eating and singing, we knew that everything had been worth it."
It's hard to believe that just a few years ago, Bonnie Kate's world stopped short. Back from a mission trip in Haiti and driving cross-country to visit a friend, she decided on the evening of July 20, 2012, to see the movie The Dark Night Rises in Aurora, Colorado. There, Bonnie Kate became a victim of one of the worst mass shootings in United States history, suffering a bullet to the knee. She underwent multiple surgeries and a lengthy recuperation.
Even so, Bonnie Kate says the chronic pain that lingers, which often limits her ability to live and work freely, is part of what inspired her new lifestyle with Max in the first place.
"We just said OK, we know we want it to be like this: we know we want to do the things we love most. We want to travel, and we want to be around amazing people and food," says Bonnie Kate. "And a lot of that passion came out of this place of pain. It was really hard and often discouraging for me, not being able to do as much as I used to. So we thought, how can we collaborate and find a purpose that gives us something fun to do, but also helps us make a living at the same time?"
Max knew part of the answer already, having worked for years as a freelance videographer and director, shooting ads and videos for local business and brands. Now, he and Bonnie Kate have to consider a whole new type of client—themselves—when creating new videos.
"We schedule, shoot and write everything ourselves," says Max. "We're just really excited to hand-pick and tell stories we think matter, and to collaborate with a lot of great makers both regionally and locally. Candle-makers, artists, painters, sculptors—all kinds of people. It's about building community not only online, but in these small towns where people are doing amazing things."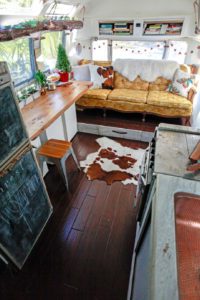 This spirit of philanthropy also helped Max and Bonnie Kate forge friendships with other social media mavens like the Robertson family of Duck Dynasty fame. This fall, they will join 19-year-old Sadie Robertson's multi-city "Live Original" tour, which includes an October 2 stop in Baton Rouge, where they'll speak and interact with audiences about positive living from a Christian perspective.
"Sadie actually first invited us to join 'Live Original Live' last year, when the tour was just a one-time event in Nashville," says Max. "And it really opened up a lot of opportunities for us in terms of public speaking."
Not only that, but the exposure has also helped garner new Adventure Us fans from around the country, months before the brand and YouTube channel officially launch.
"I think social media and how interconnected we are has enabled us to do the things we do, whereas our parents would never have dreamed of living this life," says Max. "It's definitely risky, least of all because we tow our house behind us at all times, but we're going to keep at it until we can't anymore, I guess."
For Bonnie Kate, that kind of forward momentum is especially valuable.
"I never would have envisioned that we'd end up where we are," she says. "I'm so surprised, because Adventure Us really does involve all our favorite things. I can't believe we get to do this for a living, like filming and traveling around together, going to cities and finding the coolest things to eat and see, plus meeting talented musicians and highlighting really cool people."
Adventure Us, after all, has until recently seemed almost too intangible to grasp, a dream the couple worked on constantly, but whose final results they often had to keep from the public until the launch of their YouTube channel.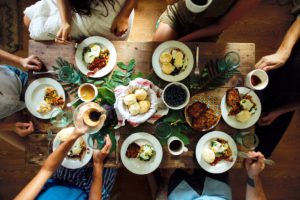 "Finding the balance between doing freelance work that pays the bills and putting our heads down to work on Adventure Us can be difficult," says Max. "But it comes from a very deep place, with Bonnie Kate's suffering and the way it pushes us to do more things, and to show off other people who deserve it and whose work really gets us jazzed."
They also have the future in mind, always on the lookout for new people and brands to work with, and who might be able to sponsor a video or two.
"I think the end goal would be to have enough of a following to partner with larger brands like Patagonia or Whole Foods, for example, and an agent or editor who could help us make deals. Editing's great and I'm not bad at it, but one of my favorite things about this is being around people and shooting and directing, so it'd be nice to have the help."
In the end, Max and Bonnie Kate still draw most of their inspiration from each other.
"It's very strange, how natural it feels," says Bonnie Kate. "I never imagined that we'd be living in a teeny tiny little bullet home and traveling the country. But it's such a blessing to be able to work and play alongside the person you love most, and it really is exciting."
To learn more, check out beadventure.us.
See InRegister's photo shoot with Bonnie Kate Zoghbi below: