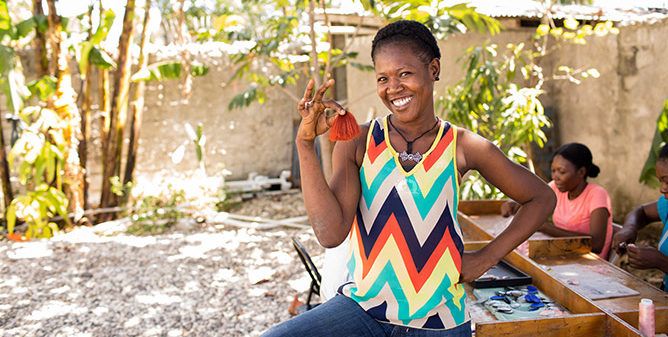 Sales roundup: Dixon Smith outdoor event, Noonday Collection trunk show at Southern Sophisticate, and more
A look at area sales and events:
---
Dixon Smith Interiors will host a special event to debut its new outdoor collection from 3 to 7 p.m. today, Thursday, April 27. The store is partnering with local landscape architect Ryan Cole to put on this event, which will feature live music and savory treats from the Taco de Paco food truck. Shoppers can receive a 10% discount during the event, on top of already reduced prices.
---
Southern Sophisticate will hold a trunk show for Noonday Collection this Saturday, April 29, from 11 a.m. to 6 p.m. Noonday Collection is a fair-trade company that exists to offer the opportunity of dignified jobs to people across the globe who wouldn't otherwise have them, building relationships with these artisans and helping them grow into financial independence through business training and scholarships for their children.
---
The Pink Elephant Antiques will host its spring trunk sale Saturday, April 29, from 9 a.m. to 5 p.m. Twenty dealers will be offering their unique wares outside the store, plus the 30 dealers already inside. Watch for deals on vintage items, art and clothing.
---
Next Tuesday, May 7, from 6:30 to 8:30 p.m., the Renaissance Hotel will play host to "A Wedding Soiree" hosted by N-joY! Weddings & Events. Stop by for an evening of music and signature cocktails plus plenty of wedding-planning resources. Prizes will be given away, including an Ultimate Grand Prize of a 4-day, 3-night honeymoon at one of the Couples Resorts in Jamaica. A bridal beauty bar will feature health and beauty vendors offering pampering services (including free Champagne, beauty demos and samples, all in a modern lounge) to brides to be. Tickets will be available for $15, cash only, at the door.
---
Stop by Perkins Rowe between 6 and 9 p.m. tonight, Thursday, April 27, to hear the band Beaucoup Boogie at Rock N Rowe, a weekly concert series in the courtyard in front of the Cinemark theater.
---
Women in Media and Kean's Fine Dry Cleaning have partnered together to host their annual Attire for Hire Clothing Drive to benefit disadvantaged women re-entering the workforce in the Baton Rouge community. From 9 a.m. to 12 p.m., drop off business suits, blouses, slacks and dresses, as well as accessories such as purses, shoes and scarves (clean and in good condition) to the Kean's at 8937 Jefferson Hwy.
---
Artvark, Ltd is opening its doors now through Saturday, April 29, with all items from its storage space in the back being moved out to the warehouse floor and marked down at least 10%. Hours today, Thursday, April 27, and tomorrow, Friday, April 28, are from 11 a.m. to 5 p.m., and Saturday hours run from 9 a.m. to 3:30 p.m.
---
Bridal Boutique is having a Gigantic Blowout Sample Sale, with up to 75% off original prices on a large selection of sample wedding gowns.
---
This Friday and Saturday, April 28-29, I Do Bridal Couture is holding its annual Wedding Dress Sample Sale from 10 a.m. to 4 p.m. Schedule an appointment to take an advantage of huge discounts.
---
Are you a Baton Rouge retailer with an upcoming sale or special event? Email [email protected] with details to be featured in an upcoming Sales Roundup.