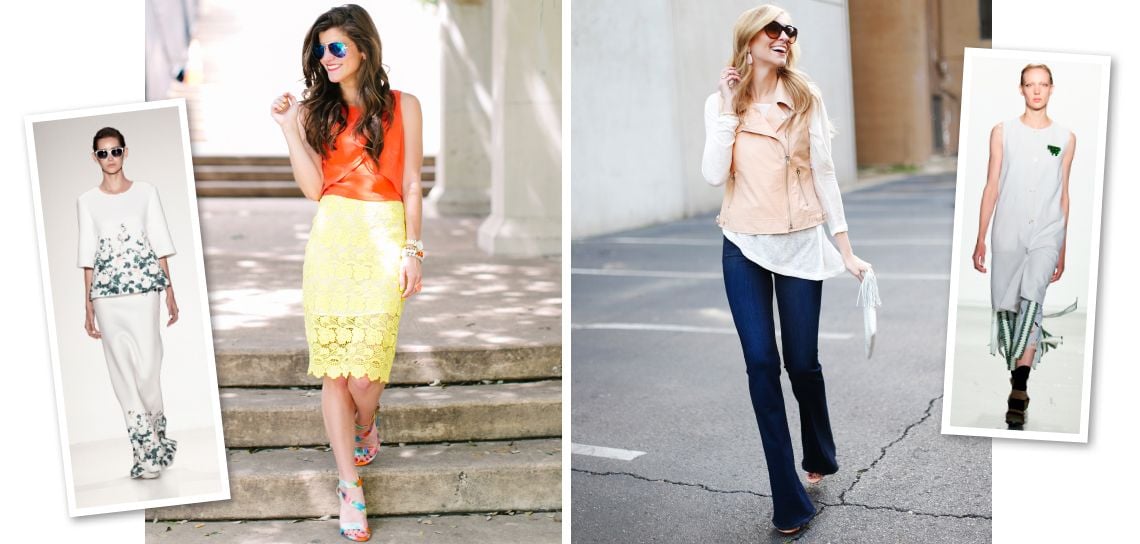 Floral runway photo courtesy Erin Fetherston/Thomas Kletecka. Vest runway photo courtesy Suno.
Local fashion bloggers show how to interpret the trends
When the world's top designers send their new collections down the runway, the looks make headlines immediately. Social media buzzes. Front-row pics are tweeted. But for the fashion-conscious consumer, this is only the beginning of a months-long waiting game. Since seasonal shows are held months in advance, the looks we're loving now won't be in boutiques and department stores until fall.
It is possible, however, to tap into the trends right away. While the runway looks are often exaggerated for dramatic effect, the themes they represent can be distilled into wear-now outfits that will put you ahead of the fashion fray. On the following pages, a quartet of local fashion bloggers share their spins on four of the biggest trends to come out of the recent "Big Four" fashion weeks in New York, Paris, Milan and London.
---


Floral
If you ask me, florals will forever be on-trend. And although I'm a huge fan of bright colors and loud outfits, I tend to usually stick to solid pieces because I'm able to wear them more. However, when I do venture out into the print world, I tend to stick to the three (well, at least in my book) keystone prints: stripes, florals and gingham … with the occasional polka dot.
I love mixing florals with solids, often pulling out one of the colors in the print. I also think it's fun to mix florals with other florals. Yep, it's doable. I promise! I suggest mixing florals with at least one or two similar hues and/or larger prints with smaller. And on the same "mixing" note, I also love pairing florals with stripes (especially classic black and white)! This season, I'm excited about pastel floral prints and finding new ways to incorporate subtle and bold blooms into my wardrobe.
---


'70s inspired
For an on-point interpretation of 1970s chic, combine a bit of Jimi Hendrix flair with classic silhouettes inspired by Ali MacGraw. Denim, patchwork, embroidery, printed silks and standout accessories mix well when trying to channel Gucci's spring 2015 collection.
If you don't own a great hat yet, put it on the top of your list, as hats are the No. 1 accessory for 2015. Incorporating vintage into this look is essential, so start perusing eBay and other dealers for a great statement piece.
---


Vests
Vests are a thoughtful piece to incorporate into your spring wardrobe and possibly one of the easiest runway trends to start wearing now. We're not talking the same puffer vests you were wearing all winter, though—slimmer silhouettes and lighter fabrics are a must.
Start with a classic piece like a denim vest in a lighter wash. This will make for a great layering piece over patterned dresses or rompers. Put it over an old maxi dress for a fresh new look. If you're looking for colored options, check out this vegan leather vest in blush from Posh Boutique. A vest with color is a quick way to spruce up a white tee or pair of new denim—especially the flared jeans that are making a comeback. If you're interested in introducing vests into your workwear, there are new sleeveless trench vests that are perfect for the office, too!
---


Metallics
I'm always happy when I see metallics on the runway during fashion week because metallic shoes and accessories are staple items in my closet for every season. This spring and summer I'll be rocking both my perforated rose gold sneakers and white gold gladiators by Joie. Metallic shoes and accessories are easy to style and incorporate into your wardrobe because they are considered neutrals, so they pair well with everything.
Another metallic trend I'll be sporting this season is flash tattoos. I can't get enough of them! I like to wear them in place of jewelry with swim and resort wear or even stacked with my arm party of beaded bracelets.
Who wouldn't want to add a little glitz and glamour to their style?