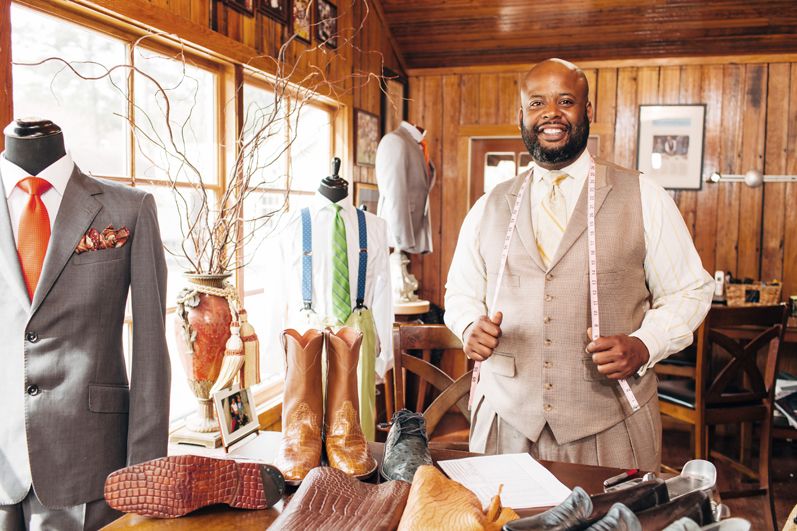 Making great strides: Geno Brown creates custom looks
Geno Brown takes tailoring and treads to a new level in his family's business
---
Geno Brown specializes in service with style. Big style. His attention to detail, his eye for design and his wow effect delight customers and keep them coming back to the store that his father, Eugene Brown Sr., founded in 1973. Brown & Brown Custom Clothiers, on Government Street, has long been a favorite of locals seeking tailor-made clothes.
Over the years, their business has included dressing LSU athletes, including NBA stars Tyrus Thomas, Garrett Temple and Glen "Big Baby" Davis. Geno has outfitted everyone from conservative lawyers to TV personalities who are on screen often and want to look up to date. "They're not concerned with frugality and want to invest in their immediate image," he says, whereas another type of client will call in an order of the same shirts every few months to replace the ones they know and love.
For the man who struggles with thinking outside the box, Brown offers a stylist service. "I'll take pictures of all a customer's orders and possible combinations and upload them to Dropbox, so he has a database of outfits on his cell phone. He can go in and pick from his 'closet.'"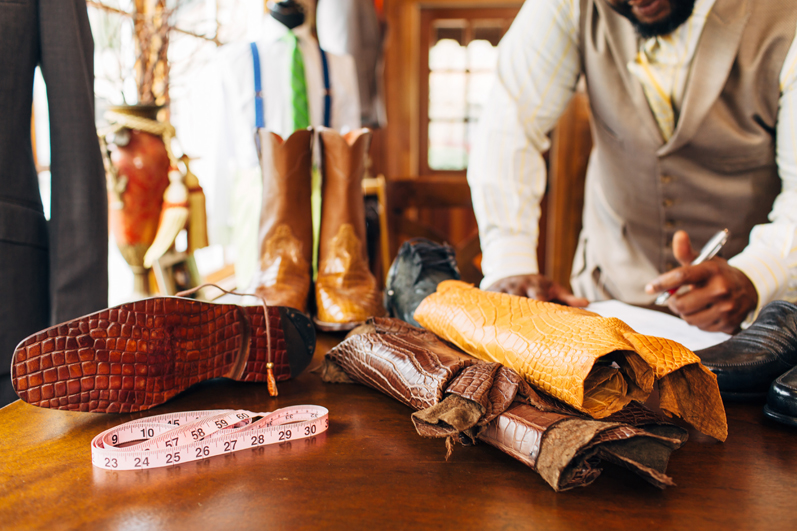 ---
Brown loves the design process, the act of working with men and women to "get what's in their head and put it on their body." When he meets with a client, he's like a doctor prescribing a remedy—he assesses just how much to push the envelope with style, or to err on the side of timeless; the right cut and taper of the pant leg to make the socks pop out; the width of the lapel to complement the on-trend skinny tie; the proper suit style for the body type.
Brown is known in particular for his trademark boots, owning enough pairs to change twice a day for a week and still look fresh, and seems to get a kick out of designing unusual and attention-grabbing pairs for himself.
"If you have a big personality and enjoy color and doing things differently, staying out of that 'safe zone,'" Brown says, he's got a skin for you. Alligator, crocodile, ostrich, eel, stingray, elephant—you name it, he's got it, and he can dye it to suit any whimsy.
The leather love doesn't end with boots, though—matching belts, purses, suspenders, loafers, even women's heels are all in his wheelhouse. Brown says a nice pair of boots can last decades, as long as they are cared for. "Businessmen get their shoes cared for," he says, taking the time to get them re-soled as necessary and to shine them regularly.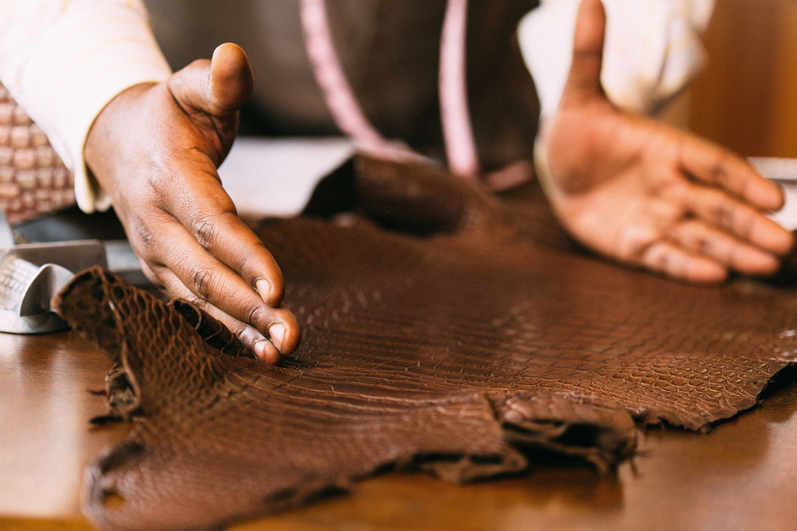 ---
"It's worth spending an extra five to 10 minutes on your appearance. You don't get to forecast when you will have impactful meetings or moments in your life, so you gotta look good."
Brown says going custom with clothes and shoes gives you a superpower. "It's like Professor Xavier in X-Men, who had mind control. You have the freedom and ability to create your own looks—however you want to present yourself," he says. "When you make a new acquaintance, the only thing they have to go off of is what you give them, and oftentimes that's your appearance. Why not take an active role in controlling that? In the business world, it gives you a bit of control as to the image you're trying to give off and the thought you want in someone's mind when you're meeting them."
The ex-offensive lineman says he has the "distinct pleasure" of taking this message to the schools, talking to athletes at LSU and his alma mater Southern University, as well as area middle schools. So many people are out of the race before it even begins, and that's because of the way they dress, he says. "We're all the CEO of our own enterprise," Brown tells the youngsters. "Being able to make ourselves successful and profitable—all of that starts somewhere, and that's with a first impression."