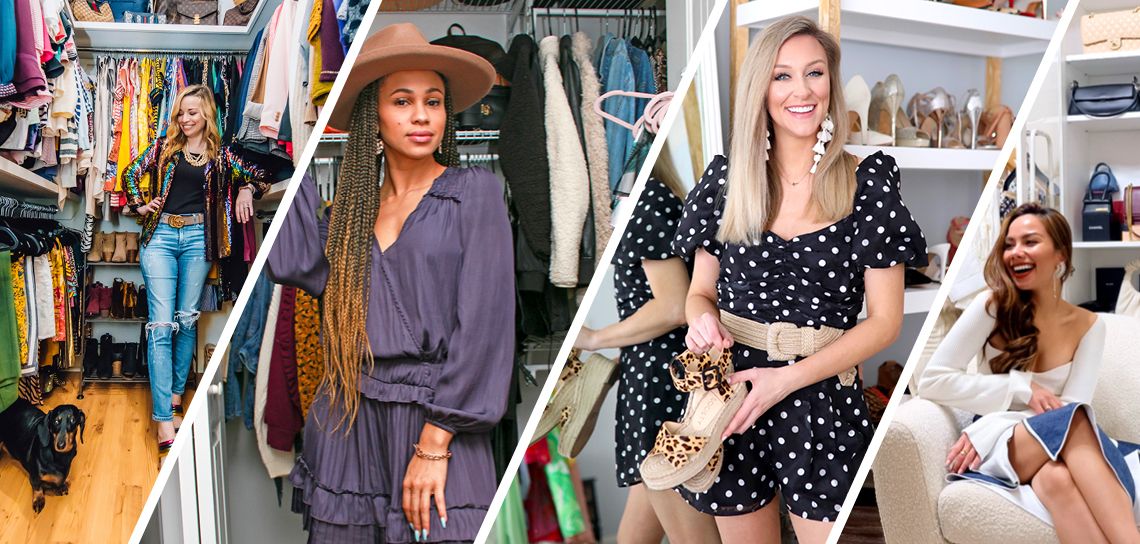 Hang in there: Bloggers and influencers share tips for making the most of your closet
---
Keeping a closet organized can be tricky even for those whose livelihood or side hustle revolves around fashion. We asked four local style and beauty bloggers and influencers for their go-to tips on making the most of this small storage space (and how to fill it with looks you'll love for the long term).
---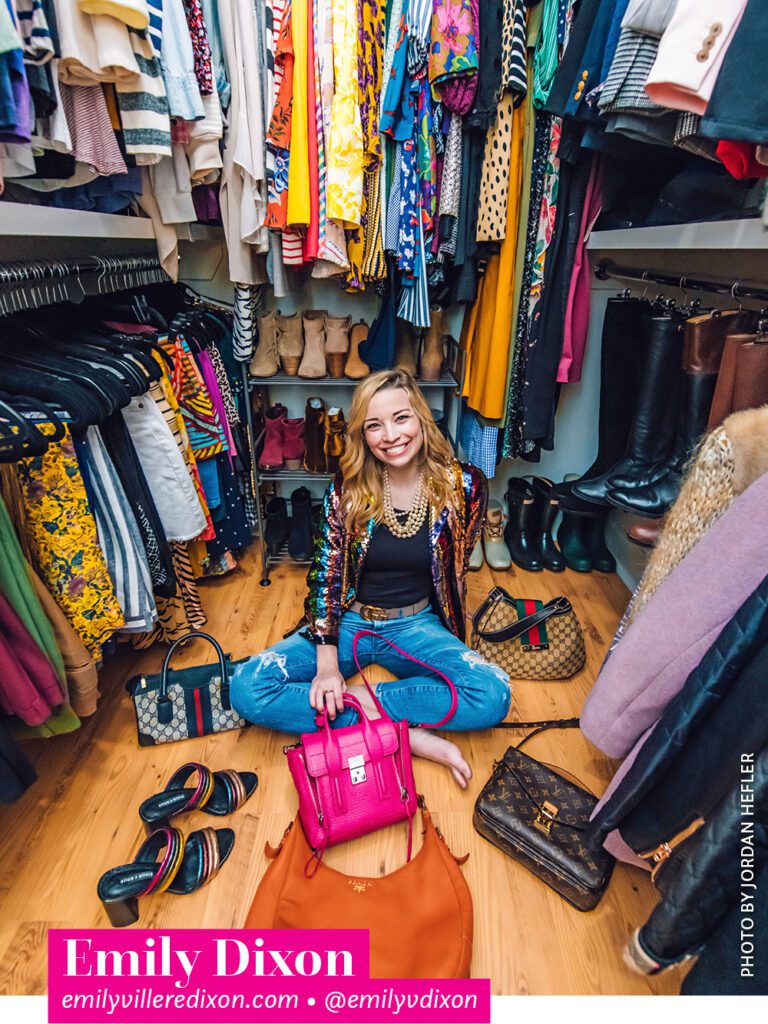 My style:
I like to mix and match different patterns and textures, and I love color! I found this Alice + Olivia sequin pajama jacket on sale, and it felt like I hit the jackpot. I can wear it with ripped jeans, pair it with a slip dress and heels, or wear it over a black leather jumpsuit.
What wardrobe pieces are worth the investment:
Classic purse styles—their value only increases with time. Who would have thought I'd be wearing my sister's Gucci from the late '80s right now? Some pieces really do never go out of style.
My closet organization priorities:
When I started rethinking my closet organization with my friend Sara Landry of South Coast Organizers, I knew I wanted to be able to see my stuff. I had shoes in boxes, purses in dust bags, and stacks of hats hiding under clothes. I feel that now that I can see my clothes and accessories, I don't purchase new items as frequently and instead shop my own closet. I thought because I didn't have a Pinterest-looking closet or a spare bedroom-turned-closet, my space couldn't be transformed to accomplish this. Sara showed me that wasn't the case and helped me put together a perfect space with no renovations necessary. 
My must-haves for optimizing space:
Matching hangers! I couldn't believe the amount of space I created by swapping out mismatched wire and plastic hangers for a slim velvet option. It also gives the whole space a more streamlined look.
My go-to stores for gameday:
I'm a big fan of vintage graphic tees (some of my favorites are from Bengals & Bandits), fun tennis shoes (always Nike) and some extra flair (buttons from B&B, tiger jewelry from Mimosa Handcrafted, vintage patches I source from eBay to add to my jean jacket). As executive director of creative content for LSU Athletics, I have to dress up a little more when I am working football games, but I always wear some form of purple and gold (I get lots of pieces from NK Boutique).
emilyvilleredixon.com
@emilyvdixon
---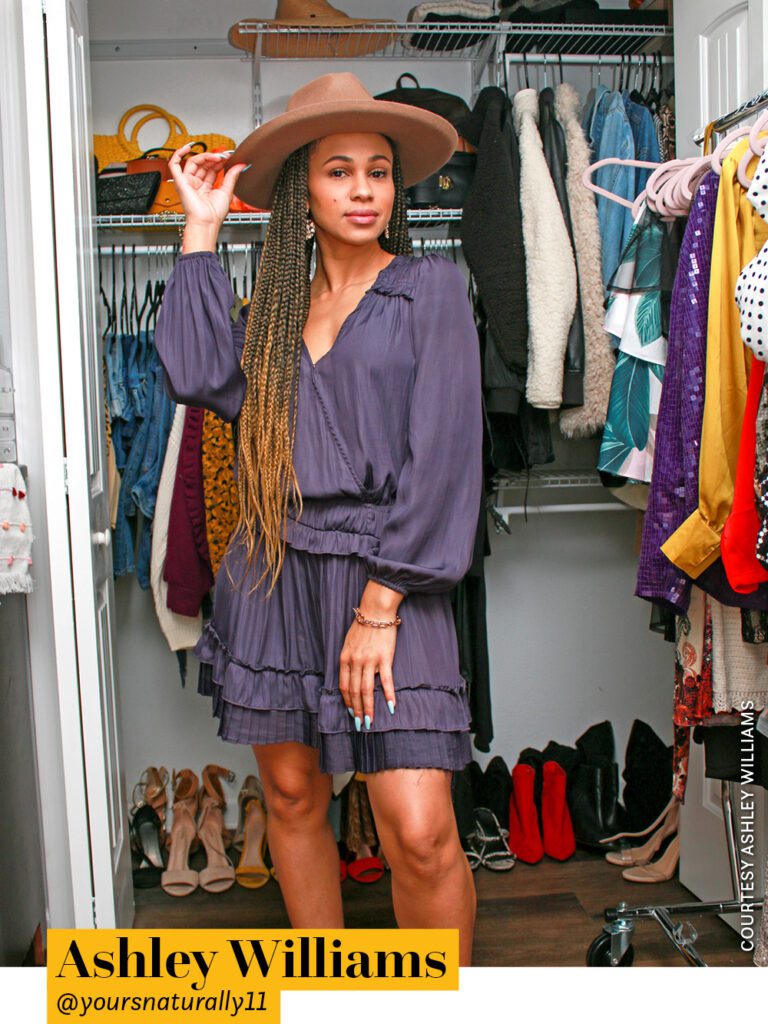 My style:
More on the chic side; I find myself in dresses 80% of the time because they make me feel feminine and elegant, but I never stick to one category. I wear clothes based on how I feel like expressing myself; I am eclectic and have an assortment of vintage pieces, boho maxi dresses and casualwear as well. This navy smocked dress in the photo is actually thrifted; it cinches my waist and draws attention to my legs. The fedora makes this look more stylish and bold. 
What wardrobe pieces are worth the investment:
I'm all about a good pair of shoes, so I'm definitely willing to invest more in them because they can determine the final outcome of my outfit.
My go-to stores in Baton Rouge:
I love Target because it's affordable, convenient and always on trend, and for a special occasion, I always go to Frock Candy. 
My advice for deciding what to keep and what to donate:
If it doesn't bring back good memories or make me feel more confident about myself, or if it's been seen in photos more than twice, I usually donate the item. If I feel confident, comfortable and stylish, it's for keeps! I always make sure to donate clothes that I haven't worn in a while or that aren't my style anymore before I begin organizing. If you haven't worn something within a year, you probably won't wear it anytime soon, so donate or store in the attic.
---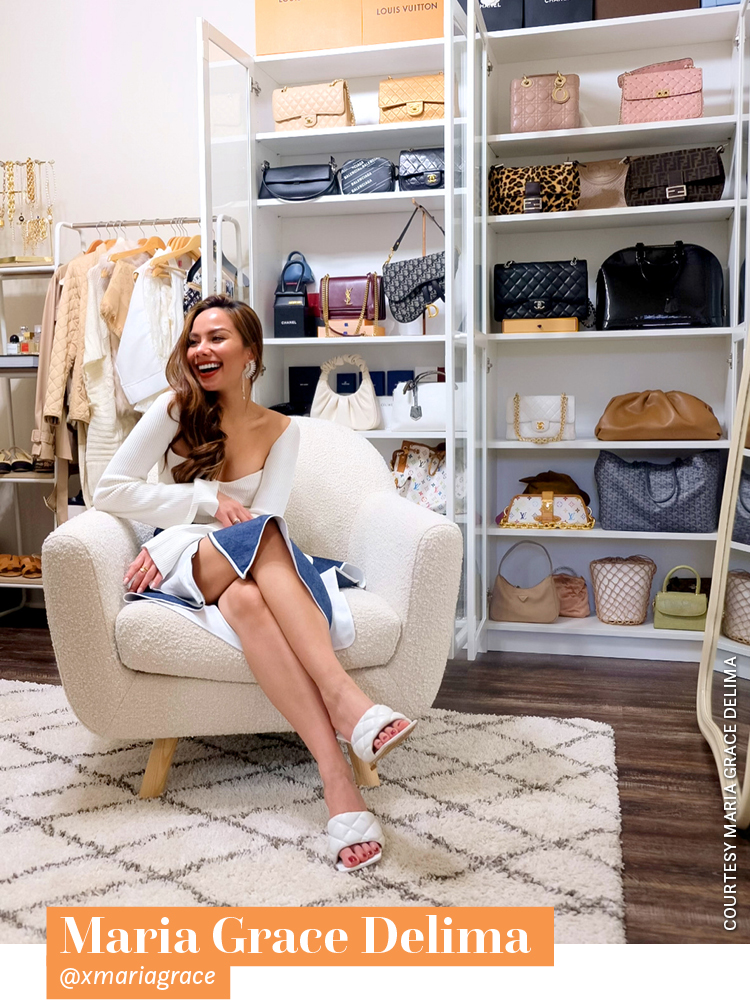 My style:
Modern/chic. I like to experiment with most key styles, and while I definitely follow trends, I generally shop consciously and won't buy into a trend that doesn't complement my existing wardrobe. I also love a one- to two-tone look. I love to combine modern and vintage luxury fashion all together.
What wardrobe pieces are worth the investment:
The capsule wardrobe—a curated collection of classic clothing items that don't go out of fashion, augmented with seasonal pieces. Some of my capsule pieces are my Chanel classic flap bags, jewelry from Cartier, tailored suits and Burberry nova check jackets; I can see myself wearing them for many years.
My closet organization priorities:
I love to color-coordinate my closet. Not only does it make me get dressed faster, but I feel more in control of my busy life seeing an organized and accessible collection of clothing each day. I also love uniform wood hangers that are durable, look great and support my clothes well. I store bags in cabinets with glass doors so I can pick them easily and keep them dust-free; bag shapers are also important to keep their shape.
My top tip for optimizing space:
If you have lots of long-hanging clothes such as long dresses and jumpsuits, the whole bottom of the closet can become a no man's land. Group short-hanging pieces at one end and longer-hanging clothes at the other—that will open up lots of floor space, where you can place a little dresser or a stacking shoe rack.
My advice for deciding what to keep and what to donate:
I keep in mind two questions: How often do I wear it? Does it have sentimental value? If I don't wear it for more than six months, I wouldn't notice if it's gone, and it doesn't have sentimental value, it's time to toss it away. For a sentimental item that you know you wouldn't wear anymore, consider giving it to someone you know would appreciate it; that makes it easier to let it go.
---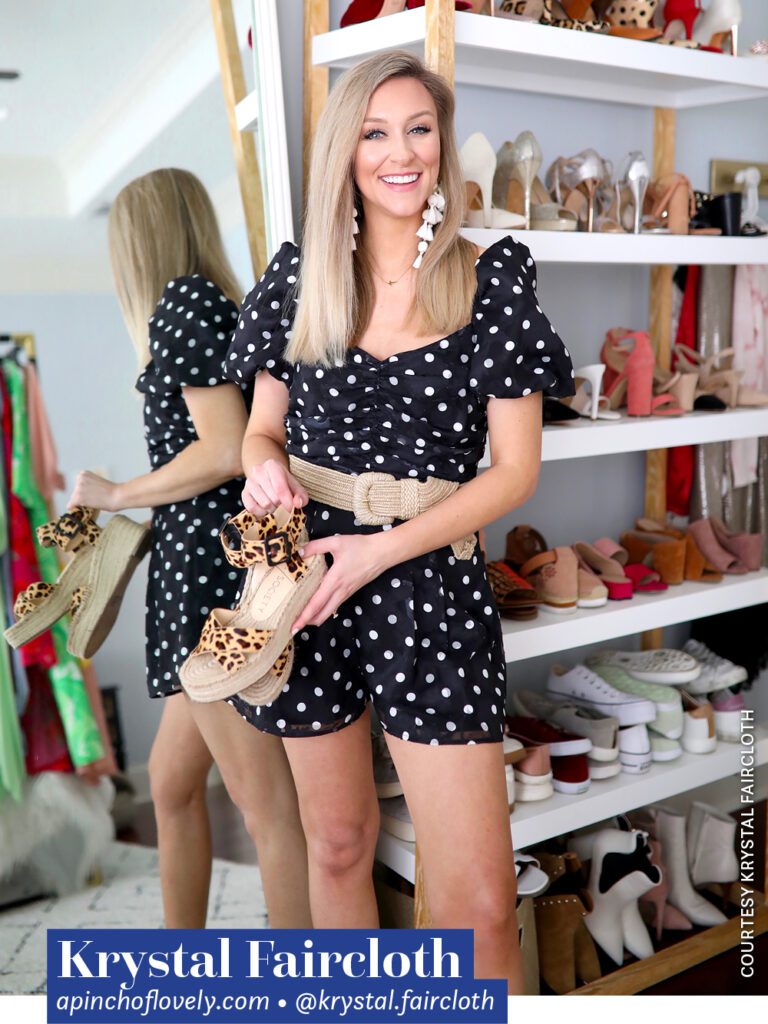 My go-to stores in Baton Rouge:
Leah at Chatta Box always has her finger on the pulse when it comes to designer lines and styles. The energy that Kelley at Chic (formerly Simply Chic) puts into her business and inventory is contagious. I also love watching Tia and her hustle with H Kyle Boutique on social media—she does a great job keeping customers in the know about inventory when they can't be in the store.
What wardrobe pieces are worth the investment:
I typically splurge on pieces that will take me through multiple seasons and are considered classics. A few splurges I don't feel guilty about: my designer handbags, designer denim, Stuart Weitzman boots, Hermes sandals, anything Chanel.
My closet organization priorities: 
I need to see all of the things in my closet or else I tend to forget what I have. The challenge is figuring out ways to display items without everything looking chaotic. I added a lot of stackable clear containers to drawers and shelves for jewelry and smaller accessories so those items don't get "lost" as easily.
My top tip for optimizing space:
I rotate my closet seasonally so that fall/winter clothing is stored away when out of season, and the same with spring/summer. It prevents my hangers from getting too cramped and possibly hiding items that can't be easily found.
apinchoflovely.com
@krystal.faircloth