---
DANIELLE KERR
Age: 22
Artistry: Leather design, graphic design, branding
Website: sweetleathergoods.com
---
Barely able to peer over the table's edge, even from her owner's lap, a tiny pup looks mesmerized too by the splash of colorful marks mapping out pathways of artistic endeavors across the drop canvas-turned-tablecloth.
"This is Pink," Danielle Kerr introduces, ruffling her fingers through fuzzy tufts of white fur; the classic rock lover also has a black lab at home named Floyd.
"Dad raised me right," she says.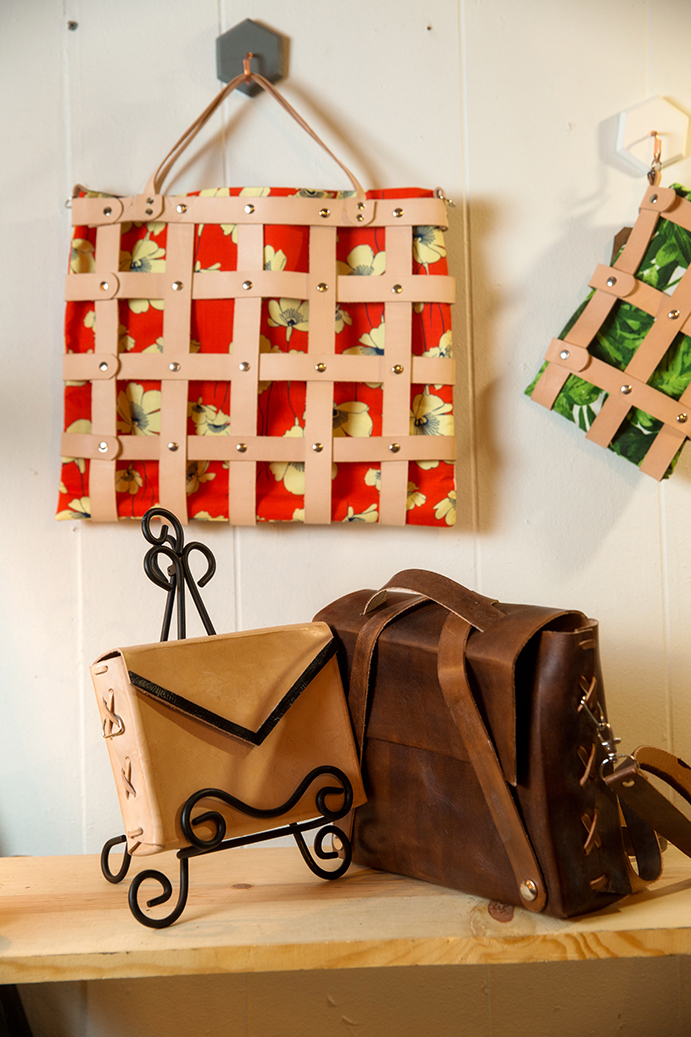 Kerr's preternatural poise counters the artfully ramshackle space in which she works, with its weathered wood slats and cross-generational patinas that somehow match and clash perfectly. The shop is quiet now after the local chapter of the Boys & Girls Club has filed out. Twenty-two teenagers from the program were here earlier this morning for a creativity workshop led by Kerr and her mother Denise, the duo behind Sweet Leather.
"So many kids don't realize that art can be a career," Kerr says. "I myself didn't even realize I wanted to be an artist until I was a sophomore in college and switched majors from engineering to graphic design."
Two years ago she rebranded Kerr Ranch, the name for the collaborative bracelets and jewelry pieces she'd been designing in small batches back in Texas with her mother.
Kerr's idea was to build out their collective creativity as a stronger brand. Last December, the family purchased the building located behind Circa 1857, naming it Sweet Leather Goods and opening the doors as a boutique, leather workshop and ceramics school. Integrated arts teaching appeals to both mother and daughter.
"Danielle gets me out of the '80s and into the now," Denise says of their collaborative process.  "She's tells me what to do, and I do it, and she's always pushing me to make things that have multiple uses, that young people will want to use."
Mother and daughter operate like a right-brain and left-brain bond. Danielle co-designs the pieces and initiates all marketing, branding and sales for Sweet Leather, which has a definitive bee theme. Pieces include the Hive, a cross-body bag, and the Stinger, an angular clutch. Denise makes every piece by hand.
Kerr's advice to creatives is to be bold and to lay down solid roots.
"This is quickly becoming one of the places I've lived the longest," Kerr says of Baton Rouge. "And it feels amazing. It feels like home. To be a part of the arts in Baton Rouge is the best thing about Sweet Leather Goods. It's a very uplifting community to belong to."