Blake Tumey revives past passions for her Parish Clay Co. creations

---
Blake Tumey laughs, bringing her voice down to an undertone. "You know," she says, "two years ago, I didn't even have my ears pierced." 
The revelation might come as a surprise to anyone familiar with the jewelry and accessory designer behind Parish Clay Co. After all, the Baton Rouge-based enterprise is known for its statement earrings in a variety of shapes and colors. To be fair, the polymer clay pieces in each of Tumey's handcrafted collections hardly need an ear to hang on, the gold-leafed marbling and botanical-inspired baubles standing alone as miniature works of art when photographed by her husband, Brandon. 
That craftiness is intentional. Parish Clay Co.'s origin as a personal creative outlet stems from a source all too familiar in today's recuperating world—the lockdowns of the COVID-19 pandemic, when Tumey, a former social worker specializing in early childhood education, decided to dig back into an old artistic passion. 
"My husband is an ER nurse, so the pandemic hit us hard," she says. "I knew I needed an outlet for stress relief, especially since I was staying at home with my two-year-old daughter, Lucy."
Tumey remembered that her grandmother, Altice Williams—who had passed away when Tumey was a young girl living in the small Franklin Parish town of Jigger—had been an accomplished ceramic artist, and she recalled several pieces her family had displayed around their home. 
"My parents dealt with a house fire in October, and as we were going through their possessions, we realized that we had almost 40 pieces from my grandmother," she says. "Coming from such a rural community, she never sold anything. That really resonated with me—the fact that she was so talented, but that we were the only people seeing it."
Tumey decided to take up the mantle on a more accessible scale. Instead of throwing pots requiring a kiln, she opted for polymer clay, a versatile medium that she could bake to completion in her own kitchen oven. Using what she remembered from her brief experience with pottery and a few art classes in college, as well as studying video tutorials on Patreon, Tumey began to revisit the creative impulses she'd set aside for so many years.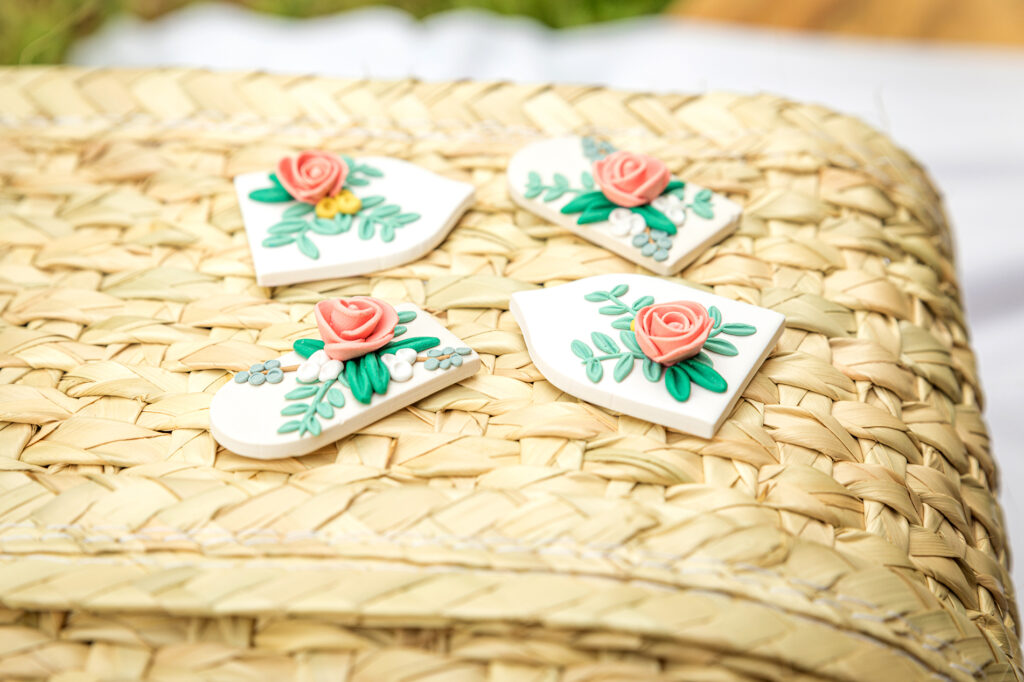 "About a year ago I started making jewelry for family and friends, but when friends started asking to buy, I decided to open an Etsy shop back in November," says Tumey. "It's been a wild ride ever since!"
The sense of family still carries through her pieces, with many of them named for her female cousins. But each collection drop—which happens about once a month—centers around a unique color scheme and aesthetic, from resin-dipped sunny terrazzos to leopard prints hand-painted with liquid clay. 
"I like to involve my Instagram followers and ask them to help me name new pieces," she says. "Then the person whose idea I choose gets a coupon for my shop."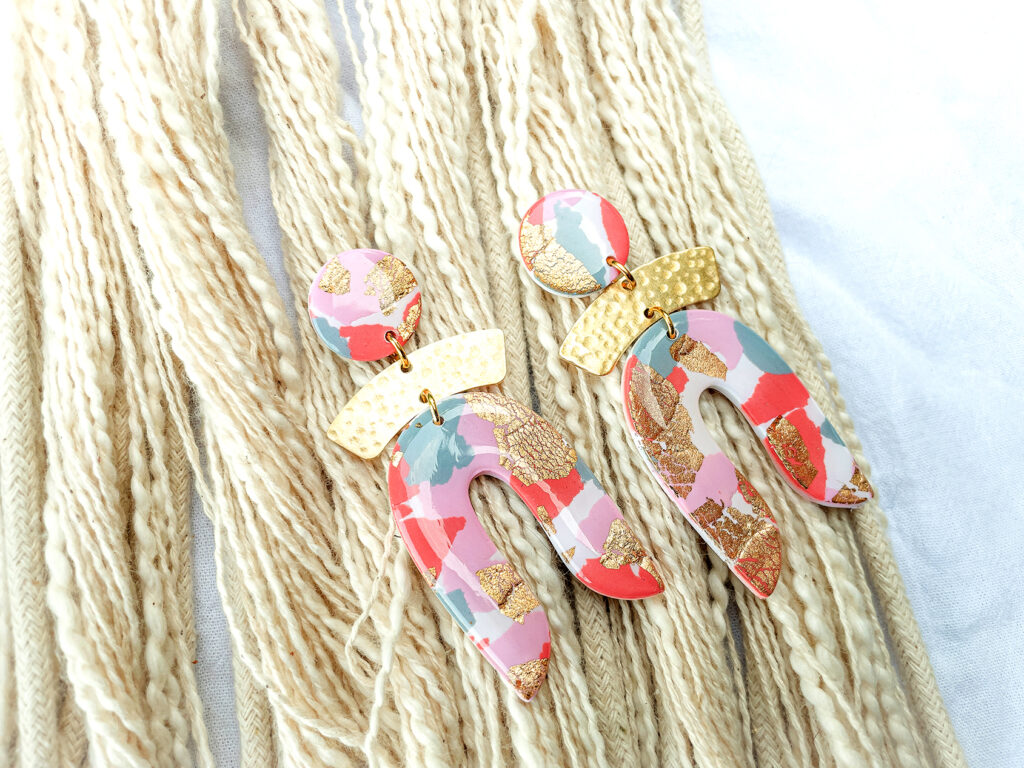 The Parish Clay Co. line is now offered through a dedicated website, and Tumey's pieces also appear in regional shops including Local Lagniappe in Baton Rouge and Southern Charm in Central, as well as the Revival Art House in Ponchatoula. Tumey has also sold pieces at a pop-up shop at Woman's Hospital, and she will set up shop next at the Local Pop-Up at the Electric Depot on August 28. Anyone looking for a custom design can message Tumey directly, a route she says has been especially popular for bridal showers and wedding party gifts. 
"It's been such a fun process, because there was a good bit of trial and error at the beginning, especially when it came to figuring out how long to bake the clay," she says. "There are so many techniques to learn and different designs to try, so it's always a learning process."
Tumey has come a long way since a pair of perfect earrings inspired her to begin wearing the jewelry two years ago. One pandemic and a bit of practice later, she now shares her creations with more people than make up the whole population of her north Louisiana hometown. 
"Of course there are always pieces that don't necessarily work out the way you plan," she says, "but I get to keep those for myself, so that makes the mistakes worthwhile."