10 questions with Classic Jewelers co-owner Linda Himel
Classic Jewelers has been bridging the gap between antique and contemporary jewelry since 1992. Located in the Bocage Shopping Center, the shop offers customers an exquisite collection of vintage and fine jewelry, including wedding bands and engagement rings. We caught up with co-owner Linda Himel to learn more about her timeless gems that will always be a girl's best friend.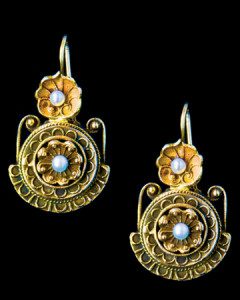 1. What is a typical day like for you and your team? Every morning we have to set up all the jewelry in our windows, and then we spend the day showing it off and sharing our knowledge with out customers. At the end of the day, we pick up all the jewelry and put it in a safe.
2. What is your professional background? How did you get into the retail field? My first professional experience was in nursing and so was my sister Carol's, but one day I took a class at LSU about jewelry construction. I liked it so much that I decided to attend the Gemological Instiution of America, where I got my diamond degree. From there, I just continued my education on antique jewelry through study and travel and talking to people and learning everything I could about jewelry. And that's how I got into the field.
3. What are the first things customers see when they walk through the doors? They see these beautiful antique wooden cases filled with fabulous antique jewelry.
4. What sets your store apart? The staff at Classic Jewelers is superbly trained to personally assist customers and select jewelry that sparks their imaginations and captures their hearts. We love to see people come in and fill out a wish list for the holidays or for special occasions. We try to make the customers feel comfortable, since we're told that some people feel awkward and hassled going into jewelry stores.
5. What is one thing you think customers should know about your store that they may not be aware of? They should know that we have an extensive collection of Victorian, Edwardian, Art Deco and retro jewelry. Unless you've been in our store before, you wouldn't know that. We also sell contemporary jewelry, but it's not faddish. Some beautiful gift items, too.
6. How do you keep your store's inventory fresh and up to date? We buy all year long, either on buying trips to Europe and the U.S. or through contacts we've made around the world. We favor pieces that are classic and timeless in beauty and design, and those never really go out of style.
7. What was your reason for opening the store? When did it open, and how has it grown or changed since then? We opened the store in 1992, but I first started getting involved in the jewelry business around 1990. It's just flourished since then.
8. What are a few of your favorite items in the store right now? Right now we have some fabulous diamond earrings, engagement rings and brooches that we just got in and are really excited about.
9. What are a few must-have items for winter? Fall and winter clothing kind of lends itself to lockets and longer chains. People dress a bit more, so they can wear a lot of bracelets and earrings. Even though we sell things like antique lockets all year long, it seems like they tend to complement more layers of clothing.
10. What are some of your best-selling products? I think the diamond engagement rings and antique earrings are probably our best-sellers.