10 questions with Aria Boutique owner Bonnie Dial
Shopping for the latest trends can be quite tricky if you don't live in the fashion capitals of New York, Los Angeles or Paris. Local boutiques are trying to push the envelope, working hard to bring consumers the latest looks that are emerging on the runways. Aria Boutique is no different. Owner Bonnie Dial realized in college that her love of fashion was something that could turn into a career and—after finishing her last semester of college—came up with the business plans for Aria. The store opened shortly after that, and has grown into an additional location and a thriving online site. We sat down with Dial to learn more about the boutique and its inner workings.
---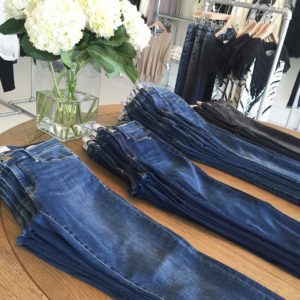 1.What is a typical day like for you and your team? Social media posts start early in the morning before the store opens at 10am. Once the doors are open, we're working on styling outfits, checking in and merchandising new inventory on the sales floor, and alerting customers of new arrivals by posting Instagrams and Facebook pictures. Then the majority of the day on the sales floor is spent dressing and styling customers! On the back end, we'll have someone working on the website, filling and shipping orders and finalizing market orders.
2. What is your professional background? How did you get into the retail field? I always had an interest in fashion, and when I found out I could get a college degree in Fashion Merchandising I knew I found my calling. I switched my major to it and worked retail in between classes. Then after an internship at a showroom in Los Angeles, I knew I was ready to start my own business in the industry. When I came back to Baton Rouge, I finished my last semester of college, wrote a business plan, and Aria was opened a few months later.
3. What are the first things customers see when they walk through the doors? Smiling and inviting staff, gorgeous new summer and pre-fall arrivals, and a cheerful and upbeat atmosphere.
4. What sets your store apart? Our excellent customer service and knowledgeable staff.
5. What is one thing you think customers should know about your store that they may not be aware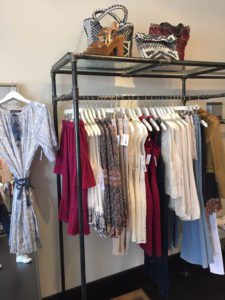 of? Our Aria team is very well trained in styling customers from head to toe. We take pride in the products we sell and our team is very knowledgeable of clothing fit and fabrications, so we can dress you entirely for a number of different occasions. Also we now have access to clothing at two store locations and online, so if we don't have exactly what you need or a particular size you are looking for in Baton Rouge or Lafayette, we can get it for you in a timely manner.
6. How do you keep your store's inventory fresh and up to date? By always having a new up-and-coming designer in the store! We try very hard at fashion markets to find new designers and lines to bring to Baton Rouge. By having a few new "it" brands in store, we can keep the inventory fresh and up to date at all times.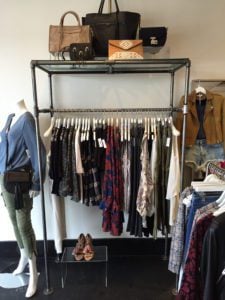 7. Can you share a hint about what shoppers will see in your store next season? Where to begin??? Huge trends for fall include puffer jackets, sneakers and varsity inspired styles, velvet everything, sequin adorned dresses, shearling lined fuzzy jackets, romantic printed tops, lace dresses, and of course some fabulous apres-ski inspired oversized sweaters too!
8. What was your reason for opening the store? When did it open, and how has it grown or changed since then? I really wanted to open a store where the customer could get a full styling experience, so fall of 2008, Aria opened its doors. Since opening, Aria has expanded to an online presence at ariaonline.com (which is currently being revamped and will relaunch fall of 2016). And we also opened a second storefront location in Lafayette in September of 2015.
9. What are a few must-have items this season? Feminine lace, Boho, off-the-shoulder styles, cropped
zflares, AND cotton and linen everything! We have some great lightweight styles in store for summer that will work well in our climate. A common request from customers last year was that they were in need of casual clothing they could run around town in, grab lunch, go to  kids birthday parties, or hang by the pool in but still look cute and cool since our summers are so brutally hot. We really tried to seek out some nice lightweight fabric styles for our customers this season, and I think they will be very pleased with our assortment!
10. What are some of your best-selling products? Everything IRO and Frame Denim! Frame Denim started as a jeans and tee company, but now they've expanded into a ready-to-wear line also. Their classic blouses, flirty mini dresses, and super soft and flattering denim are always best sellers at Aria. Same goes for IRO- jackets (their leathers are insane!), dresses, blouses, tees, jeans…. I'm personally am a sucker for anything by IRO or Frame Denim!