10 questions with Three Sisters and Me co-owner Trudy Denoux
Buying unique gifts can often be a challenge for people trying to think outside of the box. Online shopping can sometimes alleviate the stress, but it doesn't beat the experience of picking something out in person. This is where Three Sisters and Me comes in. The local gift shop at the corner of Airline Highway and Bluebonnet Boulevard has been operating since 2014 with a goal of providing unique products to the Baton Rouge area. Although the store's owners aren't biological sisters, they say their sisterly bond helps connect and inspire them constantly. We sat down with co-owner Trudy Denoux to learn more about the store and what products it has to offer.
---
1.What is a typical day like for you and your team? Typically we open the store around 10 a.m. and arrange any new items so that they are easily found for our returning customers. During downtime, we normally look over inventory and replenish any items sold. In between all of this we enjoy talking to one another about our families and what we are going through at the moment. We are typical women–we love to talk!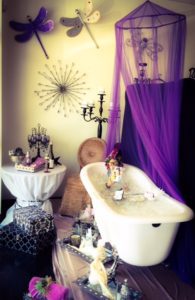 2. What is your professional background? How did you get into the retail field? I was a legal secretary for a few local attorneys in the Baton Rouge area. After working in the legal field for 25 years, I decided to move over to a local party planning company as an administrative assistant. Co-owner Beverly Boudreaux started her career as a secretary, then became a collection analyst for a New Orleans communications company, and then transferred to Lafayette when the company was purchased and re-located. During her 35 years of working for the communications company, she was also a consultant with the local party planning company, hosting in-home parties, and then decided to go full time as a warehouse manager for them.
3. What are the first things customers see when they walk through the doors? Our window displays. We try to entertain and attract business with our displays.
4. What sets your store apart? We have some truly unique gifts that are not commonly found in commercial retailers. We look for individual artists who have unique talents. We also have more than seven different departments in the store. We love having so much to offer our customers.
5. What is one thing you think customers should know about your store that they may not be aware of? We are not actually sisters! We are very good friends who treat each other as sisters, loving and arguing all the way.
6. How do you keep your store's inventory fresh and up to date? We do a lot of research with over 300 vendors to find the newest and greatest items that are unique.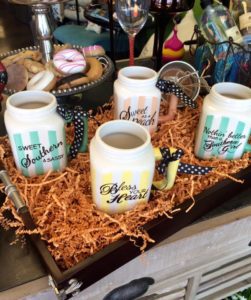 7. Can you share a hint about what shoppers will see in your store next season? Beautiful holiday decor. We try to display a very unique and crafty Christmas tree.
8. What was your reason for opening the store? When did it open, and how has it grown or changed since then? When the local party planning company sold in January of 2014, we decided to team up and open a much-needed gift boutique in the Baton Rouge area. After months of research, we found that true gift boutiques (not souvenir shops) were few and very far between in the area. Clothing boutiques are plentiful, but places to find that truly special gift for friends and family were scarce. We opened in September of 2014, and it has grown into a dream store to own and operate. Other than trends changing, which prompts new inventory, the only change is the clientele. We meet so many new faces in our area and enjoy the stories and expereiences they relay to us during their shopping trips. We love when new customers come in and we get to showcase some of our special products that they haven't heard of or seen in any other store.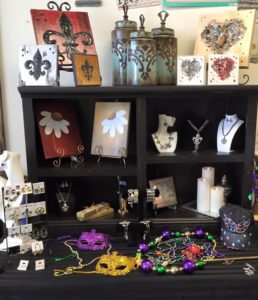 9. What are a few must-have items from your store this season? Probably the candles with jewelry. Such a trendy item and makes for a great gift for all occasions. Also the Southern Sassy Decor. These items are perfect for smaller gifts and for bundling with other items to make that perfect gift basket for a special friend.
10. What are some of your best-selling products? Our bath and body products. We have several items that are popular beyond our expectations.