10 questions with The Vintage-Violet
Many eclectic shops call Government Street home, including new boutique The Vintage-Violet. For owner Kelly Lee, this venture has been a long time coming. Her time as an actress sparked her love for fashion and vintage clothing. Now, she's hoping to share that passion with others through a 800-square-foot shop containing pieces from as far back as the 1950s.
Keep reading to learn more about Lee, her shop and her vision:
---
1. What inspired you to start The Vintage-Violet?
I have always loved vintage clothes. My love started back when I was an actress and got to wear so many beautiful costumes. I decided to turn my passion for vintage clothes and accessories into a business. I started selling online, but my goal was always to open a vintage store. In April 2021, I started buying vintage pieces and stocking them away into two storage units. I knew that if I started a large collection, I would have to make my goal of opening a vintage store a reality.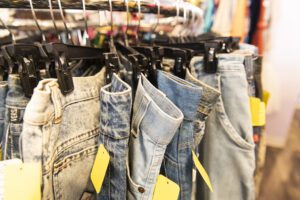 2. How long has this been a hobby of yours? Where do you source pieces from?
Collecting vintage items, in general, has always been a hobby of mine. I collect vintage clothes, accessories, home décor items and vintage Christmas items. Most of the vintage clothes come from online vintage dealers, but I also source at estate sales, garage sales, thrift stores and anywhere else I can find.
3. What is the process of acquiring vintage pieces like for you and your team?
I mainly buy from online vintage dealers. I am online constantly and I am always buying. There really is never a time when I'm not scrolling on my phone looking at vintage items to buy for the store. Buying vintage online is the last thing I do before I go to sleep and it's the first thing I do when I wake up in the morning … it really never stops.
4. Can you describe the merchandise in the store?
We have over 2,000 items in our tiny 800-square-foot space! The vast majority of it is vintage clothing. However, we also have a great selection of vintage jewelry, purses, shoes, scarves and other accessories. We have items for men and women, and we even have a great collection of vintage vinyl (which we sell a lot of)!
5. How does The Vintage-Violet stand out from other boutiques?
Our concept is very unique. We like for our customers to feel like they have stepped back in time when they visit our store. We have an old 1950s TV that plays black-and-white movies and TV shows, and we have a 1970s faux fireplace that creates the feeling of having stepped back in time into someone's living room. We aren't just selling vintage items; we are selling a vintage lifestyle. That's what brought about our store's tagline: "Living vintage…loving life!" Shopping here isn't just about finding great vintage pieces (although you definitely will)—it's about stepping back in time while you're in the store and leaving the "real world" outside the store.
6. What can we expect in the new year?
We will continue to keep our store stocked with fun, new vintage goodies! Because I am online buying vintage pieces every day, I am also able to put out new inventory every day. We want our customers to feel like they can see something new every time they come in and shop. We have made it our primary goal to put out new merchandise every single day.
7. How has the response from the public been?
We have had such a fantastic response from the community! We are so thankful that so many people have given us such a warm and enthusiastic welcome. We opened on November 12, 2021, and it's been so amazing to see people come in and find great vintage pieces that they love and then to see them come back and become regular customers, and to bring in friends when they return.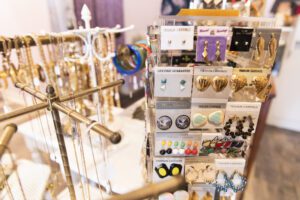 8. What is the meaning behind the name?
The name came about because we really liked the alliteration of it, but it also fit because, as an actress, I have played three different Violets. So it all came full circle considering that my love for vintage began back during my acting days.
9. What is a typical day like for you and your team?
A typical day starts with us putting out new merchandise and making sure the store is neat and clean. Then we open the store, welcome our customers, and "adopt out" our vintage goodies to a whole new generation of vintage-loving people. And all while this is going on, I am also online buying, buying, buying.
10. What is one thing you think customers should know about your store that they may not be aware of?
I'm sure a lot of people don't know that we have an entire section of the store that is dedicated to vintage and pre-loved designer items. We carry Louis Vuitton, Chanel, Gucci, YSL, Prada, Manolo Blahnik, Hermes and many others. Without a doubt, that section of the store is my absolute favorite.
---
For more information on The Vintage-Violet, visit the store's website here. And check out this story from inRegister's sister publication 225.