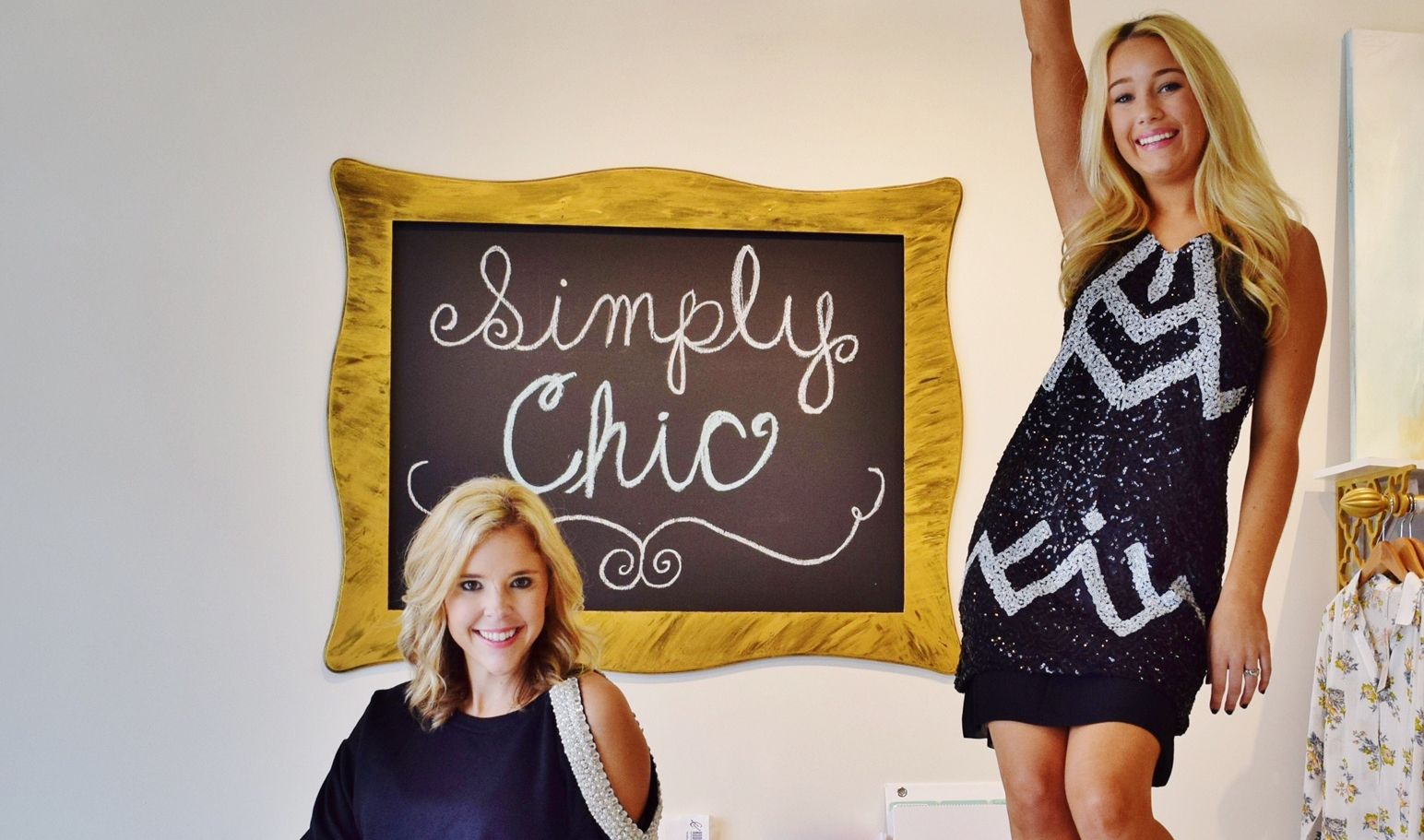 10 Questions with Simply Chic Owner Kelley Miglicco
Simply Chic may be new to Baton Rouge, having opened its doors in October 2015, but this trendy boutique is already making its mark around town. Stocked with fashion and accessories carefully cultivated from big city vendors—but also from local designers and craftspeople—one of the store's biggest advantages is its location on Highland Road beside the likes of Alexander's Market and Smoothie King, in an area previously distanced from high-quality clothing boutiques. We stopped to chat with owner Kelley Miglicco, who we featured in a previous article, to find out more about Simply Chic and why she decided to follow her dreams.
---
1. What is a typical day like for you and your team? We open the store and re-merchandise, moving things around and making sure everything's clean from the day before. And then we just put a smile on our face ready to help anyone who walks through our door, keeping in mind our daily goals to help the girls stay intrigued with assisting customers. You'll also find us posting on Instagram throughout the day.
2. What is your professional background? How did you get into the retail field? I've worked in retail since I was 15. I started at a store in Alexandria, where I'm from, a family-owned business. That's where my love of retail comes from, since it was the only boutique-type store there was there at the time. Then I moved to Baton Rouge and worked for an insurance company for five years, after which I stayed home to take care of my little boy after he was born with some complications. But once I saw the location I'm in now, I knew I wanted to pursue retail again.
3. What are the first things customers see when they walk through the doors? I get a lot of comments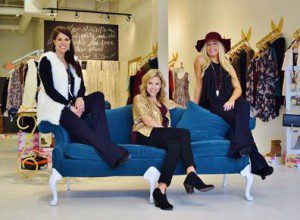 on the huge iron ceiling chandelier that my dad built. The table underneath it, too—he made both of those. People also tend to notice my clothing racks in the shape of angel wings. I lost my first little girl just a day after my due date, so she's kind of where I get my passion for all things girly. The whole store is painted white, so it's just a very calming space.
4. What sets your store apart? We have a variety of prices and sizes. I feel like we have something for everyone.
5. What is one thing you think customers should know about your store that they may not be aware of? We have something in a price point that most everyone can afford and fit into. I get a lot of social media comments and calls asking about the sizes we carry, and we can fit up to an extra-large. Many of our items are also very flowy and flattering.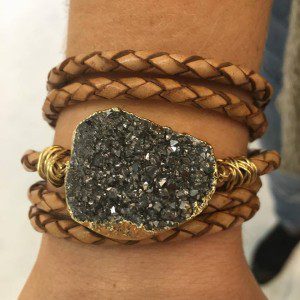 6. How do you keep your store's inventory fresh and up to date? I go to market four times a year, and then I do online ordering through various vendors to fill in the space between market days. I also carry Savvy Root handbags, which are made by a local designer based out of Baton Rouge. (Check out inRegister's article on this hip line here.) I have about 3 to 4 local jewelry designers, too, like Parker Madison. Working with local designers is a good way to keep things interesting.
7. Can you share a hint about what shoppers will see in your store next season? For spring, it's all about dressing up the basics. You'll see a lot of simple items showcasing tiny details, like a standard denim dress with some unexpected ruffles. We'll also be carrying these long maxi t-shirts with a slit up the side—like a t-shirt dress you might put shorts or leggings underneath. Fringe is also still going to be big, just like two-piece sets.
8. What was your reason for opening the store? When did it open, and how has it grown or changed since then? I decided to start the process of opening the store in August. Even after I lost my first little girl, I still wanted to work and open a store, but it just wasn't the right time. When I had my little boy in August 2013, I ended up staying home with him, and then in the meantime I had another little boy, but the yearning to have my own store was still there. One day I drove by our current location and saw just a framed building, and spent all day on the phone calling and asking what that building was going to be. I got in touch with a Realtor and found out that they had a space available, and I knew right away that it would be the perfect spot in one of the most unsaturated parts of town. I spoke with one of my good friends about bringing the Simply Chic franchise to Baton Rouge, and that's kind of where it all started. When that space opened up, I finally felt that my time had come.
9. What are a few must-have items for winter/Christmas? Savvy Root scarves. We also have these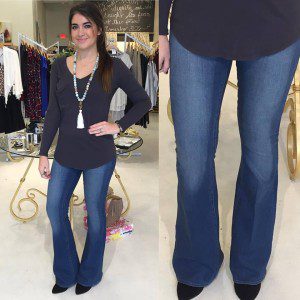 elastic-waist flared jeans which have just flown out the door. They're extra great for the holidays, since the elastic waist lets you eat as much as you want! I also carry a lot of basics from the Bobi line, and those items come in all sorts of colors and shapes. It's  just a basic cotton line, but they've been huge sellers for me.
10. What are some of your best-selling products? Definitely those elastic waistband jeans. We carry those in extra-large sizes, too.