10 questions with Noelie Harmon owner Amy Strother
"Go green" does not even begin to describe the mission of conscious boutique Noelie Harmon. The shop strives to offer items that are stamped with at least one of four icons: eco-friendly, socially responsible, fair trade and local artisan. Many of the store's unique items, which range from paper and soaps to throw pillows, are made locally by artists and designers who share the store's values. We sat down with owner Amy Strother, who is also at the helm of the on-site sister shop Denicola Furniture & Upholstery, to learn more about Noelie Harmon's innovative marketplace approach.
---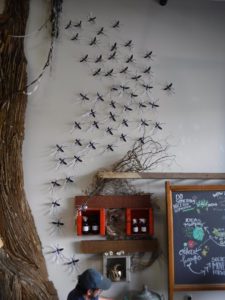 1. What is a typical day like for you and your team? We operate two stores under one roof, so our day isn't the typical retail day. We assist both retail shoppers and furniture customers at the same time. We wear a lot of hats–customer service, designer, maker and merchandiser–all in the course of a day.
2. What is your professional background? How did you get into the retail field? After retiring from the health care field, I opened Noelie Harmon with my previous partner to bring conscious shopping to Baton Rouge. We wanted to take the guesswork out of it by doing all the research ourselves. We give our customers the comfort of knowing every product is not only truly unique but also completely sustainable.
3. What are the first things customers see when they walk through the doors? A giant tree made out of recycled cardboard, two large murals painted by a local artist, and an apothecary bar offering homemade products like bug repellent and candles.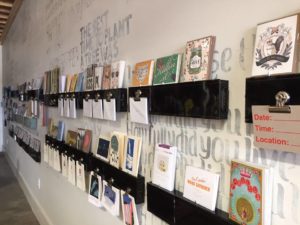 4. What sets your store apart? We don't just talk the talk. We fully support our entire community, and we have always supported local artists from day one. Where other stores are only beginning to boast about shopping local, it's been our mission for nine years. We live and breathe creativity here. The atmosphere and the products have to be extremely artful.
5. What is one thing you think customers should know about your store that they may not be aware of? We make our own line of sustainable apothecary goods here on-site. Candles, mosquito repellent, soaps and home cleaners are a few. They're all completely nontoxic and refillable.
6. How do you keep your store's inventory fresh and up to date? It takes a lot of time doing research, I'll tell you that. When you're hunting for not just cool products but products that are both unique and responsibly made, it takes four times the amount of time to find them. About two to three times a year, I introduce several new products and try to get some of those locally made. We also try to introduce some products made by our own team.
7. Can you share a hint about what customers will see in your store in upcoming months? We will be partnering with a new business to bring some creative-focused events to our space. We are also introducing a few new products made by Noelie Harmon and Denicola's staff. We will also be hosting a makers class.
8. What was your reason for opening the store? When did it open, and how has it grown or changed since then? I opened Noelie Harmon because I've been passionate about living simply since I was a teenager. I wanted to bring that mission to my town, which also happens to be not-so-sustainable. We opened on Earth Day in 2008. It's changed a lot, mostly in its product offerings, because it took a while to figure out what kind of sustainable, local products people wanted.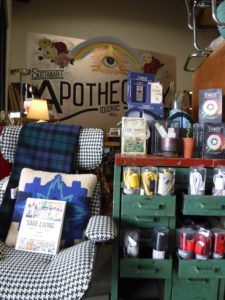 9. What are a few must-have products right now? Definitely the homemade mosquito repellent. It is a good thing to pick up right now because it's that time of year. We also have a brand new line of nontoxic nail polishes that are lovely and a great price just in time for summer. Some of my personal favorite items right now are the throw pillows made from vintage mudcloth. We can make those to order, too!
10. What are some of your best-selling products? Oh, wow, definitely our veggie pun mugs! They're hysterical. Also, all of our candles and our entire paper section have always been a big hit. We have a large, loyal following of paper shoppers because our paper selection is unique. It represents every type of person and couple, and it's very artful.