10 questions with Lori DeBenedetto-Webb of Lulu & Bean
Nestled under the overpass, Lulu & Bean is a treasure trove of curated resale items, embroidered masterpieces and more. With its founding in October of 2016, owner Lori DeBenedetto-Webb channeled her passion for children and families to create a boutique that not only clothes Baton Rouge's babies, toddlers and children, but also educates them. We sat down with DeBenedetto-Webb to get a behind-the-scenes look at the Lulu & Bean's creative approach to children's apparel.
---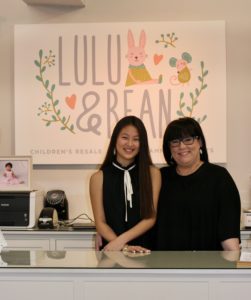 1. What is a typical day like for you and your team?
We begin the day in the sewing room as we always have embroidery orders to fill. This is where the magic happens. We have the pleasure of creating and stitching beautiful designs to meet our customers' needs. We spend each day sewing, designing embroidery projects, assisting sellers and customers, screening resale items, pricing new inventory, keeping our social media up to date, and working to keep the store neat and organized.
2. What is your professional background? How did you get into the retail field?
I am a licensed clinical social worker, specializing in the field of adoption for almost 20 years. I love this work and continue part time in addition to serving on the Louisiana Adoption Advisory Board.
When a beautiful retail space in a neighborhood I loved became available, I wanted to bring something special to Baton Rouge. My work has always been with children and families, so it's no surprise that this is the area of retail that captured my interest. I've always cared about the environment and enjoyed buying secondhand and saving money. I learned about the massive volume of clothing that ends up in landfills and felt this was an opportunity to extend the life of the beautiful clothing worn by many of the children of Baton Rouge.
3. What are the first things customers see when they walk through the doors?
Customers see a fresh, colorful, friendly and relaxed atmosphere with goodies galore for babies and children. Little ones are quick to locate the train table and treehouse we have for their enjoyment.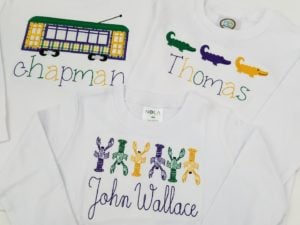 4. What sets your store apart?
We only accept higher-end and boutique clothing items in excellent and new condition. The ease of our resale process and high return paid to sellers also sets us apart. We buy items outright and pay sellers on the spot–no consignment accounts, waiting for a check in the mail or picking up unsold items. For embroidery, we only use the highest quality threads, fabrics and clothing items and keep up with the latest techniques and trends. In addition to custom monogramming, we offer appliqués, shadow embroidery and vintage stitch and will soon add hand stitch to our repertoire of techniques.
5. What is one thing you think customers should know about your store that they may not be aware of?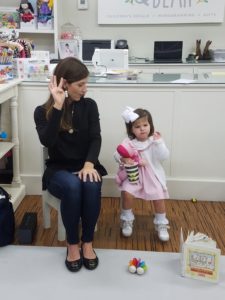 One of my favorite days of the month is Storytime at Lulu & Bean. We have a delightful and energetic storyteller who uses songs and stories centered around a theme to engage parents, babies and toddlers for a morning of fun. Other events we have planned for winter and spring 2018 include family watercolor portraits, a reading and book signing by a local children's author, a pediatric sleep seminar for parents, and an activity for little ones to educate and encourage proper hand washing.
Supporting other local businesses is important to us at Lulu & Bean. We currently carry six lines of products made by local moms including bath products, teethers, bags and clothing. We embroider for another Baton Rouge children's store and work together with other local businesses for giveaways.
6. How do you keep your store's inventory fresh and up to date?
One of the benefits of resale is that we receive and put out new inventory daily, so our collection is constantly fresh. Surprisingly, there are just about as many high-end designer brands for children as there are for adults. Our wonderful sellers keep us stocked with many of these gorgeous, high-quality brands that we can offer to customers at affordable prices.
7. Can you share a hint about what shoppers will see in your store next season?
Springtime is when families are preparing for days at the park and pool and summer vacations. We buy all seasons of resale items all year long and have an abundant collection of apparel when each new season rolls around. The shop will also be stocked with new swimsuits, towels and sunhats perfect for embroidery.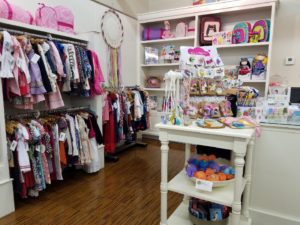 8. What was your reason for opening Lulu & Bean? When did it open and how has it grown or changed since then?
I wanted to be part of a business that supported and provided a great resource for families. We purchase a large percentage of our inventory right here in Baton Rouge, which means we have stocked our store by buying from local families. I wanted to create a place that welcomed children and connected families, a happy place for all families to enjoy. One of the greatest joys of running Lulu & Bean is connecting with repeat customers and getting to know new ones.
Lulu & Bean was established in October 2016, and we've experienced significant growth during our first year. When we first opened, we would have about a dozen sellers per week, and now we have anywhere from 4 to 12 sellers per day. Our embroidery business has grown exponentially. We began with one embroidery machine and have recently added a second.
9. What are some of your best-selling products?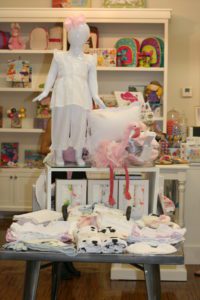 Popular brands in our resale collection such as The Beaufort Bonnet Company, The Proper Peony and Well Dressed Wolf are always in high demand. Many of our customers are on the lookout for gifts such as bibs, blankets and bloomers that can be embroidered and personalized. A few of our best-selling products in our new gift collection are our wooden toys, cotton muslin swaddle blankets and our safe and eco-friendly teethers.
10. What are a few must-have items this season?
Parade gear! We have been busy stitching out festive Mardi Gras-themed designs from purple, gold and green crawfish to king cakes and streetcars. In addition to the custom embroidery orders, we are thrilled to offer Mardi Gras graphic tees and dresses from two New Orleans-based businesses. And Easter will be here soon, when it's all about bonnets and bunnies at Lulu & Bean!
For more on Lulu & Bean, check out luluandbeanbr.com.