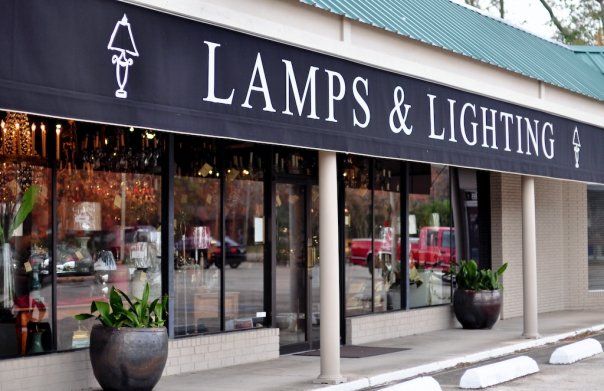 10 questions with Lamps & Lighting owner Mary Margaret Singer
Choosing a lamp or chandelier for your home can be a difficult decision, but Lamps & Lighting owner Mary Margaret Singer believes she and her team can help you select pieces you'll love for years to come. From trendy to traditional, Lamps & Lighting has a variety of items to complete any room. The store can also repair old pieces or even give them a fresh new look. We sat down with Singer to learn more about Lamps & Lighting's history and services.
---
1. What is a typical day like for you and your team? Our day is filled with helping customers select lighting for their homes or working through repairs on lighting they already own. Whether it be re-shading their lamps or helping them decide which chandelier to put over their dining room table, we stay busy!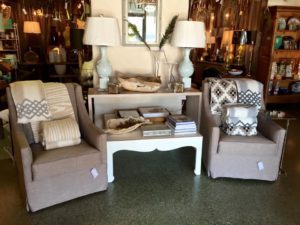 2. What is your professional background? How did you get into the retail field?
I came from the world of corporate finance. Never in a million years did I think I would own a store, but this opportunity fell at my feet and there were clear signs from God that I was supposed to listen! It was a giant leap of faith for me to leave the comforts of my corporate life, but I have never looked back and I couldn't be happier.
3. What are the first things customers see when they walk through the do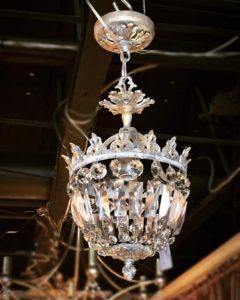 ors? It's a bit of a visual overload! We have hundreds of items on display, and we have a wide variety of styles in the world of lamps, chandeliers, sconces and accessories. You could walk around twice and still might miss something! But what we hope our customers see first is a friendly face greeting them and asking what we can do to help.
4. What sets your store apart? Customer service! We want every person that walks through our doors to know we are there to help. We like to carry your purchase to the car, teach you the proper methods to care for your lamps, and educate you on lighting. We always say that we are lighting nerds and we enoy helping our customers love the world of lighting as much as we do.
5. What is one thing you think customers should know about your store that they may not be aware of? We can repair lighting that they already own, and a new lampshade or lamp base can transform an old lamp. I can also take a vase or object that they own already and turn it into a lamp. I have lots of merchandise to choose from, but I am also a pretty bad lamp salesperson. I always encourage folks to at least give me the chance to make them fall in love with one of their old lamps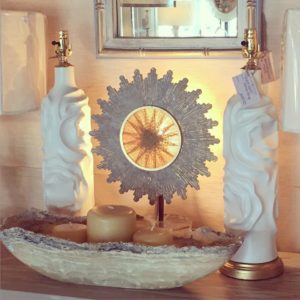 6. How do you keep your store's inventory fresh and up to date? Just like all retailers, I go to market and bring in fresh items a few times a year. But we also source year-round and are constantly bringing in new things. We do a ton of custom work, so that is always fresh because it's homegrown and unique. There really isn't a true "up to date" in my opinion because lighting is like purses and shoes. It's personal! Everyone likes different things, so we try to have everything from traditional to modern and all the styles that fall in between.
7. Can you share a hint about what shoppers will see in your store next season?
Golds and silvers mixed together. Local interior designer Anne McCanless has coined the term "gilver," and it really is quite the trend with every lighting vendor that I know.
8. What was your reason for opening the store? When did it open, and how has it
grown or changed since then? I can't take credit for opening this store. Dottie Richard and her husband Jim created this wonderful shop, and I just got lucky enough to be her owner today. Lamps & Lighting has been open for 29 years, and it has grown and changed with the times. One thing that remains the same is our repair business and our large offerings of lampshades.
9. What are a few must-have items this season? "Season" is a tough word when it comes to lighting because it can't be seasonal. It has to stand the test of time. We try to ensur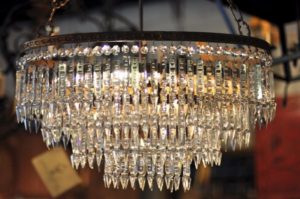 e that a customer's selection will be something that they love in five years as much as they love it today!
10. What are some of your best-selling items? Large-scale chandeliers for great rooms are a best seller. Everyone is opening the spaces in their homes, and when they do that, a large chandelier is a great way to anchor the space. Lights that work well in this space are hot sellers! We have also noticed a trend toward color. People were only buying white or cream lamps for a few years, but the splash of color has returned! We adore that it's back because these lamps really have fantastic personalities!