10 Questions with Jennifer Myers of Article & Thread Boutique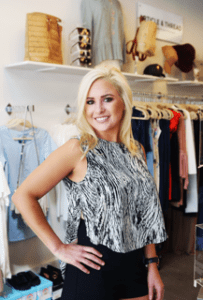 Sitting at the intersection of Perkins and Acadian is Jennifer Myer's Article & Thread Boutique. Inspired by the desire to help women better express themselves, Myers launched her online boutique in 2015. Today, featuring fashion-forward pieces ranging from timeless classics to the latest trends, Article & Thread has evolved into brick and mortar. inRegister reached out to the entrepreneur to learn more about the store's beginnings and current offerings.
---
1. What is a typical day like for you and your team?
The first thing we do, next to turning on the lights, is to package and ship the online orders that were placed overnight. Offering fast and free shipping is really important to us, so we try to get our orders out as fast as possible. After that, we straighten up merchandise and get ready for our first customer.
2. What is your professional background? How did you get into the retail field?
After graduating from LSU in merchandising, I went to graduate school at the University of New Orleans for an M.B.A. After a couple of years working in real estate and business lobbying, I got married, and my husband really gave me the extra push to finally pursue my dream. Once he said I should go for it, I was all in. I launched the online boutique in December of 2015.
3. What are the first things customers see when they walk through the doors?
The retail space is very open so that customers can see the merchandise very easily. We have a wooden table at the front of the store with the latest jewelry as well as sunglasses, camisoles and bandeaus, which sell well because everyone needs them. In addition, our mannequins are dressed in some of the new styles so customers can get a visual of what they look like on a body.
4. What sets your store apart?
We truly care about helping people look and feel their best and at an affordable price. In order to do this, we offer unique and trend-setting styles as well as classic pieces every woman should own at the most competitive pricing in town. We also want to provide the best quality customer service by responding to customers swiftly, accepting returns and exchanges for 30 days, and offering store pickup or free shipping for online orders.
5. What is one thing you think customers should know about your store that they may not be aware of?
We also carry a skin care and beauty line called Aloette that is at the forefront of skin care innovation. Aloette utilizes high-potency organic aloe vera and the latest anti-aging technology. I did not plan to carry a skin care line until I personally used the products and knew how great they were.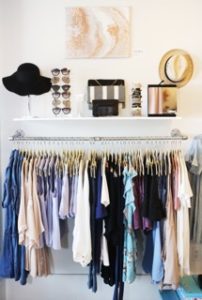 6. How do you keep your store's inventory fresh and up to date?
Apart from frequent trips to markets around the country, we are constantly ordering new items and researching new trends. Listening to what our customers want is also a huge influence on what we carry.
7. Can you share a hint about what shoppers will see in your store next season?
Noticeable trends that we will see this fall will be plaid prints as well as bolder than usual colors during fall and winter. Hats, specifically beanies, will be popular, so we will be carrying a variety of knits and colors. Lastly, micro-clutches and handbags are trending, so we plan to offer a variety of unique micro-bags.
8. What was your reason for opening the store? When did it open, and how has it grown or changed since then?
I wanted to use my work ethic for my own benefit and create something that I was proud of. I realized that I desired more from work than the monetary reward that I was getting out of working for someone else. Plus, opening this boutique would really put both of my degrees to work. When I first launched, Article & Thread was just an online boutique and now we are also in store.
9. What are a few must-have items this season?
Our short sets are absolutely adorable and are perfect to stay trendy and comfortable in this Louisiana heat. Beaded stretch bracelets are also very popular, and we have bracelet sets that come in different colors to match ay outfit. We especially love them because they are so easy to throw on and off. Personally, my go-to in the summer is a kimono over a camisole with shorts because it's cool and comfortable while still possesing style.
10. What are some of your best-selling products?
Everyone is obsessed with our jeans, and for a good reason! It's a brand from Spain and the fit is superb. We have every style from skinny to frayed hem to distressed and in every denim wash. Once someone tries them on, they are hooked!