10 questions with Susan Holliday of Tangerine
Local children's and tweens' boutique Tangerine has made quite a name for itself in the six years since it opened its doors. The boutique is known for its extensive selection of fashionable styles, as well as its very own in-store runway. Owner Susan Holliday chatted with us about how she keeps up with the latest trends, and what her young shoppers are snatching up this fall season.
1. What is a typical day like for you and your team?  There is no typical day! We normally start by checking in with coworkers and re-evaluating the previous day and discussing goals for the day at hand. You never can tell if it will be crazy busy at 10 a.m., or if the crowd will increase throughout the day.
2. What is your professional background? How did you get into children's and tweens' apparel? I opened Head Over Heels in 2001. Around the holiday season in 2009, my nieces, who are now 17, were looking for fashionable but appropriate clothes. At that time there were very limited tween choices, so we developed the Tangerine concept.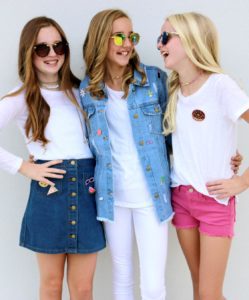 3. What is the first thing customers see when they walk through the doors of Tangerine? The first thing customers see when they enter the store is the GIANT wooden Tangerine tree in the middle of the store, which was crafted by a local artist, and the model runway under the Tangerine logo. Customers are then greeted by a smiling associate and endless clothing and accessories.
4. What sets Tangerine apart? Customer service! Our mission is for every girl who walks through the door to have a positive shopping experience–to feel good about herself and the way she presents herself to others. Our motto is, "Love who you are, Love what you wear." For many young girls, Tangerine is their first shopping experience, so we strive to boost confidence in these amazing girls.
5. What is one thing you think customers should know about your store that they may not be aware of? Customers are now able to purchase items directly off of Instagram and Facebook through PayPal, and WE SHIP!
6. How do you keep Tangerine's inventory fresh and up to date? We attend markets at least every quarter and now have several vendors making exclusive inventory for Tangerine.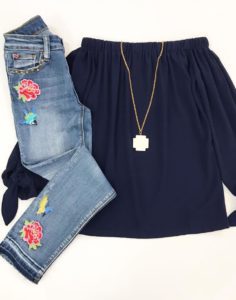 7. Can you give us a hint about what shoppers will see in your store next season? Spring is always my favorite season because I love all of the colors. There will be a lot of great swimwear and and accessories and lots of options for different body types. The big trends we saw at market for spring were black-and-white gingham, floral prints, embroidered denim and big, bold prints.
8. How has Tangerine grown or changed since it opened?
We originally stocked boys' clothing as well but after a season decided to keep our focus on girls.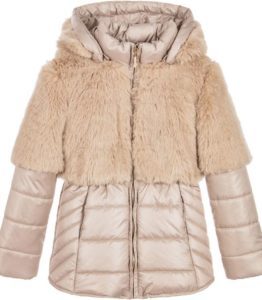 9. What are a few must-have items this season? Trendy sneakers, ankle booties, a Big Face animal tee, fun fur accessories and a new puffer jacket.
10. What are some of your best-selling products?
We have sold our McClendon Designs necklaces well for several seasons. Laura McClendon is always coming up with great new designs. We have also sold our accessories well, such as bath bombs, Emi Jay hair ties and fuzzy PJ shorts.
Shop Tangerine at its location at 7580 Corporate Blvd. or follow its Facebook page for the latest looks in stock.