10 Questions with Bengals & Bandits co-owner Patrick Wilkerson
Bengals & Bandits has been supplying the gameday needs of LSU fans for seven years now, and they are starting a new fashion initiative that should keep things interesting.The company has recently launched a brand-new subscription service, Geaux Threads, which delivers locally designed, member-exclusive T-shirts month to month. It aims to provide a fresh design with a focus. To check in on this Baton Rouge staple, we talked with co-owner Patrick Wilkerson, who told us all about it.
---
1. What is a typical day like for you and your team? From the outside looking in, our day looks like the day in any typical retail shop. We assist customers, order products and ensure the stores are well maintained. However a deeper look would show our day is also filled with designing and developing products for both the retail and wholesale side of our business. We spend much of our time working with local artist to create our LSU, Louisiana Homegrown and Bengals & Bandits branded apparel lines.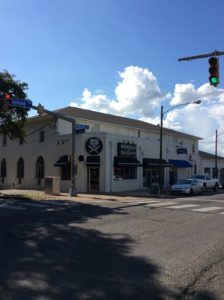 2. What is your professional background? How did you get into the retail field? After graduating from LSU with a degree in marketing, I went to work for a local company that produced collegiate neckwear and accessories for over 50 universities. During this time I learned all I could about licensing, product development and the collegiate retail market as a whole. It was also at this company where I met Eric Hedrick and partnered with him to create what is now Bengals & Bandits.
3. What are the first things customers see when they walk through the doors? The variety of our selection. It's our goal to offer the most unique and hand picked selection of LSU and Louisiana apparel we can find.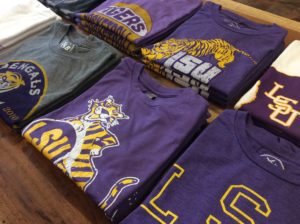 4. What sets your store apart? Quality and exclusivity. We search for the highest quality items and combine them with our exclusive designs to create our unique product mix.
5. What is one thing you think customers should know about your store that they may not be aware of? We're one of the last locally owned LSU stores in Baton Rouge. Many of the shops in town that were once locally owned have either closed their doors or were taken over by various big-box stores. Because we live in Baton Rouge and graduated from LSU, we have a local insight that many of our competitors simply don't have.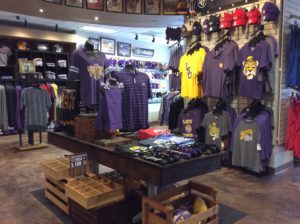 6. How do you keep your store's inventory fresh and up to date? We design and print much of what sell in store, so we're able to quickly add designs, update styles and change colors so that there is always something new for our returning customers.
7. Can you share a hint about what shoppers will see in your store next season? Fall is by far our busiest season. During this time we bring in tons of new items and designs to the shop. This fall we're excited to extend our in store offering by introducing Geaux Threads,  our new online LSU subscription service. Each month we will debut a new, custom designed LSU tee that will only be available to our Geaux Threads members.
8. What was your reason for opening the store? When did it open, and how has it grown or changed since then? In the summer of 2010 we opened our first location outside the North Gates of the LSU Campus. After years of selling product to collegiate stores across the country, we felt Baton Rouge deserved a shop with a better mix of LSU apparel and merchandise than what was available. Our goal was to
capture the history and culture of LSU by finding and creating vintage inspired designs, locating the most unique products on the market and listening to what customers were looking for. After seven years in business this goal and process has seen little change.
9. What are a few must-have items this season? With football and tailgates, fall is all about staying cool while looking your best. In addition to our large selection of premium lightweight t-shirts, we carry performance shirts and polos for men, women and kids. Our performance lines include Cutter & Buck, Columbia, Antigua, Garb plus many others.
10. What are some of your best-selling products? Our premium T-shirts have always been our best selling items, and what we've become known for. These include our retro LSU designs, Louisiana tees from our Homegrown collection and our self branded Bengals & Bandits shirts featuring our Chinese Bandits inspired logo.