10 Questions with Amanda Spain of Lollipop Lane Market
Once Amanda Spain started shopping and selling consignment for her kids, she was hooked. Low prices and the opportunity to make money–what could be better? Eager to continue the legacy started by Lollipop Lane Market's founders, Spain purchased the seasonal sale business and is now preparing for its annual Fall Sale, which will take place at Perkins Rowe next Wednesday through Saturday, September 5 through September 8. We sat down with Spain to get the inside scoop on the sale, as well as a few consignment shopping secrets.
---
1. What is a typical day like for you and your team preparing for and during the sale?
In a word, hectic. Because we're a pop-up shop, we have to get in and get organized all in one day. We bring in racks and tables, decide the best layout for everything, then our sellers come in with their items and we have to sort and place everything. It's crazy but exciting!
2. What is your professional background? How did you get interested in children's consignment?
I'm an attorney at Baker Donelson. I practice commercial real estate, so buying Lollipop Lane was completely out of my comfort zone. However, I've been selling with the market for years, and I've loved knowing that all the precious clothes my kids barely wore were getting a new home. So, when the ladies who started the market said they were interested in selling, I just felt like it was the right opportunity for me.
3. What is the niche that Lollipop Lane fills in the local retail market?
Baton Rouge has very few places that sell high-end children's clothing, and even fewer consignment stores. With Lollipop Lane, parents have an opportunity a few times a year to clean out their closets and make a little money. For shoppers, it's a chance to buy beautiful items at a fraction of the price they would spend buying new.
4. What are the first things customers notice when they attend one of your sales?
The quality of the clothes. We are particular about what we sell, and our sellers know how to price their items to maximize sales. While we have some lower-end brands, the majority of our clothing is from boutiques.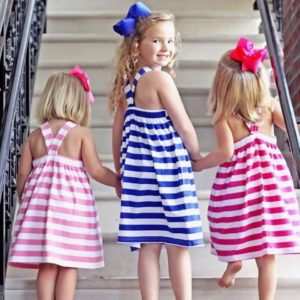 5. What makes your sales unique?
Our sale is smaller than some of the other seasonal consignment sales so you don't have to dig through tons of racks of lower brands to find beautiful pieces. We also don't have a huge number of vendors selling new items, so our sellers aren't competing with new items.
6. What is one thing you think customers should know about Lollipop Lane Market that they may not be aware of?
We have a pre-sale that is only open to new moms and grandparents. Registration is through our website. It's a great way to stock up on bedding, strollers, monitors and clothes since they get to shop first, before we open to the public.
7. Where do you find sellers/vendors for the sales?
Mostly through word of mouth. We have a great social media following, and our parents tell their friends about the benefits of selling and shopping. It's mostly community grown.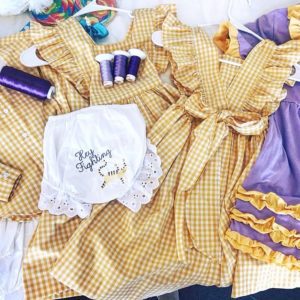 8. Can you share a hint about what customers can expect at the upcoming Fall Sale?
The sale is right before the first LSU game, so there will be lots of purple and gold, cheer uniforms and jerseys for our little Tigers. Plus, we'll have all of our holiday outfits on display for fall and Christmas. We'll also have toys and stocking stuffers to get a jumpstart on holiday shopping.
9. What are your tips for shopping consignment?
Shopping our sales is a great way to get items you want, but don't want to pay full price for–like holiday outfits, play clothes, church dresses and accessories. We have all of that in one place, so it's fun to shop and you know you're going to get great prices, which makes it even better!
10. What are your must-haves for children in fall and winter?
For girls, I always have leggings and tights in every color, plus a variety of outerwear options because our weather is so unpredictable. For boys, I love small-wale corduroy. I stock up on John Johns and pants in every color so I can buy appliqued shirts and know that I can mix and match.
For more information on the market, as well as information about the upcoming sale, visit lollipoplanemarket.com or follow along on the sale's Facebook and Instagram.