Well-curated Christmas: Local brand Fig and Dove is now available on One King's Lane
After launching her refined holiday line, Fig & Dove, in 2015, Colleen Waguespack had no idea her carefully curated stockings, tree skirts, and more would reach such quick success. Having developed the idea after being asked by her interior design clients to help decorate their homes for Christmas, Waguespack was inspired to create holiday decor that was both festive and couture.
"I noticed there was nothing on the market that really complemented a more sophisticated home," says Waguespack, who also owns the Baton Rouge-based interior design practice Colleen Waguespack Interiors. "I want Fig & Dove to bring Christmas into homes in a less literal way than saturated reds and images of Santa Claus."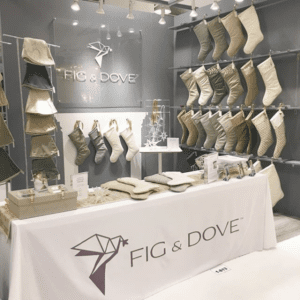 Starting out entirely online, Waguespack did not originally plan on venturing to boutiques, let alone a large online marketplace like One King's Lane. However, after canvasing the high design market at the Atlanta Home & Gift Show for years, Waguespack set her sights on the design site based on not only its popularity but on her own experience with it.
"I have always admired One King's Lane," says Waguespack. "It's somewhere I shop for my clients, so when I decided to invest in a booth at the Atlanta Home & Gift Show, I knew a partnership with them was my goal."
Being asked to collaborate with the brand has not only given Waguespack a larger platform to showcase her high-end designs, but also granted her the creative license to experiment with more colors and patterns. While stocking "safer" styles on her own site, Waguespack was able to incorporate bolder prints, such as paisley, into the One King's Lane collaboration, allowing Fig & Dove to grow and attract a new set of buyers.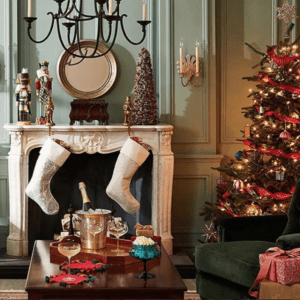 "When creating the line with One King's Lane, we couldn't sell the same items because smaller retailers would not be able to compete," explains Waguespack of her line which she also stocks in boutiques across the South. "Fortunately, this gave us the ability to take more chances while still offering the same quality as our other products. We went with a block-printed look that is different than my other items but still offers that couture feel."
For Waguespack, the key to executing a successful partnership with the large brand was not allowing her own vision to be overshadowed by outside ideas and suggestions. Staying true to herself and her style, Waguespack can now look back on her collaboration with pride knowing that it is contiguous with the vision she originally set out to convey through Fig & Dove.
"I turned down a lot of suggestions from the One King's Lane team and I'm glad I did," says Waguespack. "I love what I created and I'm glad I stuck to my vision."
To shop Fig & Dove, visit One King's Lane or the official Fig & Dove website. And to see the story that kick started Waguespack's passion for luxury Christmas decor, check out this story from the inRegister archives.