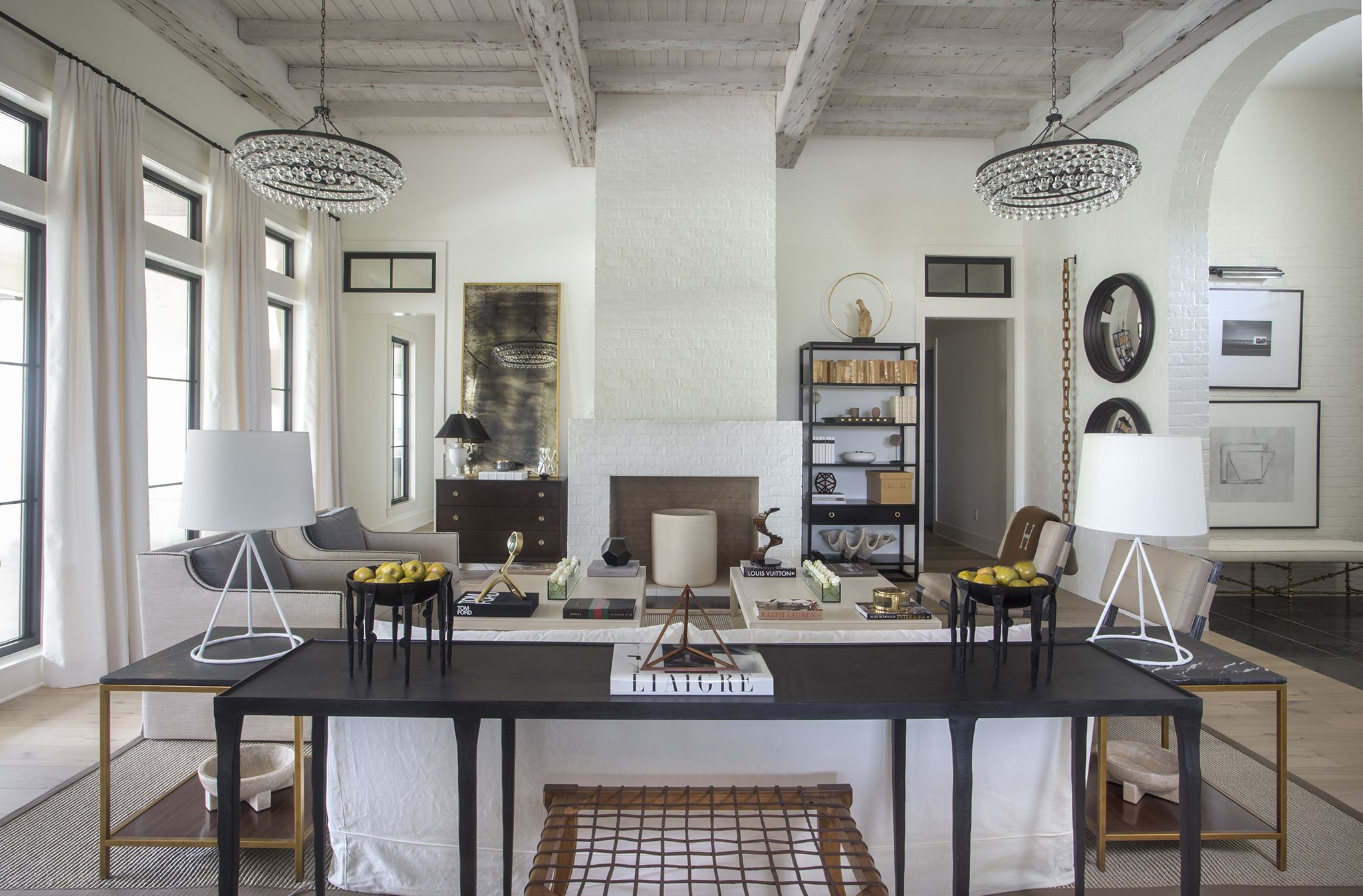 Serene scene: Minimalistic meets modern in a home steeped in the spirit of monastery design
---
It all came down to the windows. Lyndsey and Blake Hebert poured the slab on their new home after years of planning and sketching layouts on sheets of paper, pulling photos and discussing design. They knew they wanted an open layout with unobstructed views from the kitchen, through the casual dining area to the living room. They knew they wanted a clean design. They knew they wanted symmetry. But when it came time to choose the windows that were going to filter light into their family home in Westover Plantation in Port Allen, Lyndsey threw her hands (and her sketches) into the air with despair.
"The windows were such an important decision, and I didn't want to make the wrong choice," says Lyndsey, remembering the angst she felt during the building process. "I told Blake that we needed help to move forward with the build. I couldn't make the decision on my own."
The duo ultimately reached out to interior designer Ty Larkins after seeing his work and recognizing that his aesthetic matched their own. The Heberts shared their wish list, which included photos of homes filled with natural light and spare décor. After studying the images, Larkins and his team were reminded of a very specific interior architectural style resembling an approach exercised in newer upscale architect-designed residential buildings in Belgium.
"The challenge was to channel the sparseness of this Belgian architectural approach through a more traditional Southern vernacular," says Larkins. "It suddenly dawned on us that it was very similar in line and execution to a monastery. The rest of the design language that would be created for this home fell into place, making design decisions clear."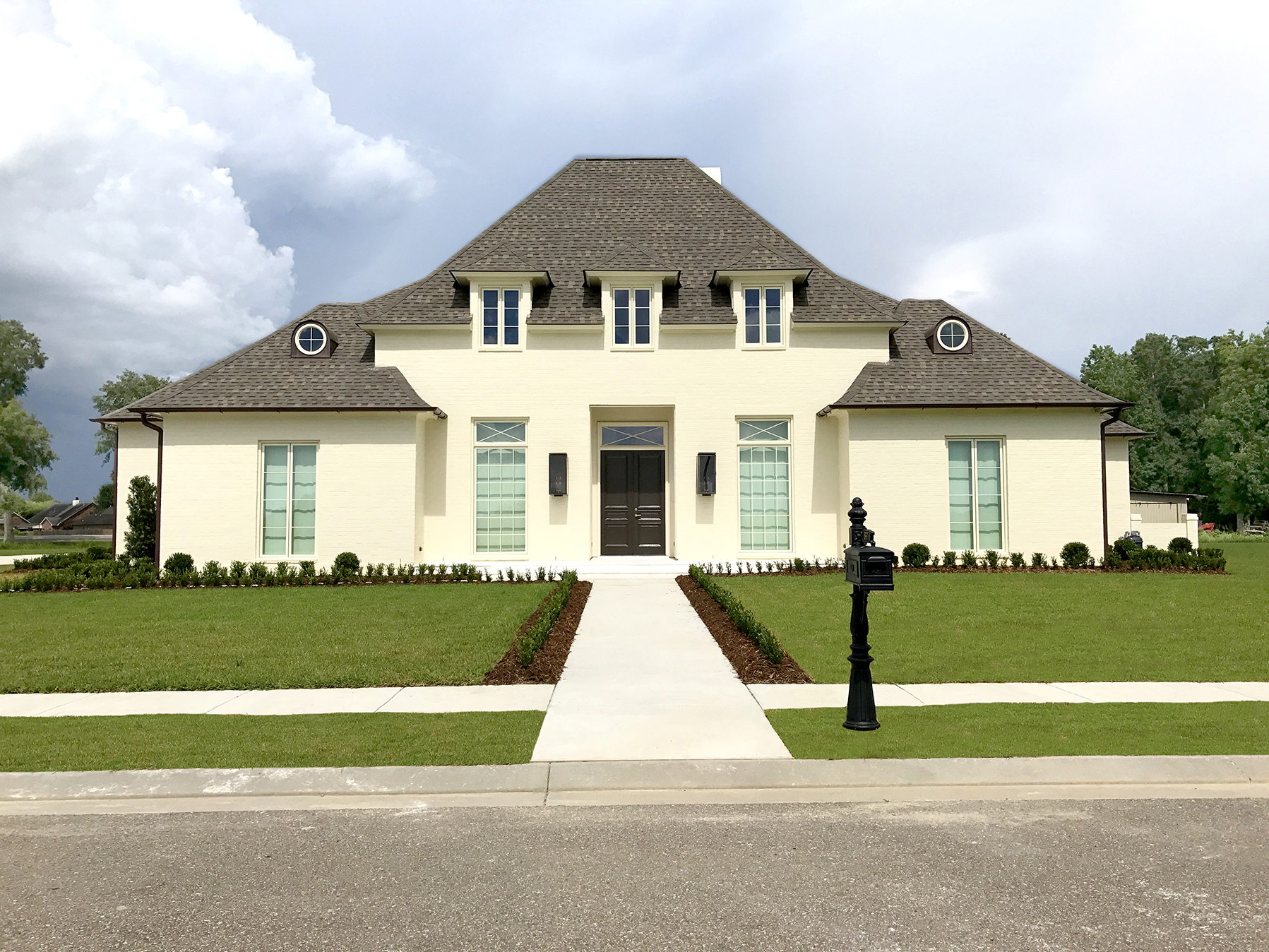 A monastic interior design focus might seem too cold and sparse to become a warm and welcoming home for the Heberts and their two children. But Larkins and Lyndsey were determined to make this ambitious plan a reality. The first decision, of course, was the choice of windows—significant because the color of them would drive the entire exterior color scheme of the home. From there, Larkins and Lyndsey collaborated to strike a balance in eliminating architectural embellishments (such as crown moldings) typically expected at this level of home construction with a result that looks deliberate and not thrifty.
"I had a good vision of what I wanted, but Ty helped pull it all together. We have the same taste," says Lyndsey. "It was a lot of fun working with him—he's calm in the midst of a storm."
In an effort to balance out the newness of a custom-built home and suggest history and patina, oversized 200-year-old salvaged beams were installed on the 14-foot-high ceilings in the living room and lightly whitewashed to modernize their rusticity.
The foyer floor was laid using salvaged honed black marble, while pale wood flooring was used throughout the rest of the home. White-painted brick walls also added age to the space. The public areas encompassing the foyer, living room, dining area and kitchen were designed in the spirit of a modern loft, the kind commonly found in Tribeca or SoHo.
"The most important thing to me was to have a home with an open layout and no obstructed views," says Lyndsey. "Nothing formal. Just a comfortable space for the family."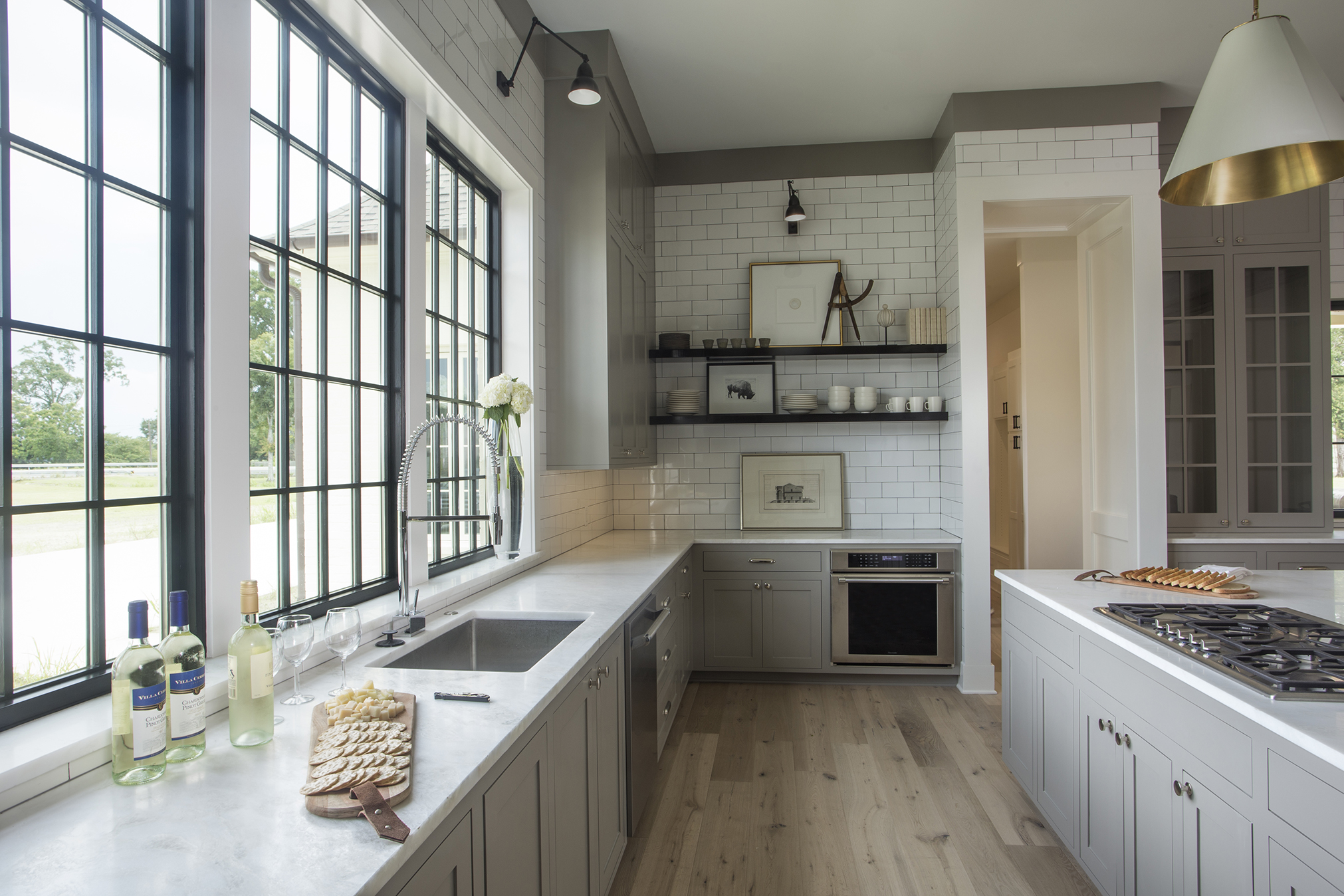 Because the pared-down architectural aesthetic design for the home was much like a blank canvas, the Larkins team made sure that furnishings and artwork selected would work in harmony and not compete with the serene setting. They selected neutral tones in varying textures for drapery fabrics, rugs and upholstery. Finishing touches reflected one-of-a-kind accessories and original black-and-white photography by emerging artists. The overall effect is a casual, comfortable abode with modernist sensibilities and a striking sense of calm.
"I hate clutter, so we designed the rooms in a way that doesn't allow for anyone to leave stuff out," says Lyndsey. "Everything serves a purpose. Even cubbies have a cabinet door on them so that items quickly stashed won't be seen."
The monastic design of the interiors is in stark contrast to that in the Heberts' previous home, which was completely traditional in nature. Because of this, only the tufted bed in the master bedroom made the move to the new house—every other piece of furniture was purchased deliberately to work with the space. This gave Larkins license to create a complete look in which every item used complements the vision of the space.
"It is traditional but not in a boring, expected kind of way. It is modern too, but not in a formulaic one-dimensional, everything white-on-white kind of way," says Larkins. "This project was a blast to design for clients who have great tastes and who trusted my judgment to create something truly unique and timeless."
Among all the keen choices made to create this modern yet timeless home, Lyndsey's favorite thing about the house is still the factor that brought Larkins in to begin with: the windows. She admits that the windows were the first items that they went over budget on, and she has no regrets. The airiness and openness they give to the home was well worth every penny. Especially considering that the Heberts created the home with long-term living in mind.
"We will never build again," says Lyndsey. "I plan to grow old and gray in this house. We love it, and we know that it will age well."
---
For a closer look at the rest of this home, click on the photos in the gallery below: