Seamless celebrations: Local designer Cherith Craft on perfect preparations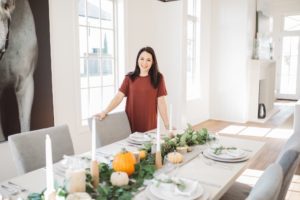 With Thanksgiving only a week away, the pressure is mounting for flawless execution of everything from carefully crafted centerpieces to delicious dishes. Rather than become consumed by stress, Cherith Craft of Cherith Craft Interiors suggests ditching the do-it-later attitude and instead preparing as much as possible beforehand so by the time Thanksgiving morning rolls around, the only thing left to do will be to enjoy the Macy's Thanksgiving Day Parade.
"When it comes to decorating and hosting family what makes me feel most confident in my space is to be prepared and organized ahead of time," explains Craft. "One of the things that helps me feel ready for my guests is to set my table and kitchen island early."
For Craft, the ultimate go-to items that make for a great display consist of pieces that can be easily found around the house, such as white dishes, glass jars and wooden trays. These items create a personalized and simplistic look that skips the clutter of overdone Thanksgiving trends that are often found in stores.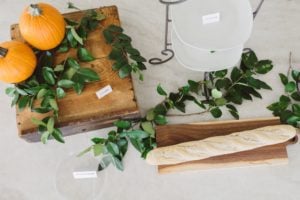 And while style is important, Craft suggests also taking into account functionality when selecting items to incorporate. Because holiday dinners consist of so many delicious components, the key to controlling the chaos when guests are ready to serve themselves is to give each dish its own spotlight by displaying it on its own level. This makes dishes both visible and accessible.
"You can create dimension by using interesting boxes or trays and by using tiered serving items," says Craft. "I also like to label what items will go where. This is helpful so that when dishes arrive, the guest knows exactly where to put their dish, and I don't have to arrange on the fly as items are coming in."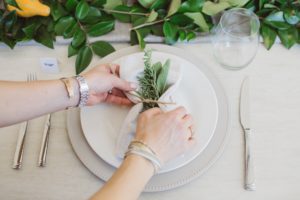 Craft sticks with the simplistic when it comes to final touches as well. Rather than overflowing floral centerpieces, Craft incorporates the warmth and texture that characterizes holiday displays through fresh greenery that can be found in backyards, instead of requiring a trip to the nearest store. In addition to place cards, Craft draws the centerpieces outwards onto the individual place settings of her guests. Placing rosemary and other greenery on the napkins and tying them with a simple hemp string pulls the entire look together and provides the illusion of expensive dinner decor.
For Craft, hosting for the holidays does not have to be expensive to be impressive. She encourages hostesses–and hosts–to look around their homes and get creative. By incorporating pieces from your own home, you not only save money, but create a look that is unique to you.
To learn more about Craft, her designs and her inspiration, visit her website and Facebook. And for more Thanksgiving table inspiration, check out inRegister's November cover story.