Revamping a classic: A fresh take on traditional Southern favorites
---
Before farm-to-table became a trendy movement, there were always hard-working farmers, and farm-style tables, and favorite heirloom plates used to serve fresh food from the garden made from old family recipes. For these folks, farm-to-table wasn't a trend; it was a lifestyle. And now this provincial lifestyle is being replicated in everything from restaurant entrées to home case goods and details (hey there, shiplap walls and rolling barn doors). Suddenly the simple is the spectacular. Which is quite a relief for those planning to host the family for the holidays.
"My grandparents were from north Louisiana, and they grew everything they ate in their garden," says Lisa Boudreaux-LeCoq, owner of The Gilded Artichoke Catering Co. "My grandmother set the most beautiful table, even for lunch, and always had family-style meals with fresh vegetables. It was true entertaining."
Lisa implements the same fresh take on meals in the staples she creates for clients and friends. Her goal is to make spectacular-looking dishes with simple recipes that don't break the bank or take too much time to prepare. It's classic meals with a twist, just perfect for the holiday season. And the décor can be simple as well.
"People are leaning to a more casual style, a farmhouse style in their entertaining," says Angela DiVincenti Babin of Angela Marie Events. "And it's perfectly appropriate to mix old elements with new."
For this harvest table, Angela turned to her friend Stacy Harvie, a Baton Rouge native and owner of Capitol Vintage Charm in Washington, D.C. Harvie, who scours estate sales for vintage china, supplied the tried-and-very-true blue and white plates and serving pieces. Angela mixed in vintage-style silver from Sur La Table and blue Depression-style glasses from World Market. This was set against the backdrop of the Kleinpeter House, a recently refurbished 1820s farmhouse in the back of the Settlement at Willow Grove. The table scene would be ideal for a family gathering to celebrate the harvest, or any old Sunday dinner.
"You want to create a table that looks like you have raided your mom's old closet," says Angela, in setting a harvest table. "Blue and white is really having a resurgence right now, and it can be used in a variety of ways. Brass candlesticks, also a classic, are perfect for adding height, and foliage that looks picked straight from the yard gives a more farmhouse look to the table instead of a formal arrangement."
Angela's table décor coupled with a few of Lisa's favorite recipes are worth betting the farm on for the holidays. No plastic plates or store-bought food here. Just cooking from fresh ingredients and decorating with items from around the house should do the trick. It's straight-from-the-farm goodness that makes this style a classic.
"People don't like stuffy, which is why the farmhouse look is so popular," says Angela. "With it, you can create an intimate dinner and still have a casual and welcoming feel."
---
RESOURCES:
---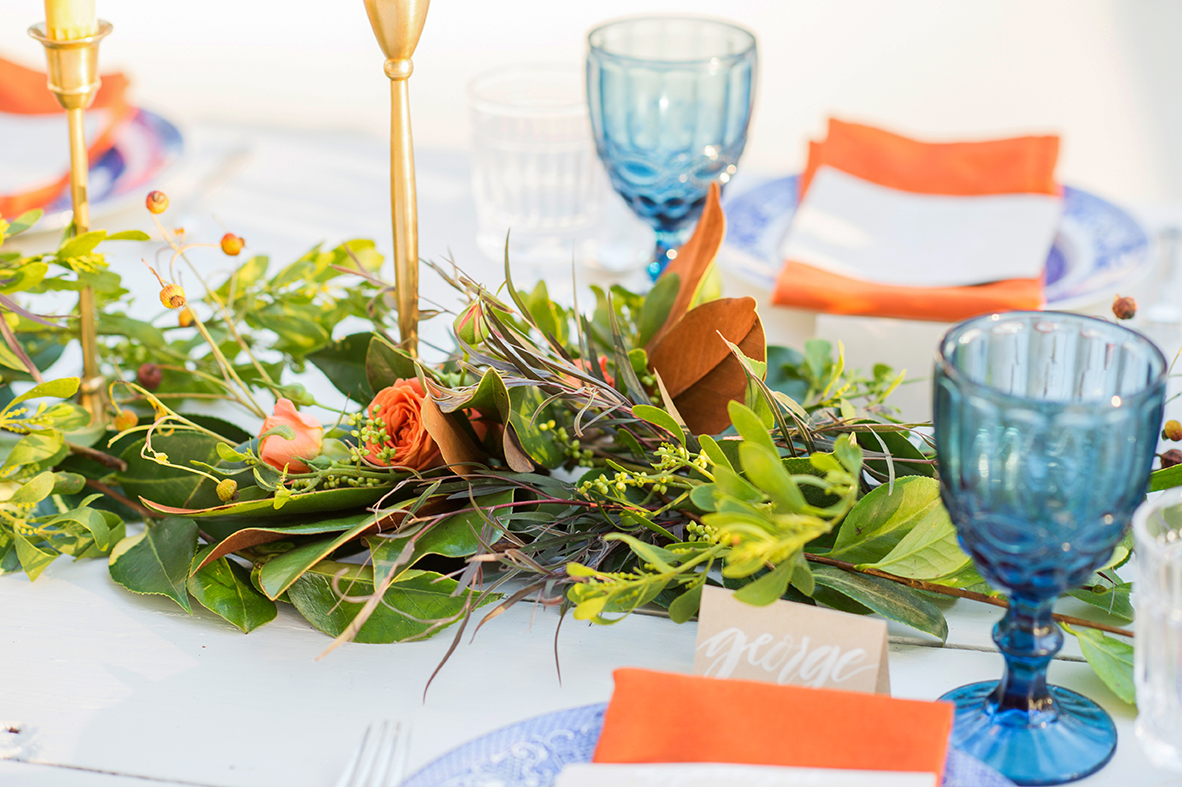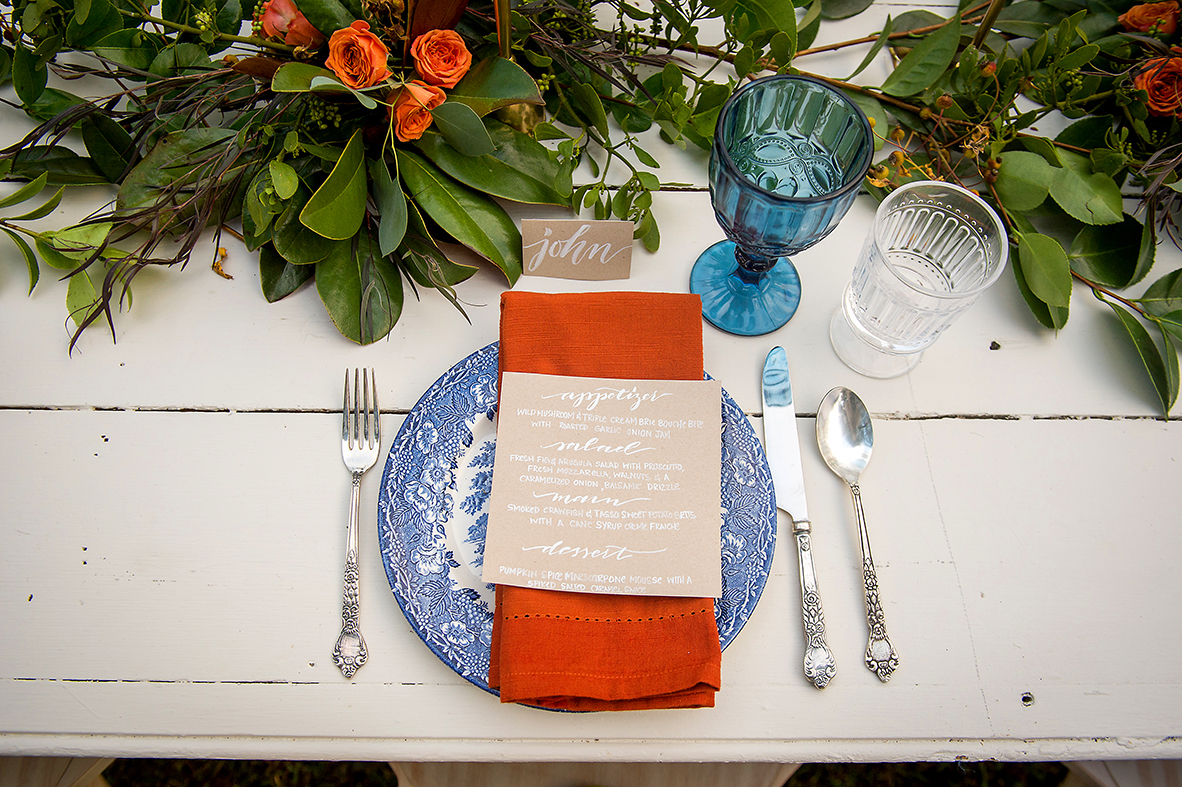 ---
All recipes are provided by The Gilded Artichoke Catering Co.
ROASTED BEET AND ARUGULA SALAD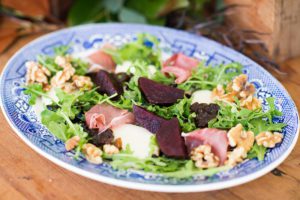 2 bags fresh organic arugula
2 (8-oz.) pkgs. organic baby beets, peeled, steamed and quartered
1 (12-oz.) pkg. fresh mozzarella cheese, pre-sliced
1 pkg. prosciutto, torn into bite-size pieces
1 cup raw walnuts

1

⁄2

cup roasted garlic and onion jam
2 Tbsp. balsamic reduction, store bought
Roasted garlic and onion jam (recipe below)
On a serving platter, arrange arugula, beets, slices of mozzarella, prosciutto and walnuts. Spoon a few dollops of jam over salad. Finish by drizzling balsamic reduction over salad. Serve at room temperature or chilled. Makes approximately 10 servings
Roasted garlic and onion jam
2 lbs. sweet onion
2 large shallots

1

⁄2

cup olive oil
2 Tbsp. salted butter
2 to 3 heads of garlic, roasted


1

⁄2

cup red wine


1

⁄2

cup brown sugar
1 Tbsp. balsamic vinegar
Salt and pepper to taste
Peel and thinly slice onions and shallots. Place olive oil and butter in a medium saucepan set over medium-high heat; add onions and shallots, and cook for 5 minutes or until soft. Squeeze garlic out of casings into onions and continue to cook for another 10 to 15 minutes or or until excess moisture starts to cook off, stirring occasionally. Add brown sugar, balsamic vinegar, salt and pepper, and cook, stirring often, for another 15 to 20 minutes, or until mixture is thick and deep golden. If you still have large cloves of garlic remaining, use a fork to mash them up and stir into jam. Cool and place in fridge for storage.
This jam keeps for 2 weeks in the fridge or several months in the freezer.
---
WILD MUSHROOM AND TRIPLE CREAM BRIE BOUCHÉ BITES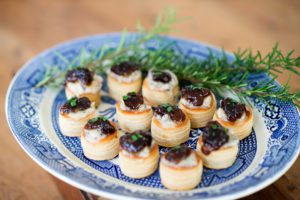 8 oz. triple cream brie, rind trimmed off
6 oz. mascarpone, softened

1

⁄4

tsp. minced thyme
Dash sage
Dash cayenne pepper
1 tsp. thinly chopped chives, with

1

⁄2

tsp. reserved for garnish
Salt, cracked black pepper and Cajun seasoning to taste
2 Tbsp. salted butter
1 Tbsp. olive oil
1 (10-oz.) pkg. wild mushrooms (wild, baby bella or shiitake), thinly sliced and sautéed
2 tsp. marsala
24 mini bouché shells or mini puff-pastry shells
1 cup roasted garlic and onion jam (recipe on previous page)
Place brie, mascarpone, thyme, sage, cayenne pepper, chives, salt, pepper and Cajun seasoning in a microwave-safe bowl, and mix together until incorporated. Set aside. In a small pan over medium-high heat, warm butter and olive oil until sizzling. Place mushrooms in pan and cook for about 3 to 5 minutes, stirring often. Add marsala and additional cracked black pepper and continue to cook for another 3 to 5 minutes. Drain oil from mushrooms, and add mushrooms to brie mixture. Mix together until incorporated. Place bowl with mixture in microwave and cook in 1-minute increments, stirring between each minute, until melted. Allow to cool for 5 minutes. With a small spoon, scoop mixture into each bouché shell to the rim. Top each shell with jam and chopped chives. Makes about 24 bouché bites.
---
PUMPKIN SPICE MASCARPONE MOUSSE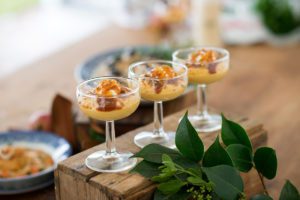 1 (15-oz.) can pumpkin pie mix
6 oz. mascarpone

1

⁄8

tsp. allspice or pumpkin spice
2 Tbsp. light brown sugar


1

⁄2

tsp. pure vanilla extract
1 jar fleur de sel caramel sauce
2 oz. Bailey's salted caramel liqueur
1 (12-oz.) container whipped topping
10 ginger snap cookies, crumbed
Place pumpkin pie mix, mascarpone, allspice, brown sugar and vanilla extract in a bowl and beat with a hand-mixer for about 3 to 5 minutes or until fully incorporated and fluffy. Set in cooler for 20 minutes to set. In a microwave-safe bowl, add caramel sauce and liqueur. Place bowl in microwave and cook for 1 minute or until caramel sauce is fluid. Stir mixture until completely incorporated, and allow to rest for 15 minutes. Place ginger snaps in a sealed plastic storage bag and tap them heavily with a rolling pin until cookies become crumbs. Remove mousse from cooler and spoon mixture into individual dessert glasses. Top each glass of mousse with a dollop of whipped topping, a drizzle of salted caramel sauce and crumbed ginger snaps. Serve chilled. Makes about 10 servings.