Mix master: Coordinating colors and patterns in an open floor plan
"Open floor plan." These three words can have a deep effect on the psyche.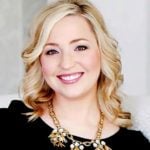 As a selling point, it sounds attractive: expanses of space that just go on and on, seeming to have no limits to how furniture can be arranged. For designers, these words typically indicate more challenges: Where will the outlets be located? Where are the walkways? Where will we hang artwork? The homeowner soon realizes they have their work cut out for them when it comes to defining each space in a way that creates a cohesive look.
Perhaps the most challenging feat is how to use color and pattern when all the rooms bleed together and need to work in unison. To anyone for whom an all-neutral palette will not suffice, or anyone who wants to use color and pattern in ways other than just accents on neutral furnishings, the answer lies in this word: hierarchy.
OK, three words: hierarchy of scale. The smartest way to mix patterns and incorporate color into an open floor plan is by including one large-scale, one medium-scale and one small-scale (or solid) pattern. Bonus points if you can mix geometrics, florals, tribal/global or more.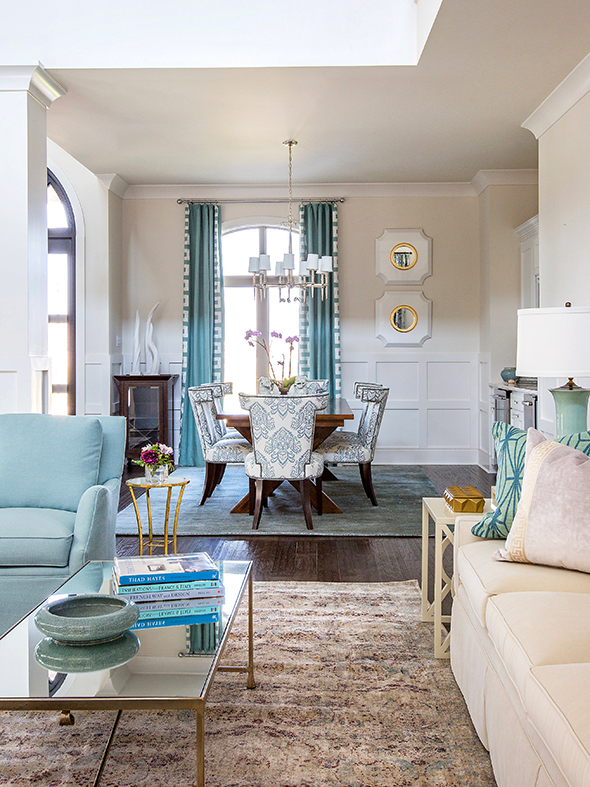 When we use patterns in an open floor plan, we pay attention to how the scale of the repeat will work with other patterns in the room. In this living room, the drapes feature a watercolor-esque floral with a medium-scale repeat. To balance it, we used a rug with a much larger arabesque (global) pattern, then anchored the room with solid chairs in two turquiose tones that call back to the palette of the drapery fabric.
To define the adjacent dining room as its own entity, we started with the dining chair ikat (global) upholstery, which is a small/medium-scale pattern. Then we added the drapery fabric, which has a much larger-scale repeat in the embroidered grosgrain ribbon (geometric) stripe on a solid background. The rug, while it appears to be solid, is a very small-scale stripe. This allows the chairs to be the focal point. The colors here speak to the colors in the living room, while not being exact matches.
We tied the two spaces together through color, referencing the aqua and teal as our main hue. The solid lavender pillow on the solid living room sofa has a Greek key (geometric) pattern on it, which ties it to the drapery fabric in the dining room and as well as to the color palette of the drapery fabric in the living room (which features lavender). The other pillow is a large-scale geometric pattern in an aqua and teal combo.
It takes thoughtful planning to successfully use this many patterns in one open space, but if you follow the hierarchy of scale, you can mix and match like a pro!