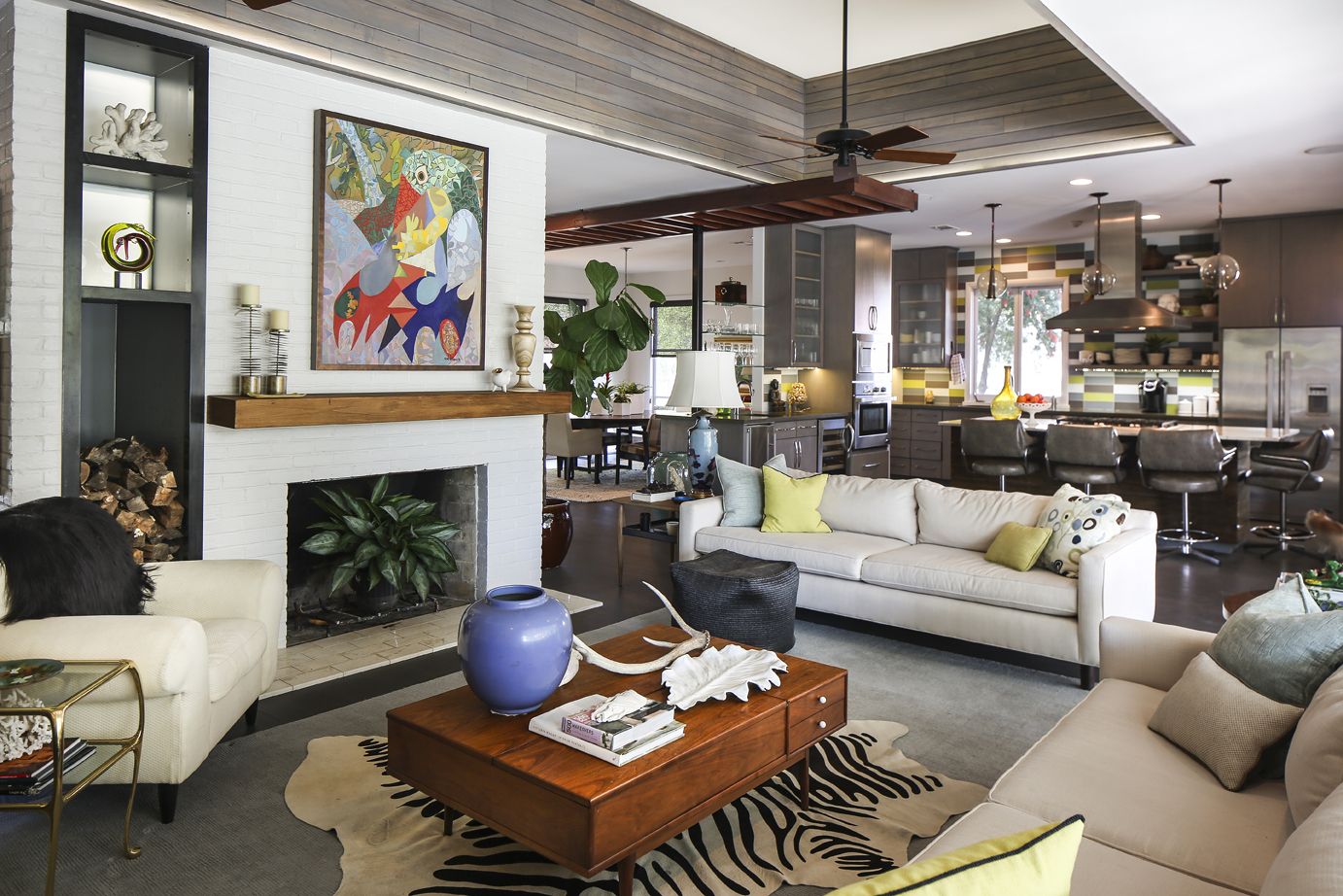 Mid-century home makeover
Walls were removed in Rich and Claire Major's home to create an easy flow between the den, kitchen and dining areas. Mitchell Gold sofas anchor the space, and a painting by Sheryl Southwick above the fireplace adds a dash of color to the room. Photos by Melissa Oivanki.
Claire Major has an instinct for design. She discovers old furniture pieces that others would walk right by—she reupholsters them in fantastic fabrics and then she makes them shine in her home. But her abode is no grandmother's attic smattering of random odds and piecemeal ends. Claire has an end design in mind when she converts yesteryear's treasures into today's best bets. The final result is a house filled with character honed by a very keen eye.
"I found this small loveseat covered in green embossed vinyl at a Greenwell Springs office liquidation place," says Major of a piece that now commands center stage in the living room just off her entry. "It looked terrible at first. Now people actually sit on it at dinner parties."
As Claire walks through her house, heavily stocked with mid-century modern furniture, she tells a tale of how she acquired each piece.
"I fell in love with new barstools that looked like this, but the price was too high," says Claire of the seating that now surrounds her island in the kitchen. "I found these at the Attic Trash and Treasure Sale. Friends couldn't believe that I was buying them because they looked so bad! I recovered them in vinyl from Fabrics by the Pound near Foley, Alabama. Guests—and even my upholsterer—think that it looks and feels like leather."
Claire is quick to reveal her secrets. This owner of Artvark, a local company that promotes the artful design of home and work spaces, relishes a great find and a refurbishment. She boasts three warehouses full of furniture that she reconstructs, updates and sells to clients. Claire even has some pieces in the back area of her home, where she transforms the ordinary of yesterday into the extraordinary of tomorrow. Right now, she is in the process of taking an old wooden table and painting it to look like iron for her daughter.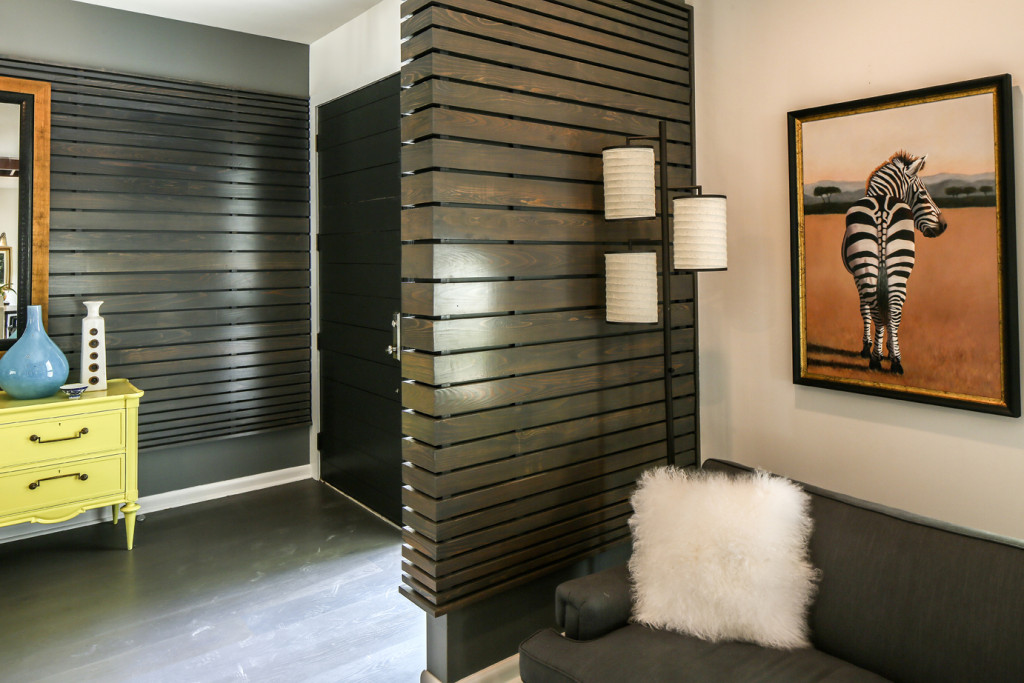 Claire is quick to see the potential in a relic, which came in handy while looking for a home. She and husband Rich began searching for a mid-century modern house in the area with a desire to refurbish it in a style all their own. With two grown children no longer under roof, this new home could be a welcoming spot—indoors and out—for entertaining family and friends. But the Majors, living in a house they had updated in Oak Hills, couldn't find the right Brady Bunch-style retreat to fit the bill.
"This wasn't mid-century modern," says Claire of her ranch-style house in Bocage. "But when we walked in, we both knew that this could be great. It had fantastic bones." And it had an added bonus of being relatively untouched over the years.
The Majors enlisted the help of architects John and Erin Lockett, while contractor Paul Connelly completed the construction. Walls were taken down, windows were replaced, doors were raised and floors ripped up.
However, the demolition was not a complete gut-and-toss job. The Majors appreciated the walnut wood paneling that had covered the walls in the den and the office since the house was built in 1955, and they desperately wanted to incorporate the wood into the new design of their home. Rich and their son Alex painstakingly removed every nail from the wood planks they separated from the walls, and Connelly planed and cut the boards. With a grey stain, the walnut paneling has found new life on the walls of the entryway, on the ceiling of the den and along the base of the island.
"You just can't find material like that these days," says Rich. "Reusing what we had is cheaper than buying new. Plus, you have the added benefit of adding character to the house."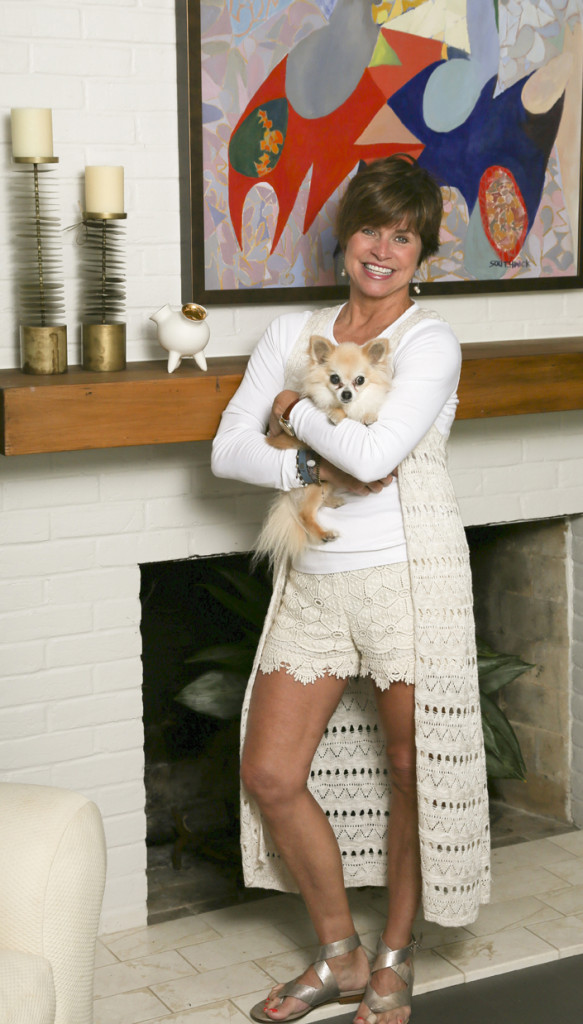 Paul varied the width of the boards and created a wall of slats near the front door—an effect that Claire believes serves as its own artwork. And Claire loves art. She firmly maintains—and tells her clients—that it is important to have pieces that you love on the walls. Claire collects artwork and appreciates the work of each artist. It helps further define her home by putting yet another personal stamp on the house. This is no cookie-cutter, one-size-fits-all residence—it has Claire and Rich Major's names all over it. And they wouldn't have it any other way.
"I feel like I'm on vacation in this house," says Claire. "In fact, when I'm on vacation I can't wait to come home to this house. It's really a home of our own."
Click on the photos in the gallery below to get a closer look at this home: