The latest home trend draws inspiration from an unexpected time period
It's time to say goodbye to coastal grandma and hello to medieval royalty—at least if trend forecasters are to be believed. These days, the medieval modern design aesthetic is catching up to contemporary times by embracing the whimsical and the gothic, combining medieval-themed antiques with up-to-date furnishings. Chances are you're contributing to the trend even if you're just learning about it. If your home includes themes like dark wood, jewel tones, metalwork and ornate detailing, you're embracing #castlecore. Some other themes include stone, steel and rich colors to create layers and texture.
Antiques and vintage have been on the rise, according to design consultant Teri Kiefer. "People are starting to realize that the craftmanship of antique furniture is unmatched," she says, "especially compared to a lot of the factory-made, modern furniture."
According to Kiefer, consumers are becoming more interested in creating a unique appearance, rather than the same, prescriptive look. "Mixing antiques adds a lot of individuality —not to mention a little history," she says.
When shopping for antiques, Kiefer advises to keep your eyes peeled for European-designed pieces.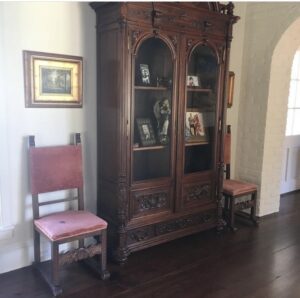 "The Europeans were mix masters. By this I mean that you can inherit a European antique, or find a piece on the side of the road, and either way, you know that it's going to work in your home," she says. "The two things I'm always looking for are unique hand carvings and hand-hewn metal hinges. I'm also looking for pieces that can be repurposed and incorporated in a different way."
For example, blending the moody with the modern can create a healthy balance of tones, especially with the help of accessories.
"So  many designers are saying 'color is back,' but it actually never left," says Keifer. "Rich jewel tones mixed with warm wood pieces create that healthy balance."
To make your home unique to your personal style, Kiefer recommends starting by prioritizing the things you like. "If you love a piece, it's going to work in your home," Kiefer explains. "At the end of the day you must remember that this is your home and not a magazine. Pick pieces that you love and you'll forever feel at home."
---
See one of Kiefer's local design projects in this story from the inRegister archives.