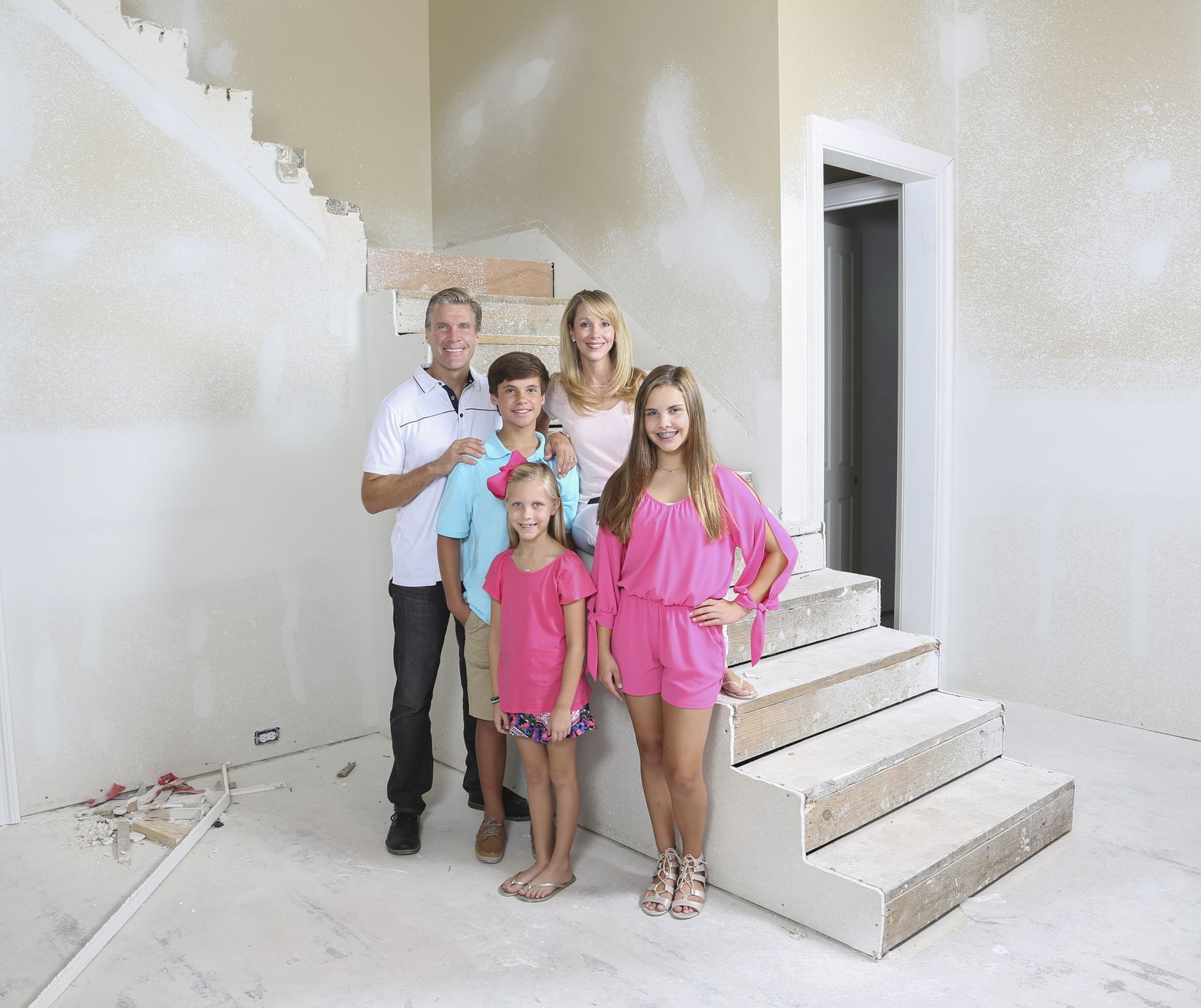 Making headway: A builder rethinks the possibilities
Alan Colby heard the reports, and he knew. On Friday night, August 12, he knew. No matter that there was no water in sight yet. The weather reports predicted that the Amite River at Bayou Manchac Point would crest at 21.5 feet, and Colby remembered that his house was built at 20.5 feet. It would ultimately take in water. He knew this fact because, as a contractor, he built his own house in 2006.
"We were supposed to have dinner and drinks with friends of ours on Friday night, but the rain kept coming down and the flash flood warnings kept coming in," says Alan. "So we stayed in and watched the reports instead. It was the first indication that we might flood."
On Saturday morning, Alan called his superintendent, who came out to the Prairieville house in St. Andrews neighborhood, right across Bayou Manchac from the 4th tee box on the Santa Maria golf course. They resurveyed the home to check the floor height, just in case something had changed during construction that Alan didn't remember. But the house surveyed right above 20 feet. And the rain relentlessly poured.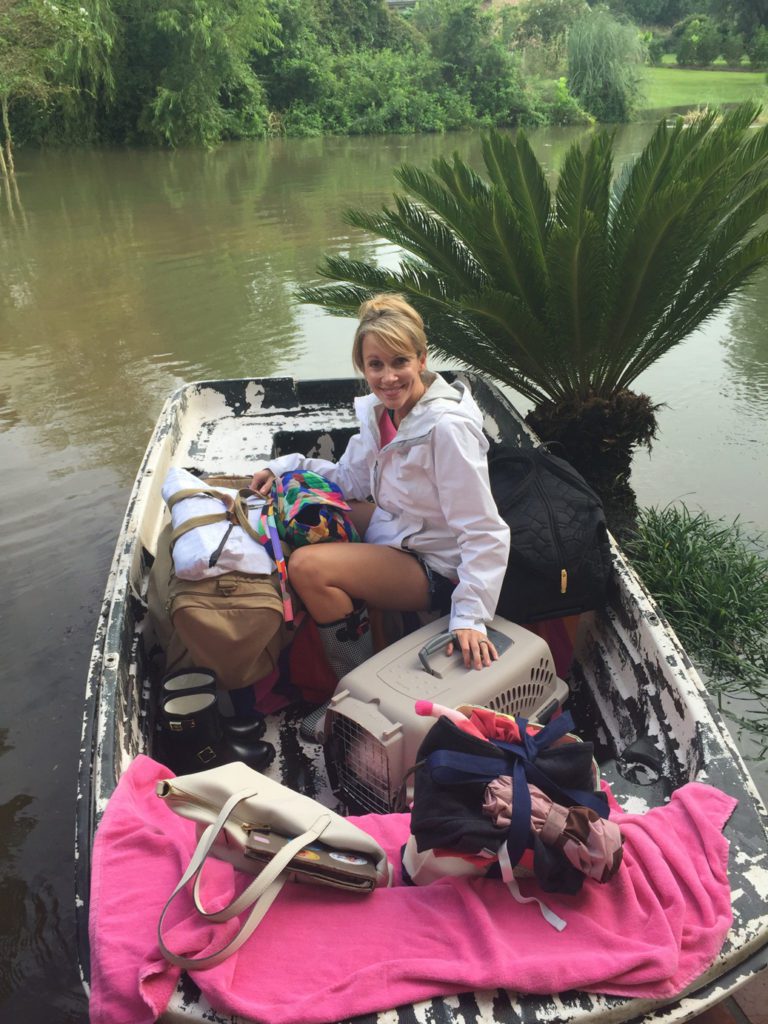 "On Saturday morning, Alan told me that we might need to move our furniture upstairs," says Paige, Alan's wife. "I couldn't even see water. I was in denial. We got the kids out of the house, then that afternoon friends came over to help us move furniture and clear out. We put couches on countertops. It didn't seem real. On Sunday morning, water was trickling down the street."
The couple spent much of the day Sunday cleaning out base cabinets and drawers and packing up downstairs closets. Of this 5,600-square-foot house, about 3,600 is located on the ground floor. The couple left their house by boat at 7 p.m. on Sunday evening, when the water was halfway up the mailbox at the street.
"We had two days to prep," says Alan. "We were some of the lucky ones."
The Colbys spent the night in Paige's sister's home, then returned the next morning to assess the damages. At 7 a.m. on Monday, there was about a foot of water in the house, and it stayed for one full day. By Tuesday, the water had receded but the damage had been done. Alan was quick to put a project plan together. Some of the men who typically work on building his homes pitched in to help in any way that they could, ripping out Sheetrock, insulation and cabinets. By Thursday, Alan had six industrial humidifiers and 12 turbine fans running through the house, and he kept them running 24 hours a day for seven days.
"We've been very cautious about air quality and moisture," says Alan. "We have an apparatus that tests the air quality, and we took bacteria and mold spore samples for final moisture readings."
Many of the contract laborers that Alan uses in his construction business had been hit personally by the flood and—the week following—were either cleaning out their own houses or helping family and friends gut their homes. It was a week of survival. His tile setter lives in Central and lost his home, vehicles and trailers that housed all of his tools. Heritage Millworks, where Alan commissions doors to be made, took in seven feet of water. It took weeks before the company was able to produce again. Meanwhile, Alan took advantage of the downtime to reassess what exactly he was going to do, and what changes he might make, in the reconstruction of his personal home.
"We had updated a few things last year in the house, and we were actually about four weeks away from a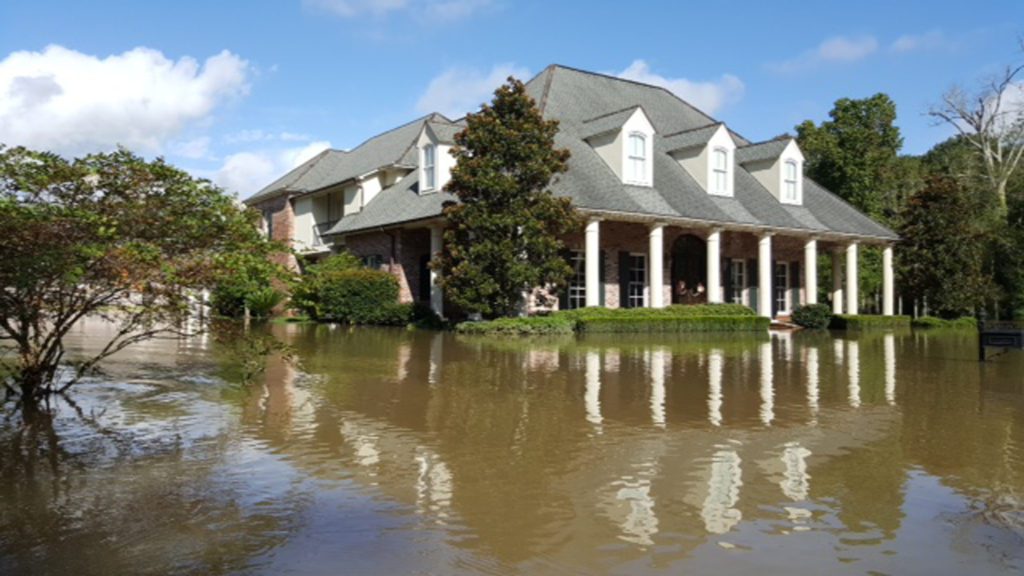 phase-two renovation, which would have included new flooring," says Alan. "That would have been terrible if the flood had hit after all those changes."
Now, Alan and Paige are taking advantage of the water-warped floor removal to switch from heart of pine to a mixture of antiqued red and white oak flooring. Arches between rooms are being modified, kitchen cabinets are being raised to the ceiling and a whole new staircase with a simpler iron railing is being installed. The master bathroom is getting special treatment with an updated shower and freestanding tub, among other features.
"One day Alan told me to meet him to pick out hardware and faucets," says Paige. "But when I got there he had everything decided. He's moving fast, because he does this all the time."
And while the Colby house is on the renovation fast track, thanks in part to Alan's expertise, the duo is well aware that it will take a long time for the region as a whole to be put back together again. Neighbors all around the cul-de-sac surrounding their home still have their life's treasures on the street and have only ripped out the flooring and Sheetrock. It will take quite a bit of time for the area to return to its former self.
"The water came in, did its damage, then it left," says Paige. "It's devastating. And it happened so fast."