The LSU Lakes home of Jaime Glas shines as brightly as her Queen of Sparkles clothing line
---
When she was little, "clear" was Jaime Glas' favorite color.
"Because you can see all the colors through it," she'd explain.
Today, all those colors ooze from every crevice of her two-bedroom house in Baton Rouge's Lake Crest neighborhood. All those colors will burst from her rainbow-themed wedding this July. And all those colors get plucked from the 10,000-plus shimmering swatches for her clothing line, Queen of Sparkles.
Swinging open her front door, Glas offers a greeting as she tugs on one green sequined boot. She clutches the other boot in her hand, hobbling around her living room. Her three dogs, tails wagging furiously, trail her as she moves across the floor.
Immediately, Glas exudes warmth. When she smiles, her cheeks glow as brightly as the hot-pink, feather-sleeved romper she's wearing. She's the kind of person who wraps everyone in a hug upon meeting them.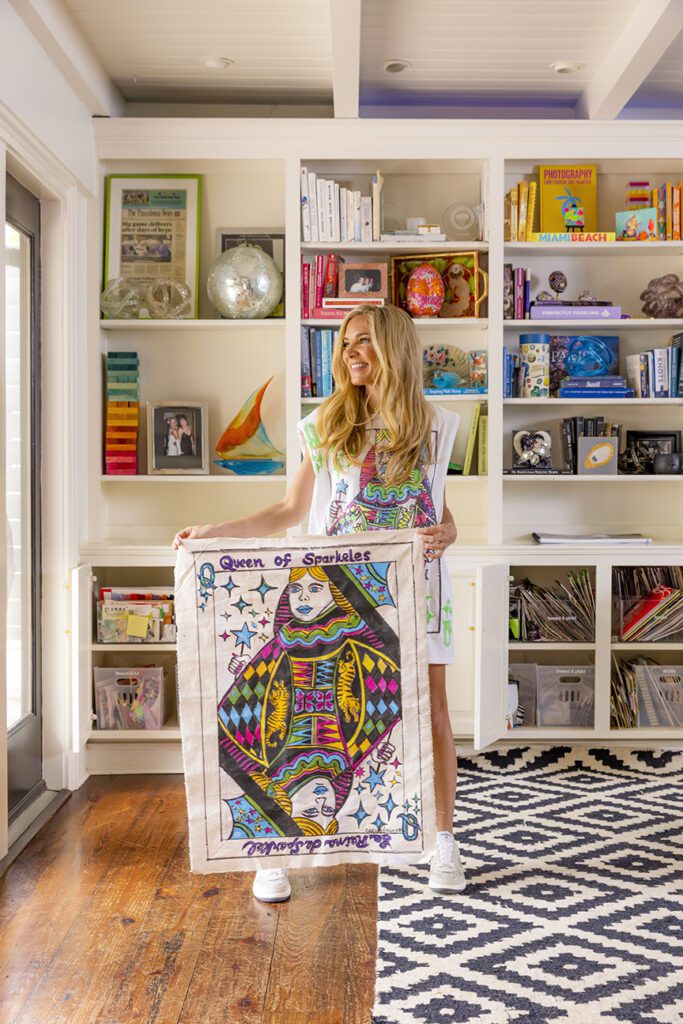 She's also the kind of person with a lot going on. It's late March, a few days shy of her brand's two-year anniversary. In between photo shoots and wedding planning, she's about to leave for a trip to market, shopping her next collection to an explosively growing list of interested boutiques and buyers.
Queen of Sparkles has made a name for itself by turning ordinary T-shirts and sweatshirts into shiny statement pieces for kids and adults. "Life's too short to wear boring clothes" is the mantra on its Instagram bio.
It's a motto manifested in the bedazzled carrots and radishes on a white loungewear set, or the metallic bowls of pasta on a "Queen of Carbs" sweatshirt. In Glas' world, T-shirts are trimmed with glitter, blazers get bedecked with sequins, and sleeves steal the show with tulle, fringe and ruffled shoulder pads. And there are so. many. sparkly tigers.
"People will tell me, 'I didn't think I could wear something like this,'" Glas says. "I'm happy to make people happy. Clothes are supposed to make you happy."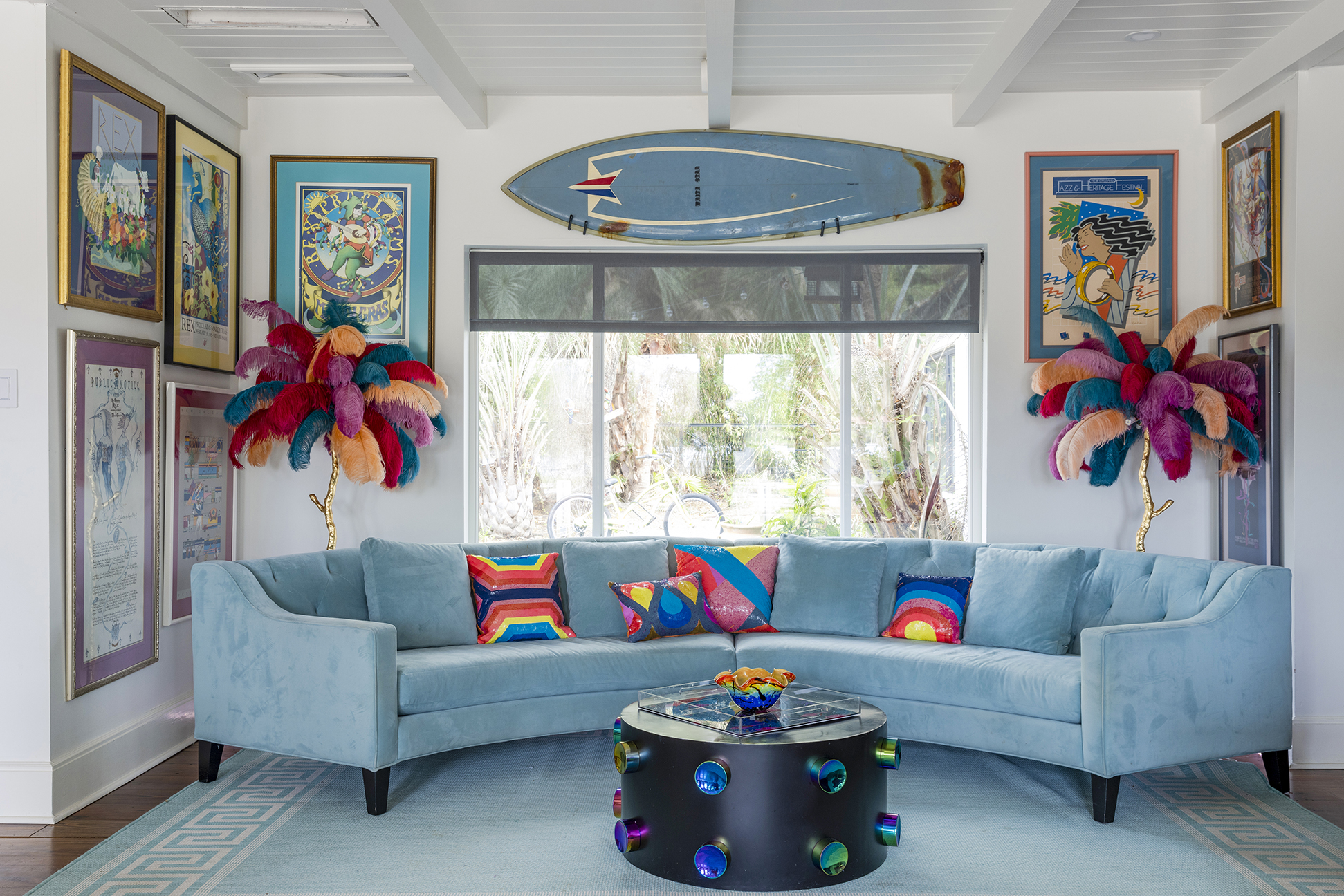 Glas' home is just as playful. Couches are curvy. Lamps have feathers. Hats are displayed as art.
Framed cheetah illustrations in the entryway have their own surprise—each is illuminated by a neon light. Here, animals can be candy colored, too. In fact, Glas hints that a line for pets might be her next move. She already has a name: Queen of Barkles.
In an LSU-themed powder room, the walls are plastered with quirky purple-and-gold art. A sign warns, "For LSU fans only. All others out back." A roll of toilet paper with Nick Saban's face printed on it makes that doubly clear.
At home and in business, Glas has mastered the art of not taking herself too seriously.

It's hard to believe Queen of Sparkles is only 2 years old. It's embedded itself in Louisiana culture, a near-instant phenomenon.
Attend a parade, holiday party or sporting event, and it's easy to spot the brand's outfits in the crowd. Local boutiques carve out corners of their stores and dedicate verticals of their websites to Queen of Sparkles drops. LSU women's basketball head coach Kim Mulkey has become a fashion icon in her own right after sporting the brand's sequined butterfly blazers and glittering tiger sweatshirts.
And it's not just Baton Rouge. The line is stocked in more than 1,200 stores, from St. Louis to Las Vegas.
Hard-to-get-your-hands-on pieces, like the turkey and nutcracker sweaters this past holiday season, end up on resale sites like Poshmark for hundreds of dollars. Once, Glas messaged a desperate shopper and offered to send her an extra sweater from the warehouse.
The frenzy still floors her.
"A lot of designers will mix sparkly items with some plainer things in a collection. When I first launched Queen of Sparkles, the whole collection was crazy, wild, sparkly," she says. "When you see it all together, it is a lot."
The early days of the launch, she says, were about figuring out where Queen of Sparkles fit into a store. Now, the stores can hardly keep the line on the shelves.

Glas was crowned the queen of sparkles by a little girl during an LSU football game.
It was 2013, and she was at a watch party at a restaurant in Houston. She was wearing all gold, washing her hands in the restroom, when a tiny hand tapped on her shoulder.
"Excuse me," the child asked, "Are you the queen of sparkles?"
She had an epiphany. There was only one way Glas could reply: "I think I am."
After that, the nickname—and Instagram handle—stuck.
Of course a brand like Queen of Sparkles would come out of Louisiana. It seems a fitting endeavor for someone who grew up surrounded by the sequined, feathered fanfare of Carnival. But Glas doesn't think Mardi Gras was what sealed her fate.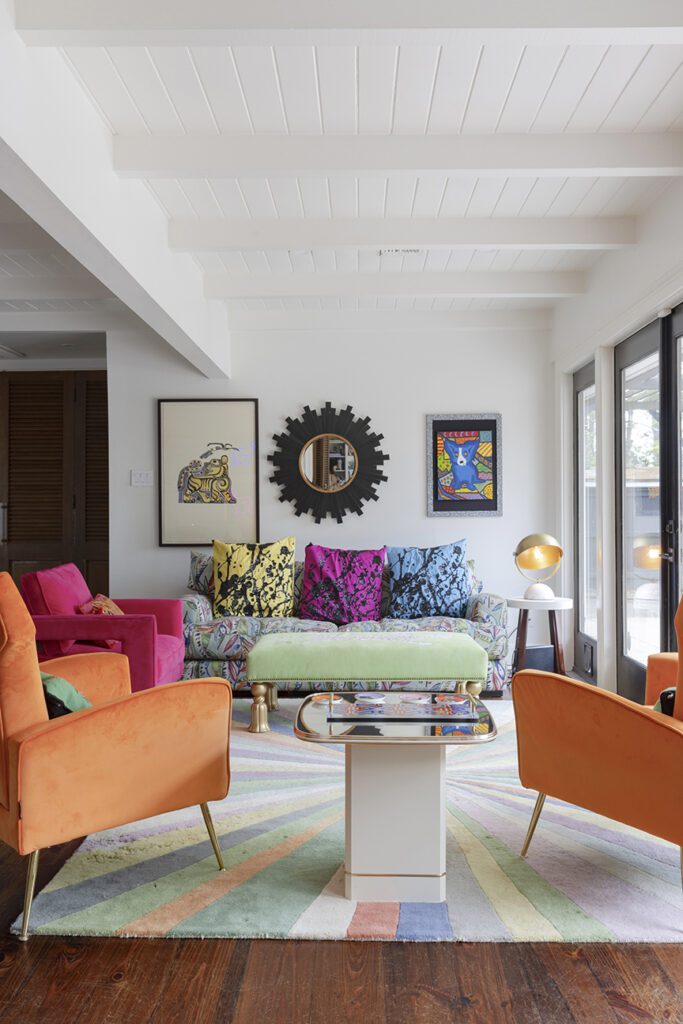 "I went to the parades every year, but I think it was more the fact that I grew up dancing. I always had sequined costumes and glitter on my face," she says.
As an adult, Glas dug through the vintage racks at Time Warp and stuffed her closet with eclectic Etsy finds. She couldn't always find what she wanted, so she started making her own outfits.
After graduating from LSU and entering into the engineering field, she grew more frustrated with shopping for clothes for work. It was hard to find fire-resistant clothing and safety gear that fit her.
In 2014, she founded HauteWork, the first flame-resistant clothing line tailored to women. When it was acquired in 2019 by National Safety Apparel, it cleared a path for Glas to follow her dream of launching Queen of Sparkles.
In the beginning, the business was about making shiny clothes. But with a team of around 30 full-time and part-time workers, she's now learning how to lead different generations and personality types. She's particularly proud to employ LSU students and grads.
"I recognize that these people want to learn from me, especially the youngest ones," the 34-year-old says.
By choosing to keep her office in Baton Rouge, she's also pushing back against the stereotype that it's not a fashion town.
When she walks around New York wearing Queen of Sparkles, she fields compliments all day. She knows the brand could thrive there. But she says she also sees how underrepresented Louisiana is in the fashion industry.
Between the massive market for gameday apparel and her affection for her hometown, it's a no-brainer to headquarter Queen of Sparkles in Baton Rouge.
"We are one of the biggest college towns," she says. "Why not stay here?"

Glas first stepped foot in her home more than 15 years ago. When she was a student at University High School, a friend would invite her to the house for parties. In college, her now-fiancé, Hunter Odom, lived next door.
"Back then, we'd all say, 'This is the best house in Baton Rouge,'" she remembers.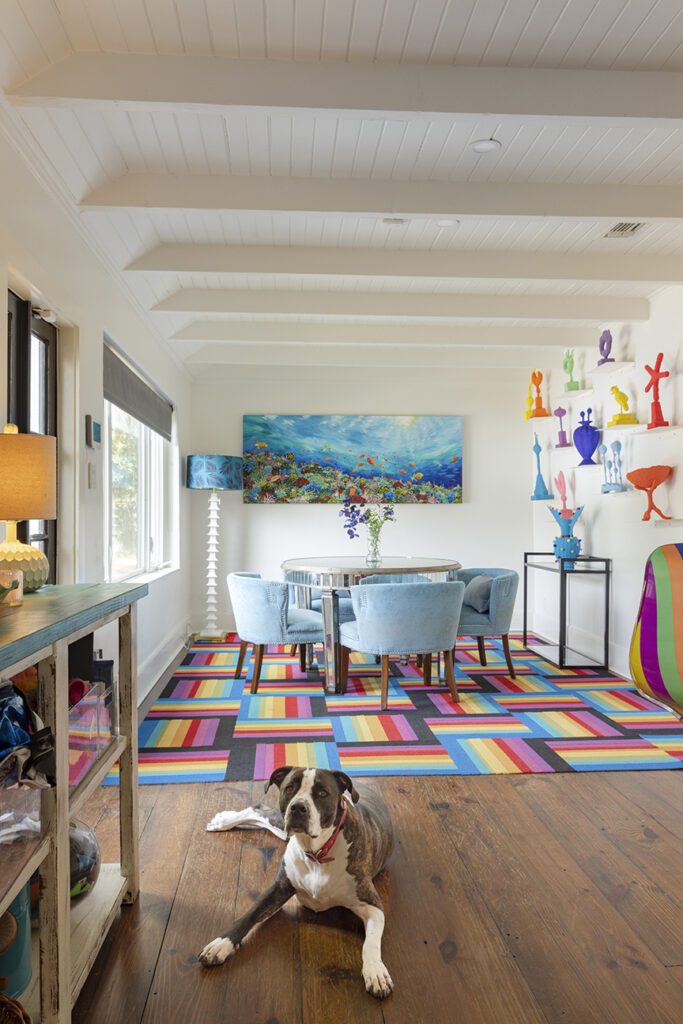 She loved how the lake was visible from every room, glistening through floor-to-ceiling windows and glass-paneled doors along the entire back of the house. She adored the house's 1950s patina—its time-worn wood floors, built-in bookshelves and that nothing-is-ever-really-quite-level character of older homes.
In early 2020, she could spy its backyard from the apartment she was living in across the lake. So when the owners of the house appeared to be moving out, she was the first to figure it out. She begged to be the first to see it.
All along, the house was meant to be hers. She closed on it in March 2020. Just as the world was grinding to a halt with COVID-19, it became her retreat.
Past a fountain and saltwater pool, stepping stones lead to the lakeshore. Lounging on the dock feels like floating in water.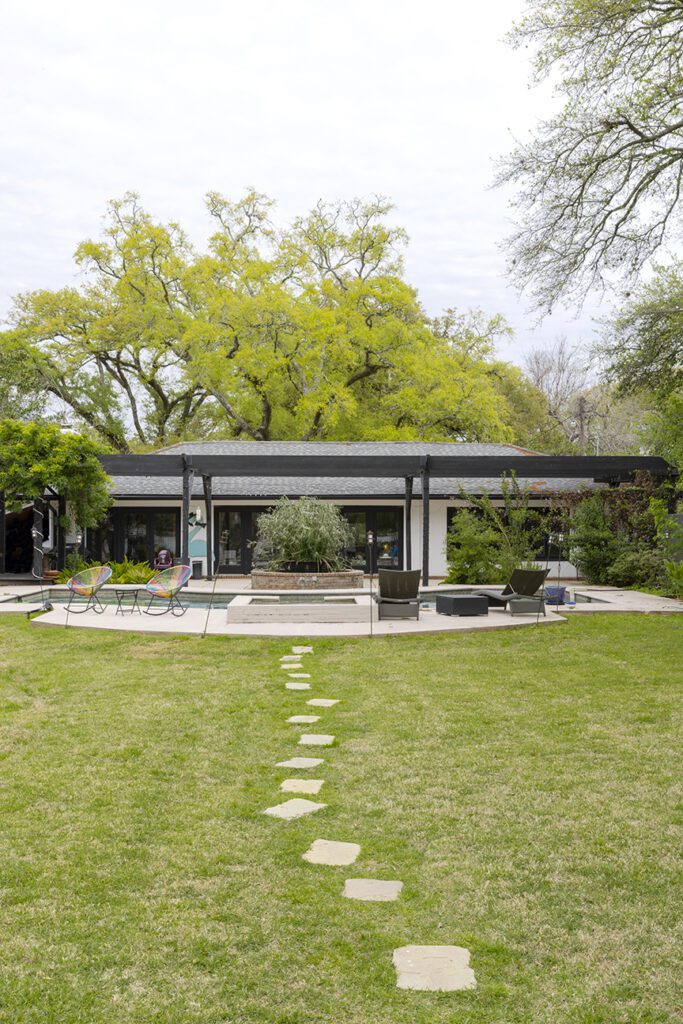 And in these walls, her best ideas are born. Sitting on an ombré-tinted sofa or a tangerine velvet armchair, she designs her collections. She sketches digital renderings of 250 to 300 dresses, tops and tees. Sifting through containers of swatches, she selects sequins, fabrics and trims for each part of the design. Once the collection has been narrowed to about 80 pieces, it's ready for the factory.
Queen of Sparkles releases five collections a year. When everyone else is planning their Mardi Gras costumes, Glas is already thinking about looks for fall and the holidays.

Life's too short to wear boring clothes, indeed. Or boring wedding attire.
Glas picks up her iPhone, clad in an on-brand, confetti-print case. As she thumbs through some wedding planning photos, it's impossible not to be mesmerized by her engagement ring.
The sunburst-shaped design is part vintage art deco, part modern—and 100% Queen of Sparkles. The round center diamond, which belonged to her late grandmother, is encircled by a rainbow of multicolored sapphires cut to look like the rays of the sun. Odom had it custom-made at Robert Roth Jewelers and set in a diamond band before proposing to Glas on a sunset sail on Lake Pontchartrain.
Glas won't give away too much about her July nuptials in Cozumel. But she'll drop a few hints. Spoilers ahead.
She's designing her dress, and it won't be white. Her bridesmaids will wear white sequins and fringe.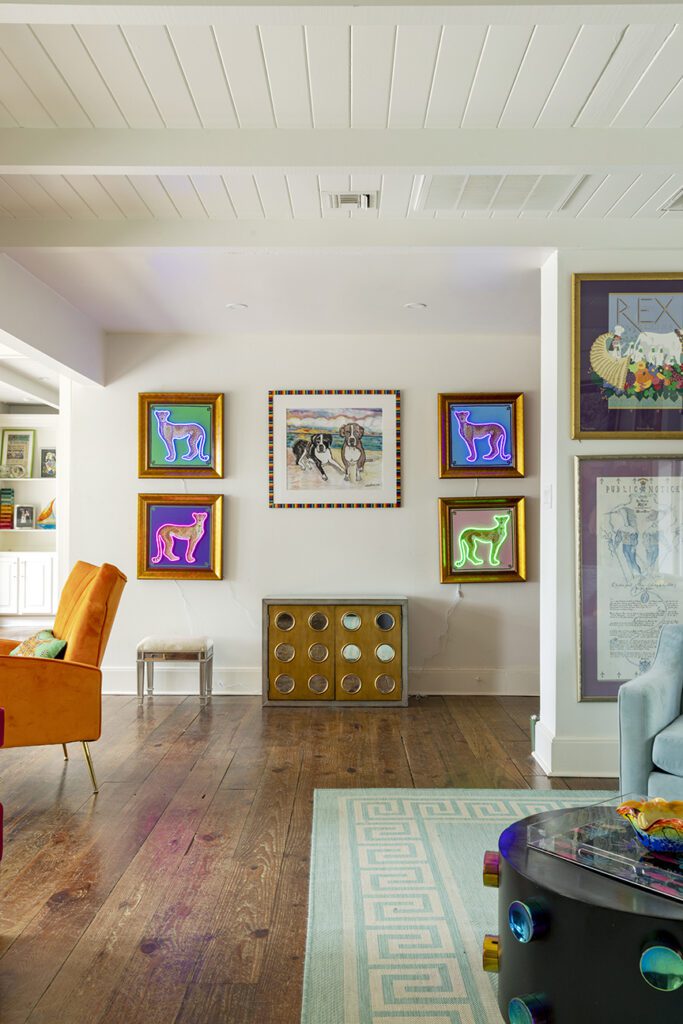 The groomsmen will don seersucker, no doubt looking just as stylish as the ladies. Odom dabbles in clothing design himself. He makes custom suit and tuxedo shirts in punchy colors and patterns for his own line, Second Line Shirts.
Odom's stamp is all over their house, too. His cherished tennis rackets and surfboards double as wall decor. He's drawn to blue hues and ocean-themed artwork, such as the underwater scene painted by TJ Black that hangs above their dining table.
"We're beach people," Glas explains. "We connected over our love for the tropical."
So many important moments in their lives, after all, have been by the water. Their engagement on the waters of Lake Pontchartrain. Their upcoming wedding in Mexico. Mornings in this, their first house, waking up to views of the lake just beyond their window. And, of course, the birth and boom of Glas' business. No doubt, they'll just keep swimming and shimmering.