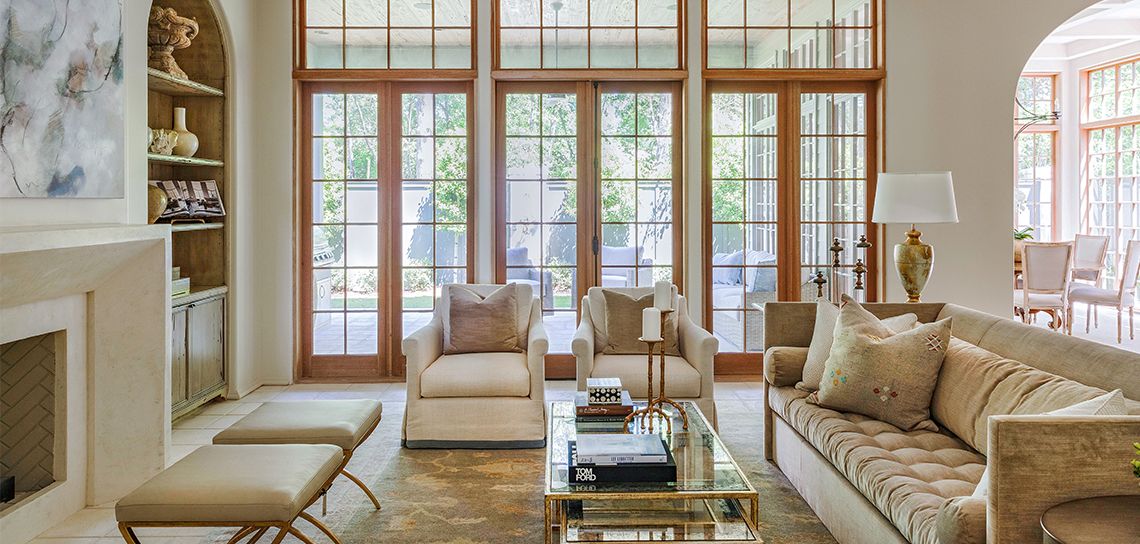 Interior staging lets designers team up with builders and agents to showcase homes
Hundreds of guests walked through the front doors of their potential dream house during the Parade of Homes in the spring.  They envisioned themselves sitting on their dream sofa, putting their feet up on their dream coffee table, gazing at their dream artwork and admiring their dream accessories. They could actually see themselves living there. The furnishings accentuated the architecture and helped interpret the layout. It didn't look like a house. It looked like a home.
Creating a realistic home was the goal when interior designers Joel Fazende and Hilary Smith Kennedy of Dixon Smith Interiors staged a $900,000 house for the tour. Built and designed by Vincent and Jewel Centanni of Ivy Residential Concepts in the Township at Old Goodwood neighborhood, the house had great architectural details but lacked the warmth that furnishings add to a space. Yet Jewel didn't want just any furnishings. Standard staging techniques—using simple furniture pieces for rent—weren't going to pair well with this high-end construction.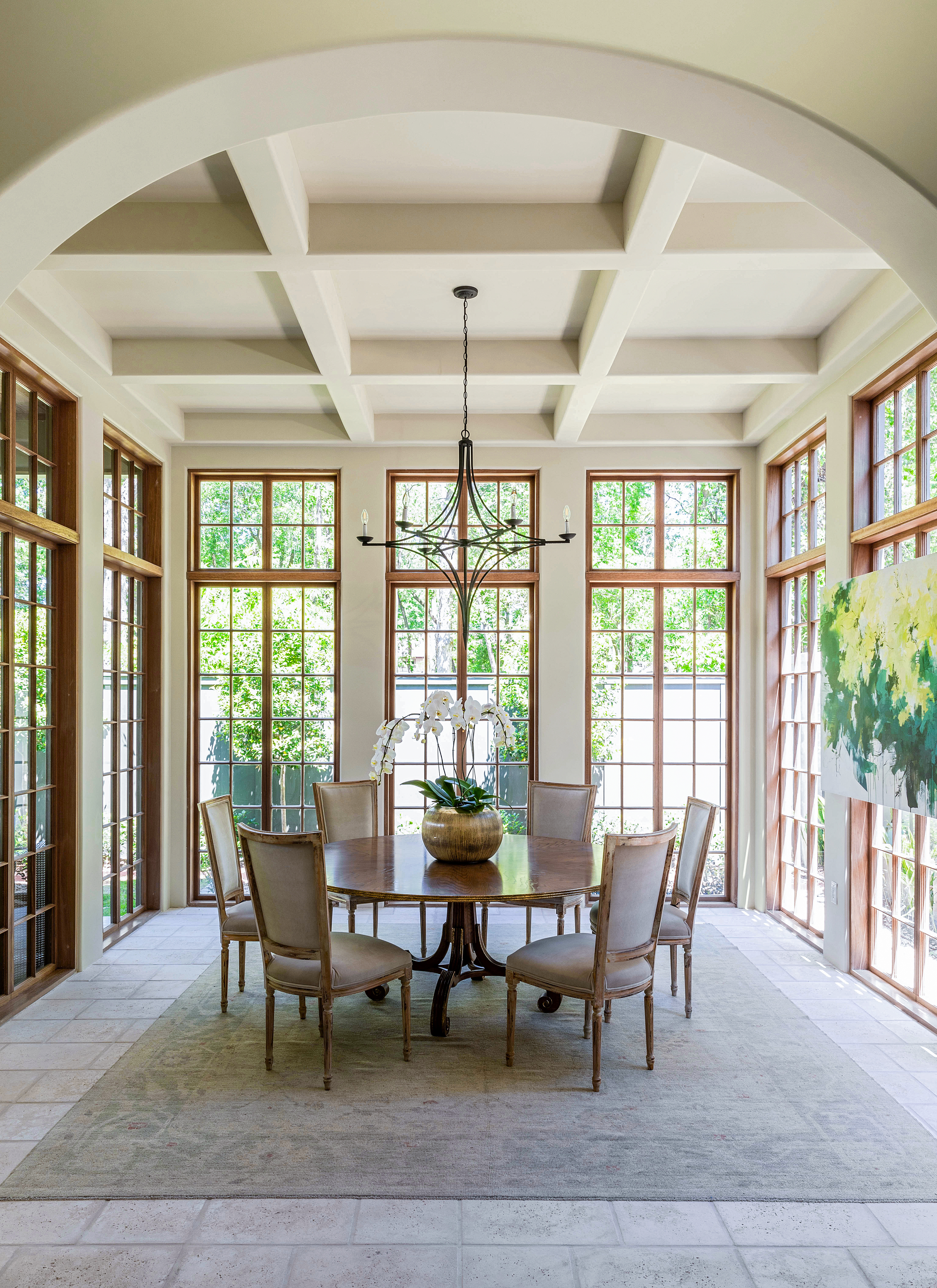 "We wanted the house's interiors to embody the design style we were going for, which was fresh and modern," says Jewel. "So we reached out to Dixon Smith because they had a lot of classic pieces that were still transitional. It's crazy how much the right furnishings can transform a house."
Hilary and Joel met with Jewel about her vision while walking through the vacant house, then returned to their showroom and hand selected each piece. They partnered with Ann Connelly of Ann Connelly Fine Art to add significant artwork. Then they loaded up delivery trucks with rugs, sofas, lamps and more and installed it all before the first guests walked through the door.
"Staging a home isn't something we do regularly," says Hilary. "But this house was the right fit for our company. Jewel gave us carte blanche, and it allowed us to show what our work looks like in a beautiful home."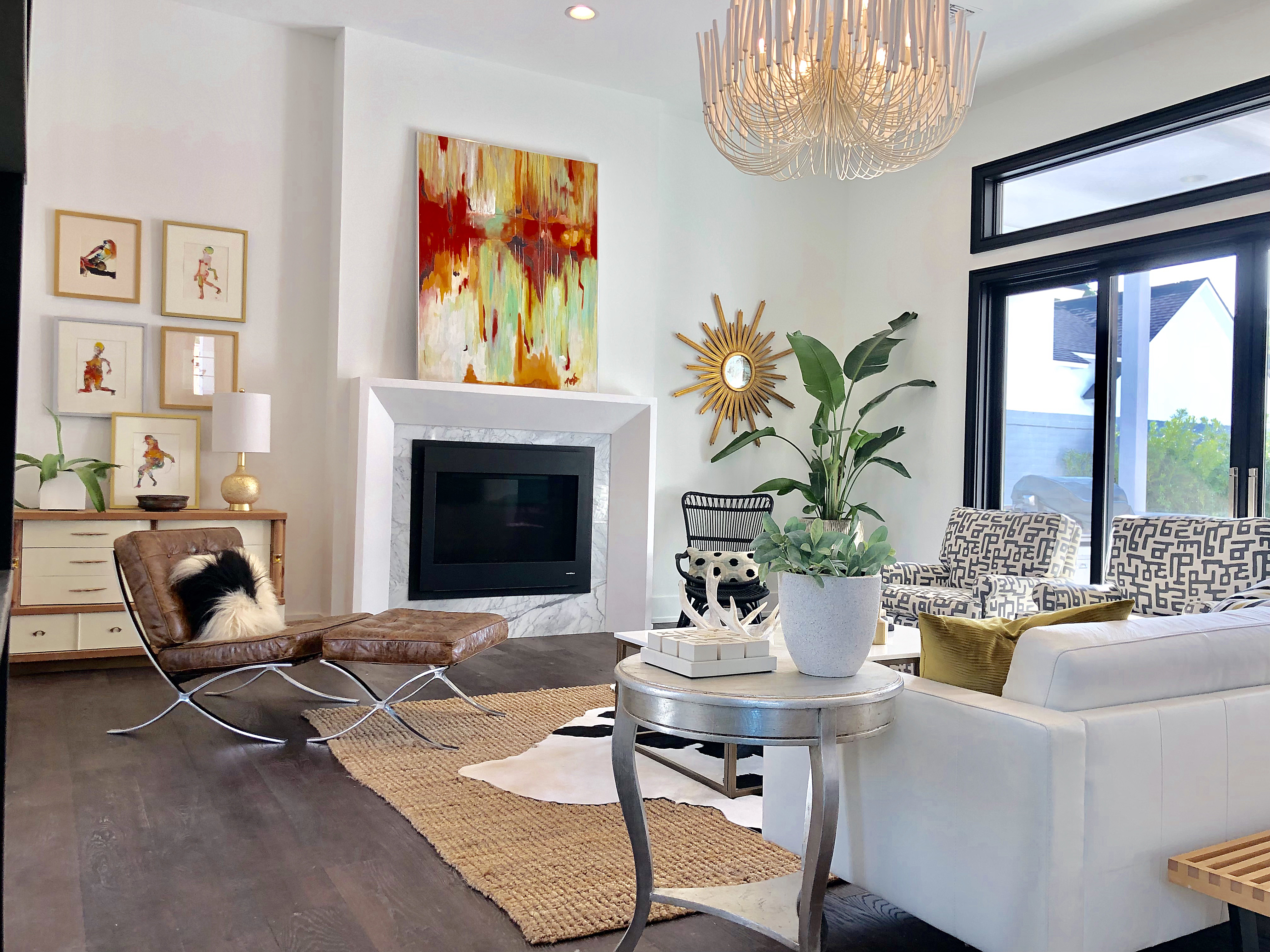 Furnishing vacant homes for sale with furniture and accessories—called staging—became popular during the recession, when houses sat on the market for long periods of time. Realtors recognized that houses sold more quickly, and often for higher prices, when they were stocked with appealing interior elements that didn't detract from the house itself. Professional home stagers emerged in droves.
"It's a great temporary market strategy for a home," says Claire Major, designer and owner of Artvark Ltd. "Realtors are seeing better results in sales on homes that are staged. Potential homeowners don't have to start with a blank slate. Staging gives them an outline, gives them an idea of how things can be done."
Claire recently staged a newly built house in the Country Club of Louisiana that featured tall ceilings, white walls and an open floorplan. Without staging, the home might appear stark to an untrained eye. With an eclectic bent and a penchant for midcentury modern design, Claire created a sophisticated, lived-in, layered look that added value to the home while suggesting where furniture could be placed. But she's a seasoned hand at this emerging market. In the 11 years that she's been refurbishing vintage finds, collecting pieces for interiors globally, and updating her clients' homes, Claire has also staged about 20 houses. She enjoys creating an appealing scene, but she—like all designers—would not stage at just any house. The home must be conducive to the designer's style.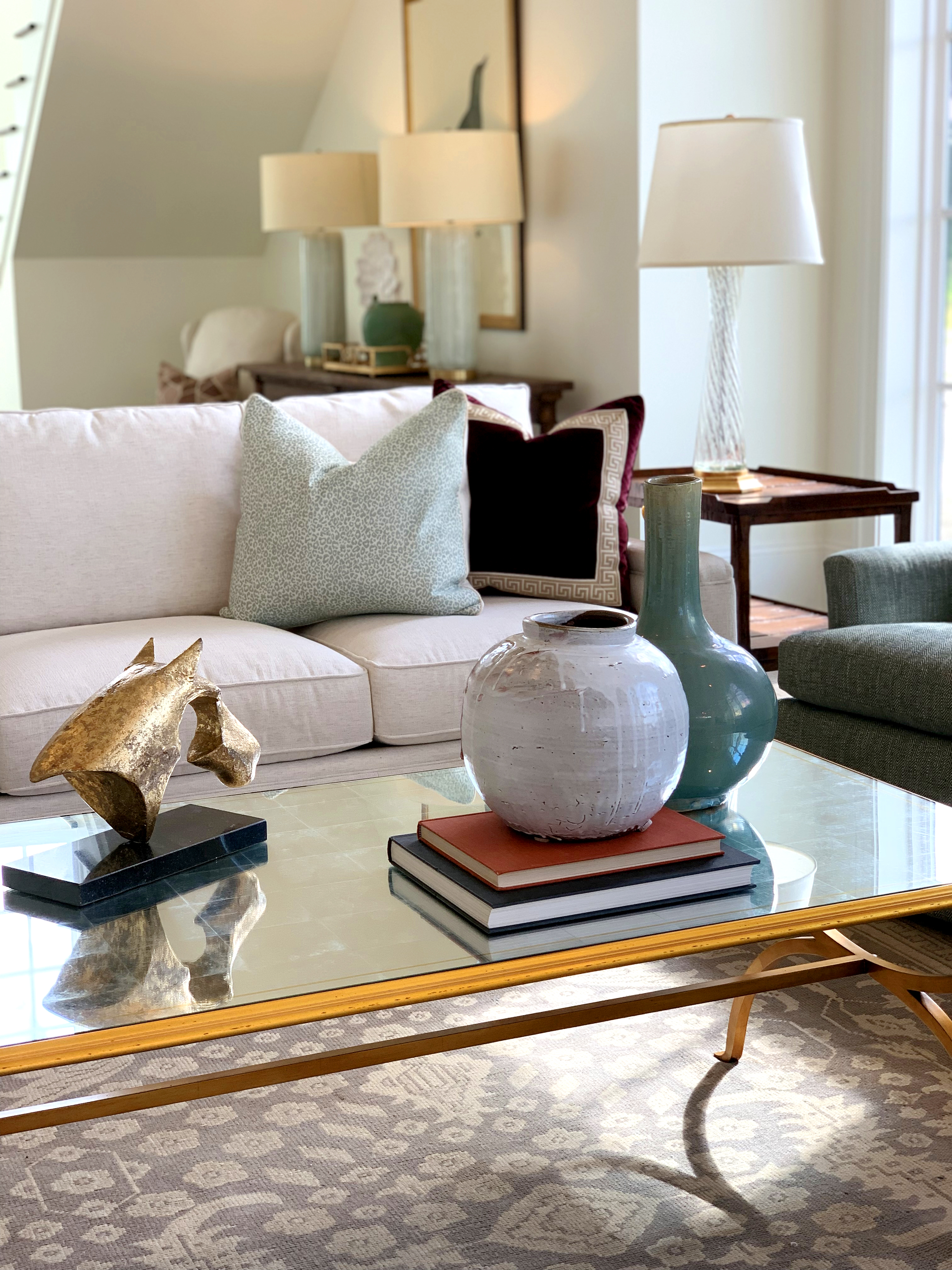 "This house is very upscale. You stage to the level of the house," says Claire. "It's a bonus for the future homeowner that some of the furnishings are actually for sale."
It's a bonus for the decorators as well, which is part of the driving force behind interior designers' willingness to lock down merchandise in one home for a period of time. They get their name out to the general public, some of whom might not be aware of their style. And they often sell some of the pieces that are furnishing the house.
"Our inventory is always changing, so we don't want to tie too much up in staging," says Dan Bergeron, an interior designer at McMillin Interiors. He staged a home for builder Russell Alleman of Manchac Homes in Long Farm Village. "But it's a great advertisement for McMillin. And the buyer might buy the furniture with it."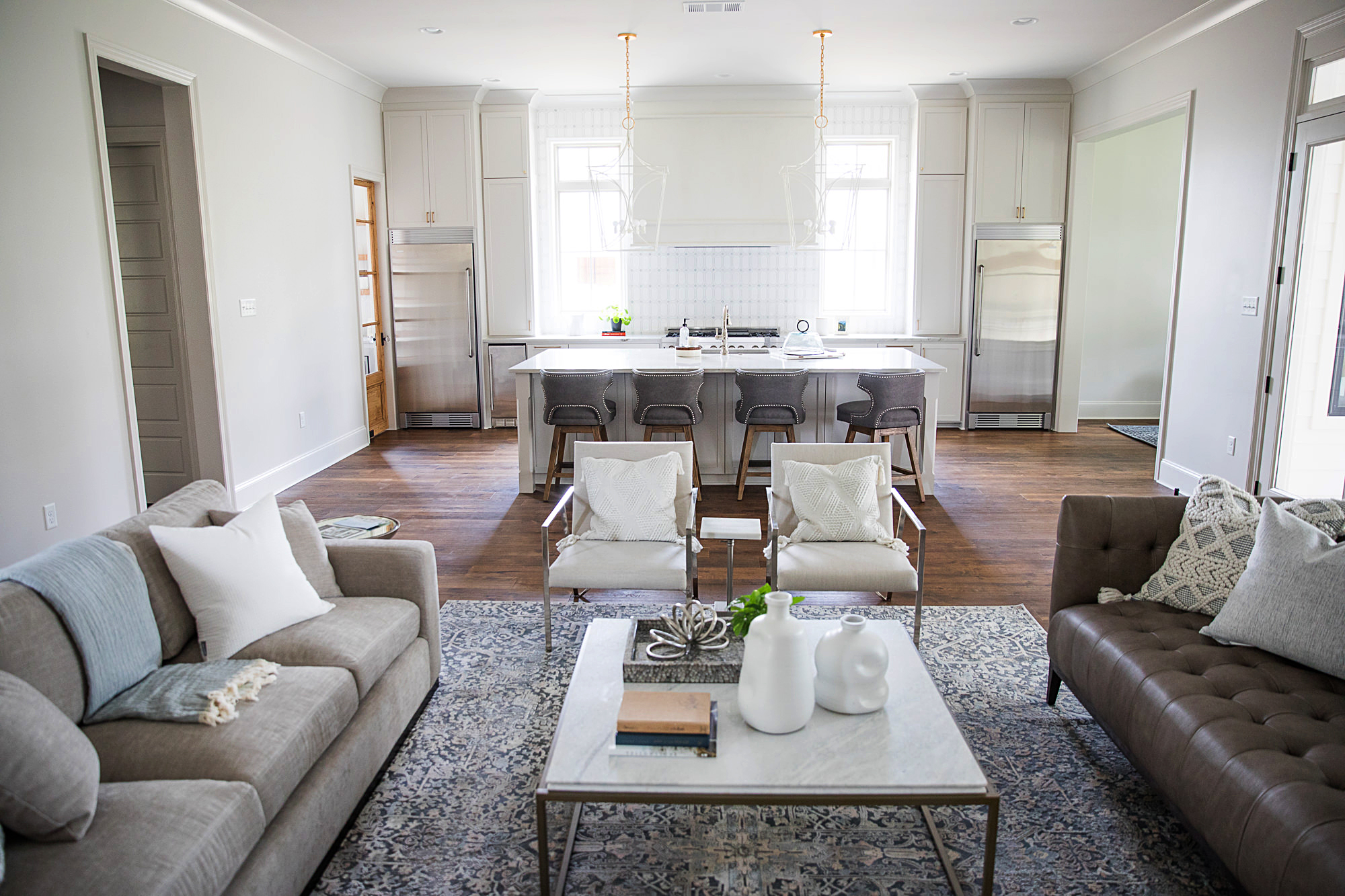 That was certainly the case for Cherith Craft, when home buyers wanted all the furniture that she used to stage a house in The Settlement at Willow Grove. Because her husband, Brandon, was the builder on the project, the duo worked the purchase of the furniture into the total price. Now, every house Craft Properties builds is staged, and the furniture often sells in record time.
"When Brandon started building open-concept houses, I saw the benefit of staging them with good furniture. It helps the buyer's eye to focus on how it would live as a house," says Cherith. "And it helps the actual architectural elements shine in a room."
But selling their wares is only part of a designer's business—selling their services reigns supreme. From her staging experience, Cherith developed a whole new business of helping homeowners freshen up their existing spaces. They could see from her staging what she was capable of creating. The same is true of all designers. Staging homes in harmony with their style allows potential buyers to become lifelong clients. The couple who purchased the house staged by Dixon Smith in the Township at Old Goodwood not only bought the sofa used for the Parade of Homes, they also purchased other pieces from the company and enlisted Joel's expertise in the interior design of their home.
"With the furnishings in place, people could actually envision themselves living there," says Jewel, who also plans to stage a house Ivy Residential Concepts is completing in Adelia at Old Goodwood. "It elevates the house to a whole other level."