Great Estates: Luxury homes at the top of the local real estate market
---
18413 N. Mission Hills Ave.
5 bedrooms  |  5 bathrooms  |  1 half bath  |  9,657 square feet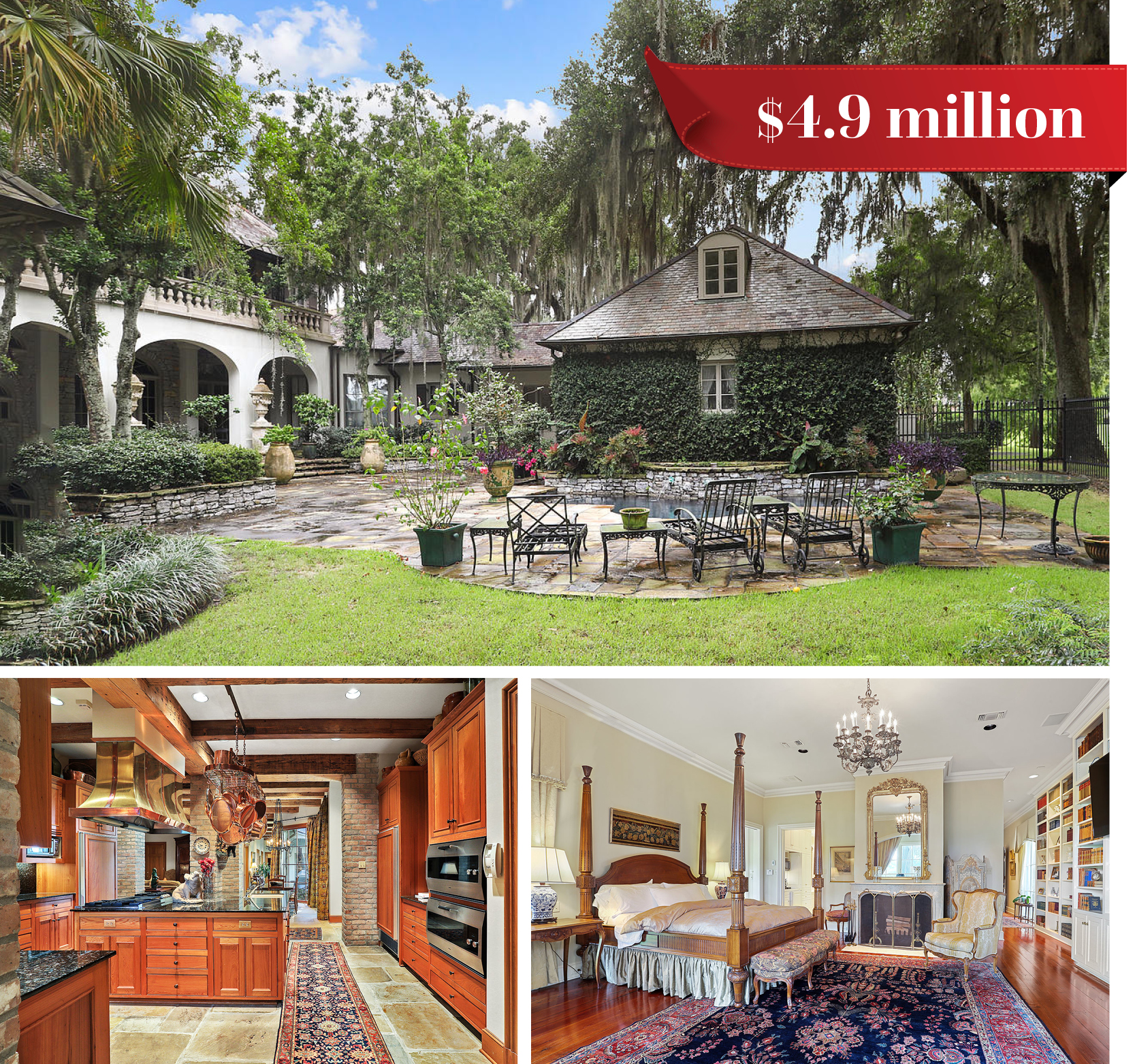 Within the Walls: This Country Club of Louisiana home built by architect Al Jones and contractor Gary Spurlock is an ode to classic French style, complete with an imported marble fireplace. Wrought-iron, stone and wood elements throughout dial up the classic style, while large windows overlooking the lush backyard fill the home with light.
Lay of the Land: This 1-acre property is situated right next to the country club's golf course and lake, and wrought-iron fencing allows views of the scenery and historic live oaks. The hand-laid cobblestone driveway leads to a three-bay garage, large courtyard and in-ground pool.
Contact: Vicki Spurlock and Amy Prejean, Locations Real Estate, (225) 928-2222
---
3170 Conway Drive
5 bedrooms  |  5 bathrooms  |  1 half bath  |  7,000 square feet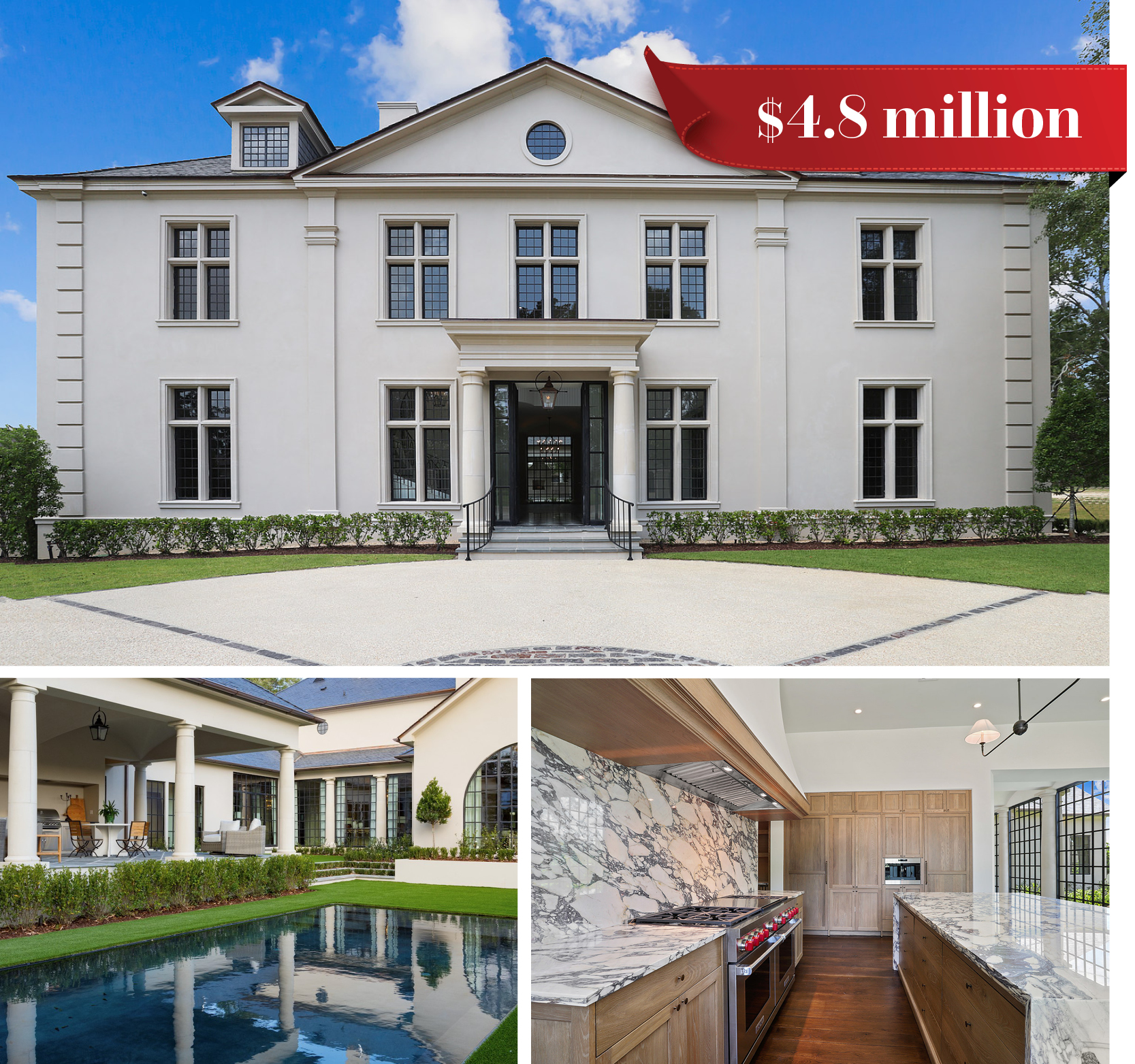 Within the Walls: This newly built home—which was the setting of the 2021 Ivy House Designer Showhome—brings a modern touch to the classic Bocage neighborhood. The drama starts in the foyer, with its marble floors and fluted walls, and flows throughout the house thanks to details including a curved dining room ceiling, Calacatta Viola marble on the kitchen's waterfall island, and antique pine beams in the keeping room.
Lay of the Land: Large steel windows provide views into a lush backyard area complete with a knife-edge pool, a full outdoor kitchen, and a large covered veranda with bluestone flooring.
Contact: Quita Cutrer, Burns & Co., (225) 413-8874
---
19411 North Muirfield Drive
7 bedrooms  |  8 bathrooms  |  4 half baths  |  10,745 square feet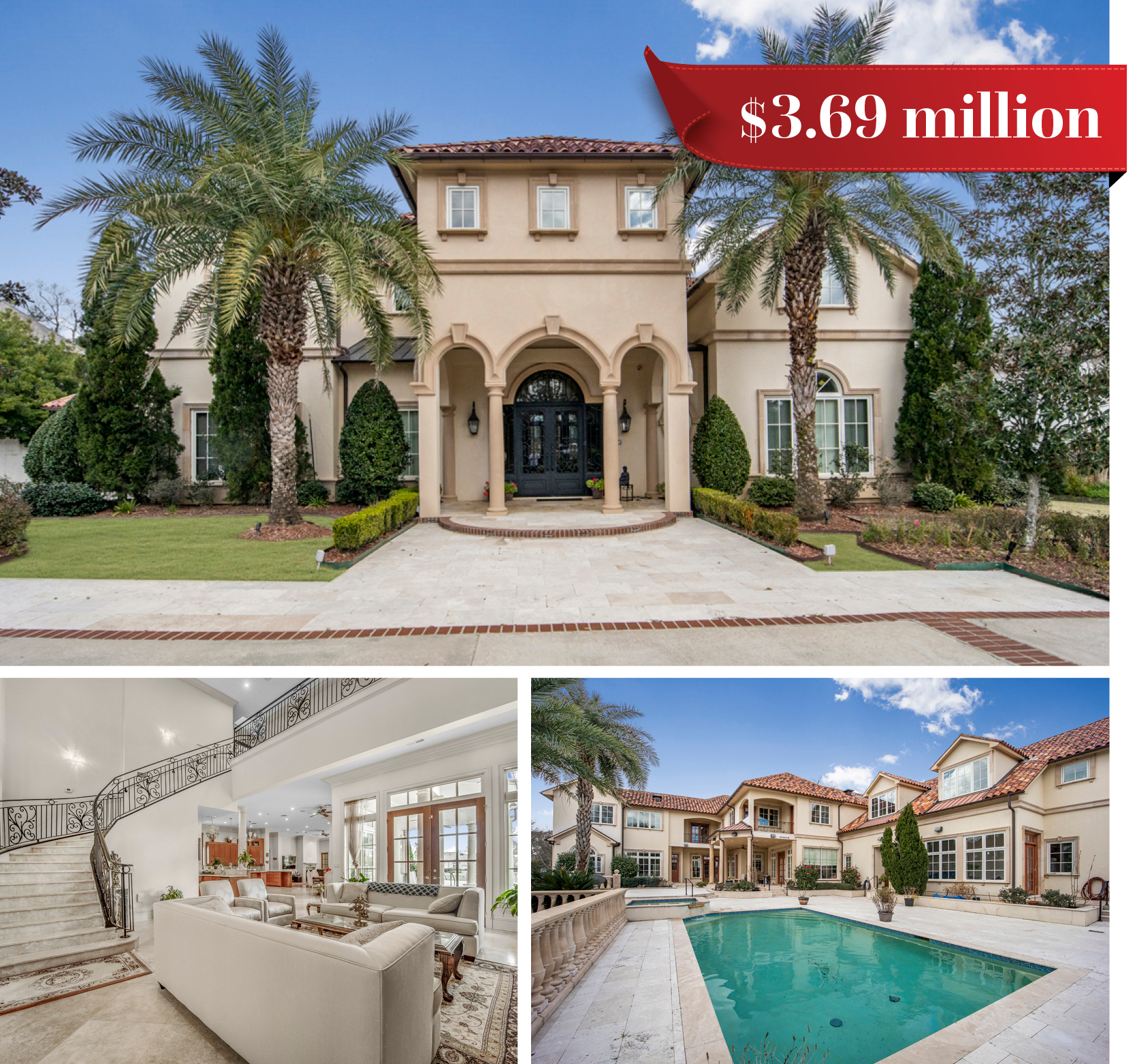 Within the Walls: This Country Club of Louisiana home is the largest on our list, boasting seven bedrooms, eight bathrooms, four half bathrooms and two kitchens. Upstairs, a media room with a large projection screen and wet bar is the perfect space for entertaining, while solar panels on the roof keep all 10,000 square feet energy efficient.
Lay of the Land: Several balconies overlook this home's spacious backyard, providing views of the pool, large courtyard and neighborhood lake. The property also includes lush landscaping and a greenhouse/sunroom fit for any green thumb.
Contact: Shannon Andre-Dewey, Tiger Town Realty, (225) 755-7022
---
22111 Rabbit Run Drive
4 bedrooms  |  5 bathrooms  |  1 half bath  |  9,241 square feet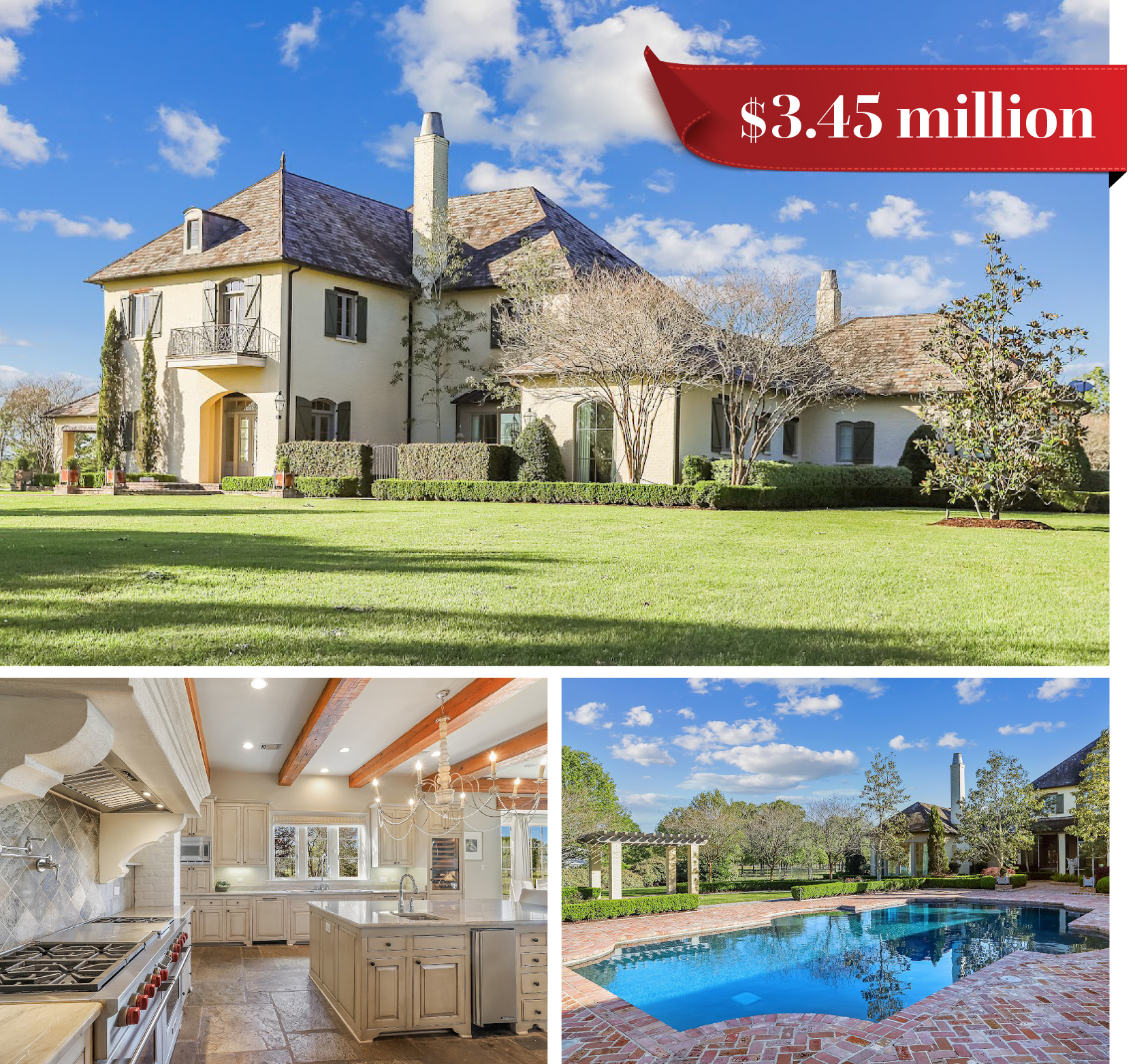 Within the Walls: This custom Mallard Lakes home designed by architect Al Jones combines French elegance with old-world charm. Three floors of living area are highlighted by details including French flagstone and wide-plank heart-of-pine floors, solid cypress doors, four masonry fireplaces and a home theater. 
Lay of the Land: More than 13 acres of grounds feature a long, winding driveway and porte-cochère, as well as a backyard that opens up to lake views. Other amenities include a pool and hot tub, an outdoor kitchen and fireplace, and an enclosed outdoor sitting area.
Contact: Stephanie Gill, RE/MAX Professional, (225) 615-7755
---
6020 Highland Road
5 bedrooms  |  5 bathrooms  |  7,698 square feet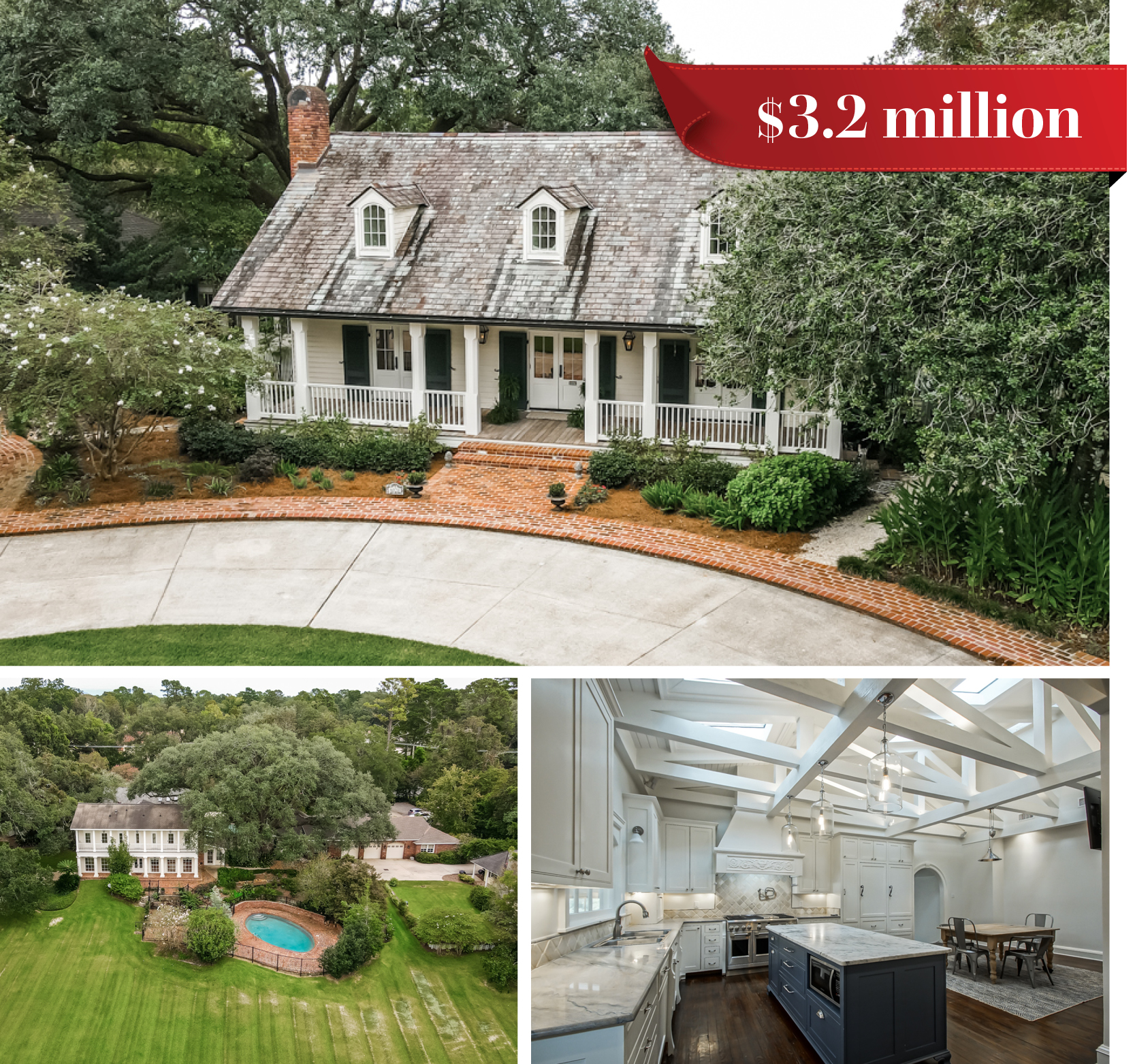 Within the Walls: This French Creole-style home is located on historic Highland Road just a few miles from Tiger Stadium. Custom architectural details include arched doorways, a gracious oak-railed staircase, and a vaulted ceiling with exposed trusses in the kitchen. A built-in dog kennel and large multi-use room provide useful space for any member of the family—furry or otherwise. The six-car garage features front and rear garage doors and a full garage apartment.
Lay of the Land: This home sits on more than eight acres of property that stretch back through Bayou Fountain. Immediately behind the house is a fenced-in pool area and manicured lawn, and further along, a wooden bridge grants access to the back swath of land and a large shed for storage.
Contact: Glenda Pollard, Pollard Partners, (225) 441-7888