Renee Usie didn't always belong to a group. In fact, she started camping in her small trailer out on her own over the weekends when her husband would go hunting or fishing–but he didn't like the thought of her going it alone. She joined the national women's camping club Sisters on the Fly and began joining other ladies around the country at campgrounds. She became a member of the Get'away Gals—a large club that includes women from Texas, Louisiana, Oklahoma and Arkansas—and she fell in love with the camping concept. But Usie wanted a more intimate group that gave female Pelican State camping enthusiasts their own destinations closer to home. Louisiana Belles was born.
"I've always been independent," says Usie. "The camping club is our version of a hunting camp. I love to camp, and I love to be around women with similar values and interests. It's great."
Louisiana Belles is a camping club that Usie organized about four years ago. Once a month, women with vintage or retro-looking small campers meet at an appointed state park for a weekend of fun. This might include anything from hiking, kayaking and fishing to cooking, sewing and crocheting. The sky's the limit, and nothing is off limits. Well, almost nothing.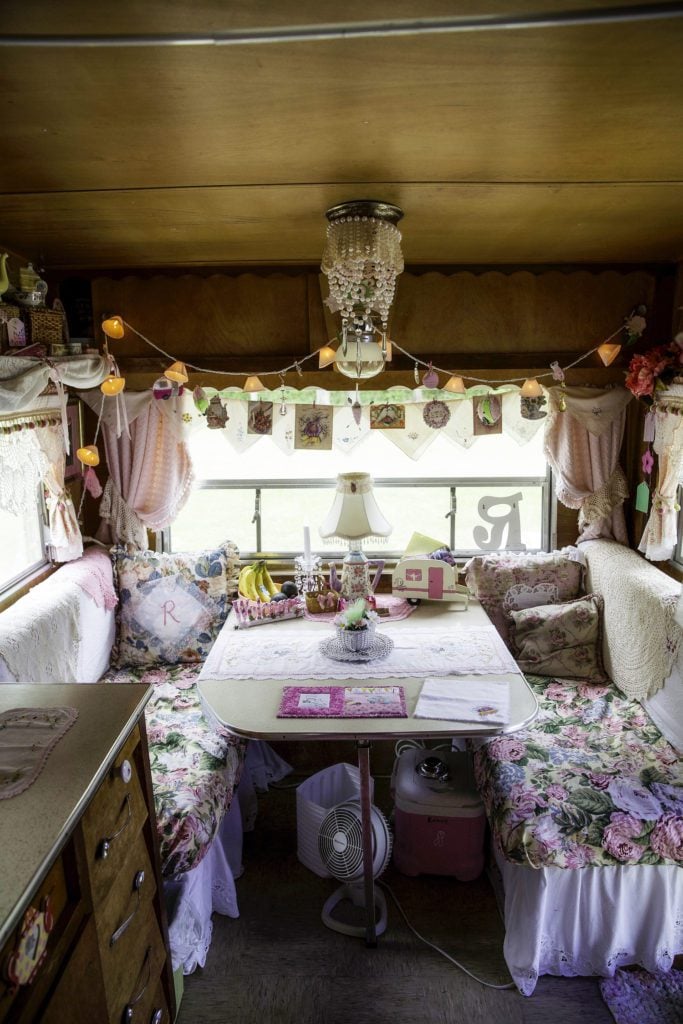 "We have rules that there are no husbands, no children and no pets," says Usie. "We believe that women need a chance to relax and leave responsibilities behind. Husbands, children and pets are sometimes our greatest responsibilities."
So the ladies leave their cares back home and bond with one another over a campfire at night. They may go shopping during the day, and they might hit a restaurant or two. And the ladies enjoying checking out one another's decorated campers. Usie and pal Genee Hebert recently hosted the Pont Breaux Glamper Rally in Breaux Bridge at the Pioneer Camp Ground, where 27 decorated campers were toured by more than 200 people interested in the vintage camper concept. It was a hit.
"We were surprised that so many people showed up," says Usie. "We are just grannies with trailers."
But these grannies know how to roll. Usie purchased her 1961 Holly off eBay and had to do very little to it except replace the tires. It's in original condition, but everything works. She decorated it with a tea party theme and named it the Tea Cart. Usie tries to go camping about once or twice a month, and it's the cameraderie that keeps her coming back.
"We like to think that we are leather and lace," says Usie. "We all love the outdoors but we like fashionable campers, too. We meet women from all different backgrounds, but we find that we have things in common. We all just like to camp."
Peek at a few other Louisiana Belles' campers below.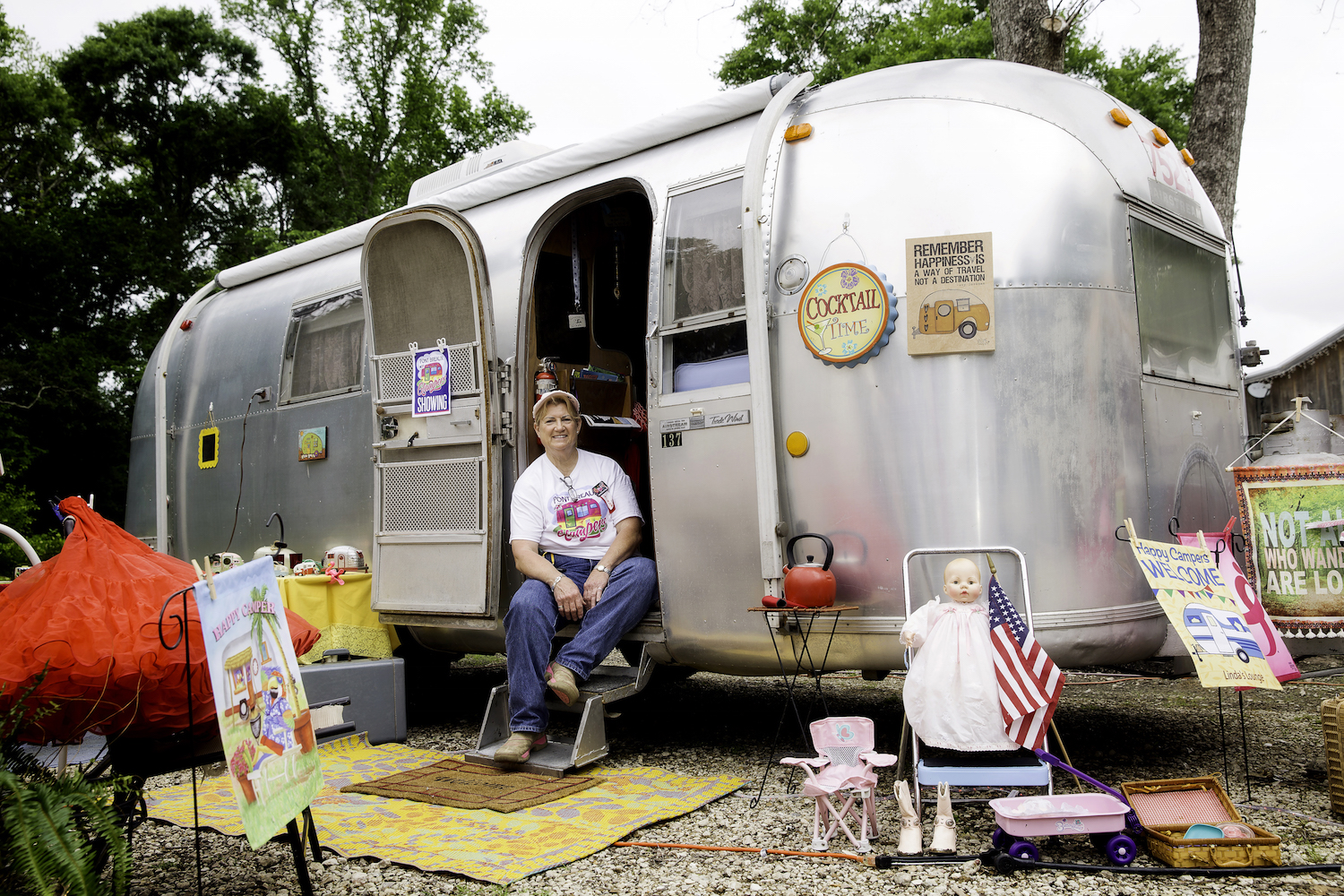 ---
Seizing the day
"I think I'm half gypsy ," explains Linda Williams about why she loves women's camping groups. "I love to travel, and I love to meet people. I love the campfires at night."
Williams bought a 1968 Airstream Tradewind about five years ago and made it her own, with pink lace curtains and blue leatherette seats. She named the camper Baby Doll, after the dolls she kept from her mothering days. Williams joined the Texas-based camping group Get'away Gals, as well as the Louisiana Belles. Now, this Lone Star-state native goes camping about once a month with either women's group on a weekend adventure. She's made lots of new friends and memories.
"I had cancer in 2006, and I realized that I needed to live as much as I can live," says Williams. "And I have an exceptionally wonderful husband who hooks my trailer up when I leave and unhooks it when I return from the weekend."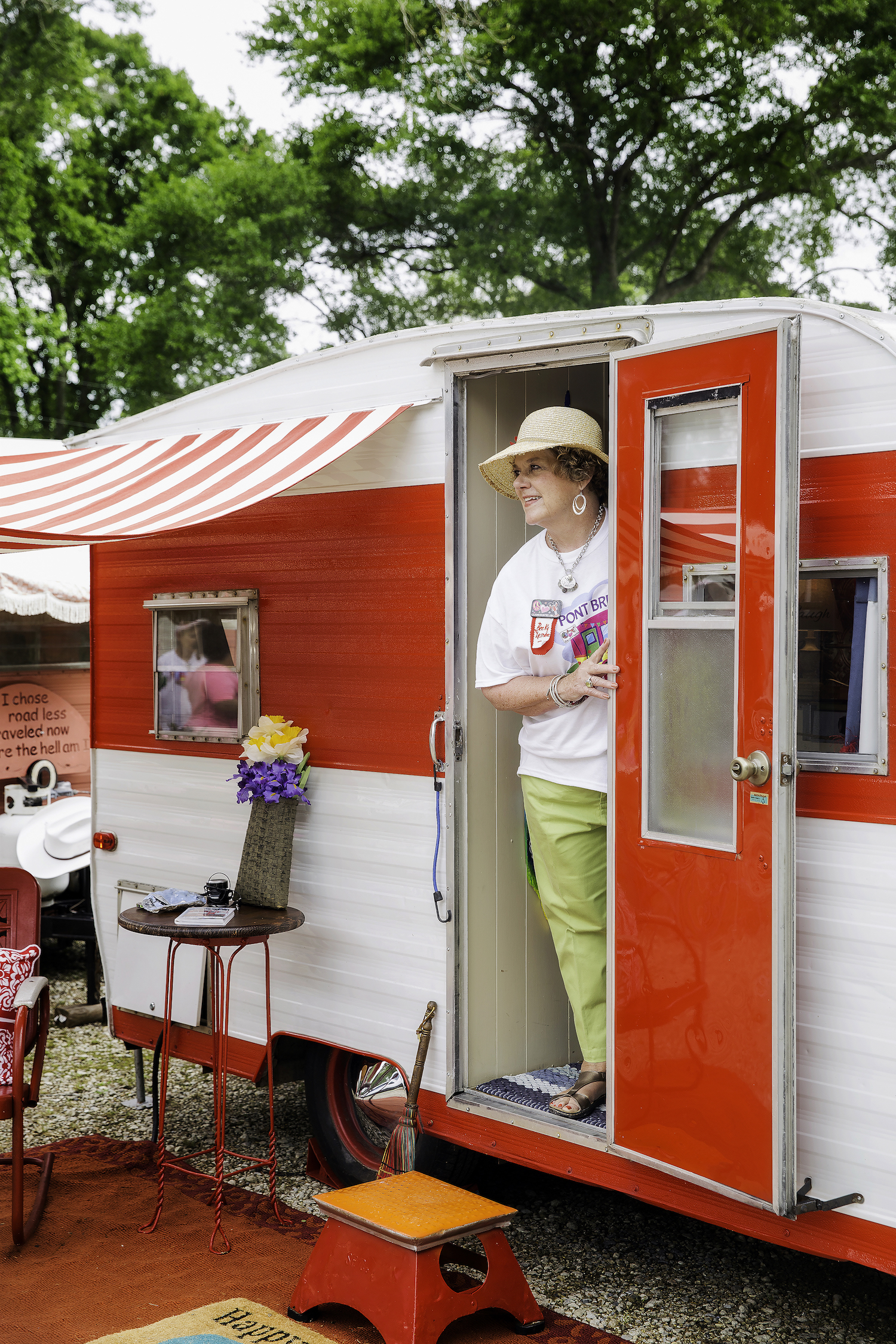 ---
A spicy little number
When Becky Lemaire set out to decorate her 1969 Northstar camper, she opted out of the the feminine décor that is common among the camping club ladies. Instead, she chose a red and white theme—which reminds her of south Louisiana—and she introduced blue and white fabrics on the inside. Her camper, Lil Cayenne, was born.
"A friend from north Louisiana introduced me to vintage camping about six years ago, and I loved the idea," says Lemaire. "On our way to the Spanish Town Mardi Gras parade in 2012, we got a phone call from a man in Ruston who had two vintage campers for sale. So I agreed to buy one of them over the phone."
Lemaire painted the camper inside and out, reupholstered the seating, installed a new air conditioner and a new fridge and basically "fluffed it up." She got involved with Get'away Gals camping club and the Louisiana Belles.
"I enjoy meeting new groups of friends from different places," says Lemaire. "And I love the fascination of having a small trailer and decorating it the way you like. You can really learn a lot about others by visiting their trailers."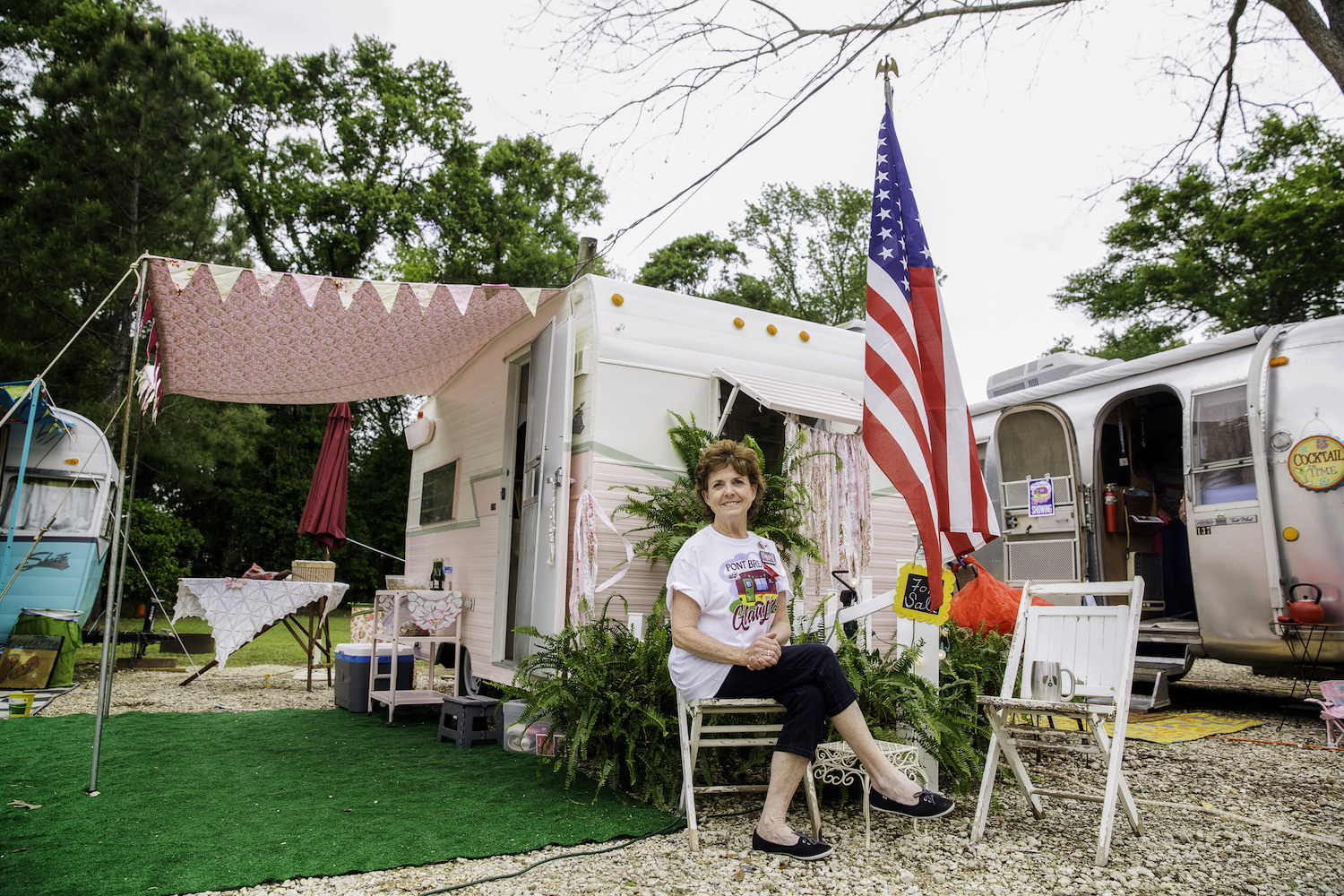 ---
Project focused
Decorating and renovating trailers is a huge draw for vintage camping enthusiast Kaye Ladner. This Franklinton native is a do-it-yourself kind of person, so refurbishing trailers for weekend use greatly appeals to her. She took her 1968 Shasta Compact—named Ramblin' Rose after her mother, Rose—to the recent Pont Breaux Glamper Rally. And she owns three others as well.
"Vintage camping is such an interesting hobby," says Ladner. "It's not difficult to buy a small camper and renovate it. It's a great way to express your taste."
Indeed, Ladner has a 1972 Airstream that she dubbed her "summer project"—she's already taken the floors out, but it still needs to be rewired. Her 1982 Scamp needs to be completely restored. But it's her 1958 Airstream that has her heart—it's only 15 feet long and it's in original condition.
"My friend and I do all the decorating together," says Ladner. "Renovating is more than half the fun."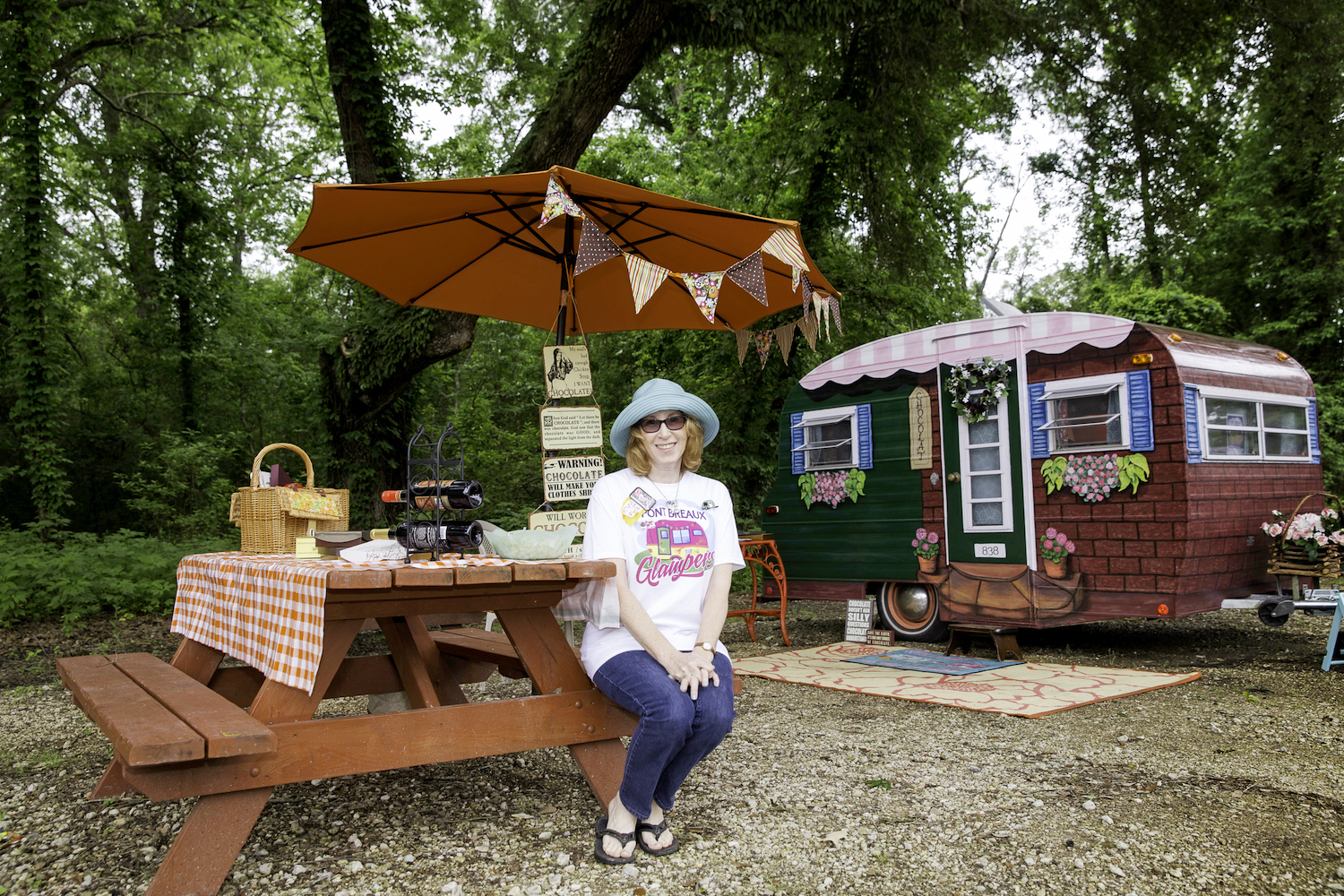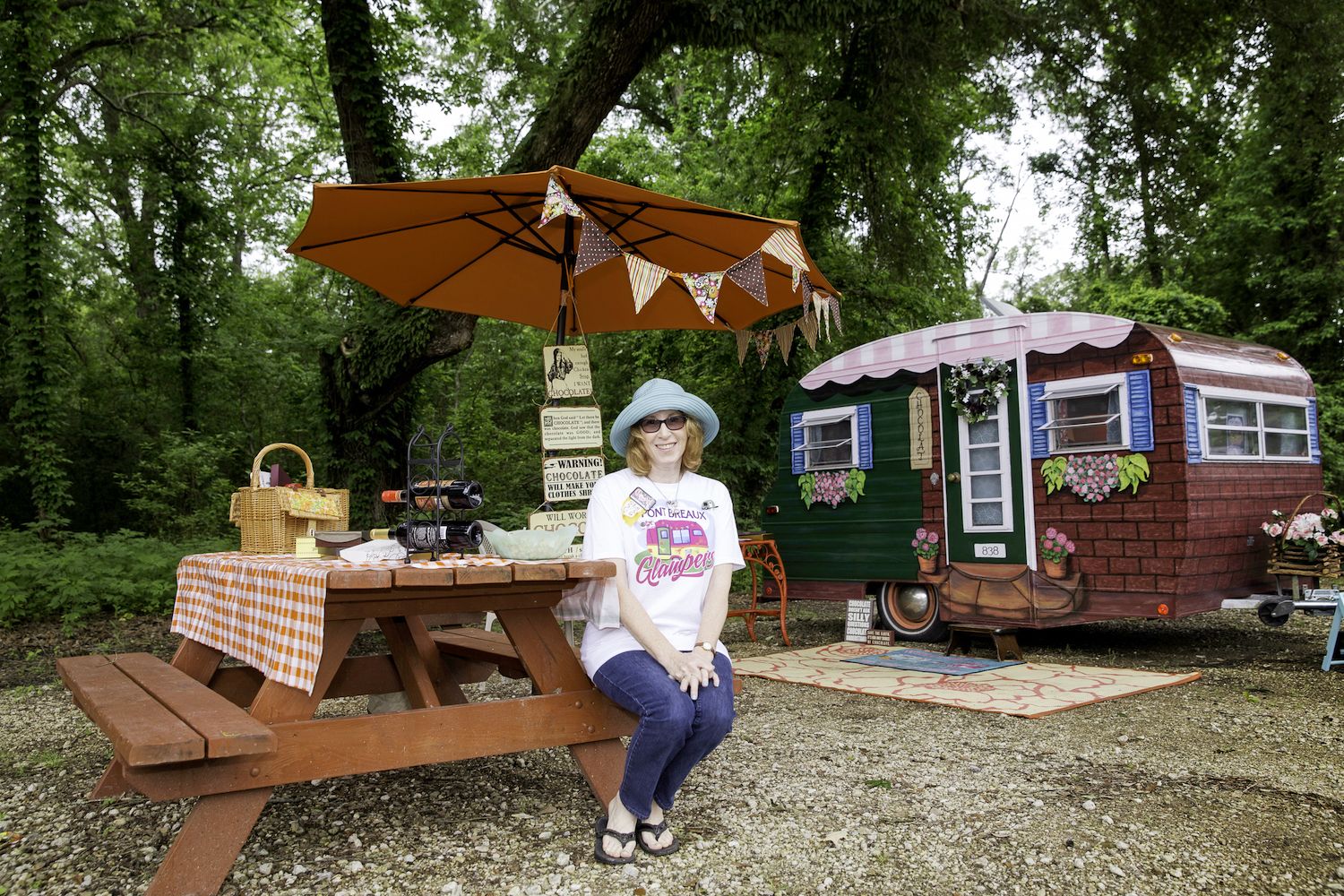 ---
Sweet deal
Candy Owcarz is a self-described chocoholic. Maybe it's her name that has always pushed her to the sugarcoated side of life, but it's something that she's embraced. That's why, when it came time to paint her 1973 Play-Mor camper, Owcarz turned up the double boiler and created it with a French chocolatier theme.
"I used to teach art classes, so I've always been a bit crafty," admits Owcarz. "It took me a few months to complete—working on it a few hours at a time."
Owcarz's camper is named Candy's Kisses because it was originally silver and looked like the sweet treats from Hershey's. She bought it in 2010, encouraged by a friend who had started camping with women's clubs. And although the groups often do plenty of shopping, crafts and even cooking, it's the simple relaxing that keeps her coming back.
"It's just a good way to get away and let our hair down without having to please anyone," says Owcarz. "I would go every month if my husband would let me."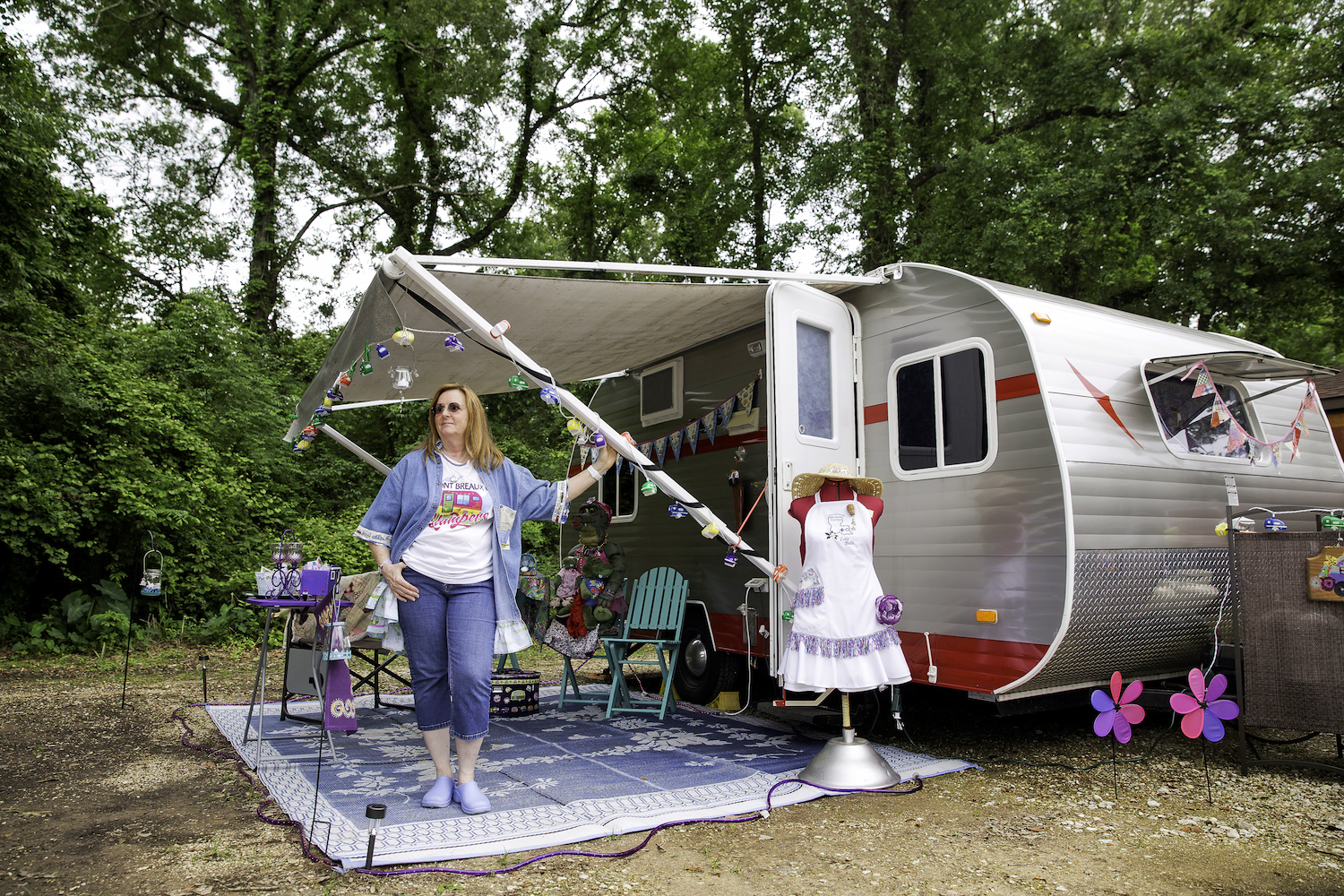 ---
Retro active
Marvene Mayer's trailer slides into its slot without question right next to all the vintage campers on a recent weekend women's trip. But her trailer—named Lola Belle—is packed with modern amenities. Her 2014 White Water Retro is made to look old but offers a full restroom, a built-in microwave and more. She simply updated the interiors with curtains, a bedspread and other linens and accessories.
"We have had campouts where we bring our sewing machines, and we set up under the trees and sew," says Mayer, who enjoys being with others while doing hobbies.
Mayer has been camping all her life but just joined women's camping groups in 2008. She tries to go camping with a group every month.
"It's just the cameraderie of women. We have a lot of fun," says Mayer. "There are friendships you make from all over the United States. We like to say that our camping group is making girls out of women."