Designer tip: Shannon Mahon on chic children's spaces
Skip the character sheets and walls of posters that characterized your room as kid because, according to designer Shannon Barksdale Mahon, it is possible to carry the sophisticated style of your home into the spaces reserved for little ones.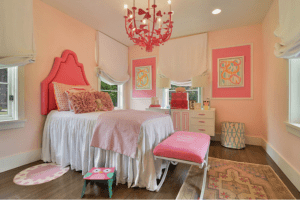 "Kid's rooms always make for a fun project," says Mahon, who has two children of her own. "Before starting, I like to get to know the child. What are they into? What's their favorite color? Any special or sentimental items that need to be incorporated? I feel like the room should represent the child!"
For Mahon, the key to combining the whimsical with the chic is to think past the obvious when it comes to "boy" and "girl," especially when choosing color. Use neutral colors to anchor the room and add pops of bright colors to create a fun atmosphere that still works with the rest of the house and can also be easily changed as the child's interests change.
"Color is always an easy way to start off and then build from there," says Mahon. "For instance, for a little girl who loves all things girly, we would select fun and feminine fabrics in lilac or blush tones. In the same way, starting a room for that rugged little boy in a dark, warm gray tone and accenting with his favorite color orange makes for a great start!"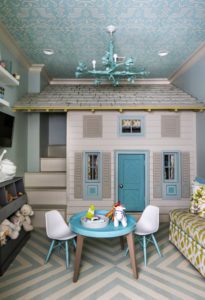 Out-of-the-box accessories serve to elevate the space and pull the look together in a way that screams kid but still appeals to adults. Bringing in hideaways like tents and small sitting areas will make kids feel at home in the room, while tying in family heirlooms or baby pictures brings in a mature element that parents can enjoy when they come into the space.
"Incorporating textures such as crystal, brass and Mongolian fur would capture girly-girl vibes," explains Mahon. "And for a boy, incorporating a fun, safari animal-print wallpaper and antlers would capture his love for hunting. You could also add a rugged tent or some sentimental hunting accents here and there."
By playing to a child's individual interests, a space becomes much more than just a room, but rather an oasis of imagination that will grow with the child and your home. Mahon's suggestion of embracing themes through out-of-the-ordinary elements allows a space to speak to the child, while also weaving together pieces that will stand the test of time.
"A child's rooms is an area in which to have some fun and create a beautiful room that captures the personality of your child," says Mahon. "By taking this approach, we make both the parents and kids happy with the outcome."
To see more of Mahon's styling expertise, check out her Instagram here, or shop her style at Mint. You can also read more of Mahon's insights in this article from the inRegister archives.