Designer Tip: Linsi Cenac Matherne on transitional design
Using traditional design principles of scale, function and finish and pairing them with contemporary clean lines, Linsi Cenac Matherne of Linsi L. Cenac Interiors shares with inRegister the ins and outs of transitional design. Describing this marriage of the old with the new, she says, "The result is a fresh look that won't be going anywhere anytime soon–a modern classic."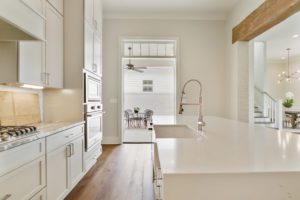 Using a neutral color palette, Matherne advises homeowners to lean towards warmer off-whites and neutrals like taupe-y grays rather than bright whites. "I find them to be too stark with the taller ceiling heights we are seeing in today's construction," she says. This color scheme promises a solid base for main finishes like paint, flooring and cabinetry, but in order to avoid a "boring beige" look, Matherne emphasizes the importance of texture and movement. "Layering is key," she says.
"For this home, I chose soft warm gray tones for the walls and the shaker-style cabinetry throughout," she says. "In the kitchen, there are three different stones–I used fantasy brown countertops in a leathered finish for the perimeter of the kitchen and a natural quartz stacked ledgestone for the backsplash." The interaction between color, texture and movement create interest and depth, and the varying heights of stacked stone of the ledgestone backsplash create an unexpected touch. Maximizing the waterfall island as a focal point in the space, Matherne chose an engineered quartz material in a faux marble look for the countertops in subtle contrast to the perimeter stone and backsplash. "It allows for the island to stand out without competing with the rest of the kitchen," she says.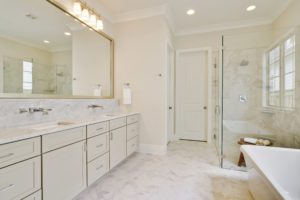 Moving to the master bath, Matherne continues to manipulate materials to create that transitional look, combining classic marble and marble-like finishes alongside the freestanding tub and glass shower. Using varying tile sizes for the flooring and walls, Matherne designed interesting tile patterns to create a current and fresh look. "The vanity is topped off with white Carrara marble and wall-mount faucets, truly melding both old and new."
For more on Matherne and her designs, check out her past "Designer Tip" here and her website here.