Designer tip: Linsi Cenac Matherne on creating multifunctional spaces
Many Baton Rouge homes benefit from the city's suburban landscape, with beautiful exteriors in French and Spanish styles often set within spacious green landscapes. But not everyone gets the same amount of space inside the home, where growing families can struggle in cramped quarters. In times like these, homeowners might call on experts like designer Linsi Cenac Matherne, who earned her bachelor's degree in interior design before opening her own business, to help make the most of nifty nooks.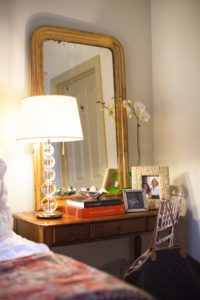 "Lately, I've had requests from clients trying to maximize the function in their everyday spaces," Matherne says. "Whether it's a client downsizing, or maybe just wanting multiple uses in a space, a room can serve multiple purposes and still look seamless."
Even a small bedside area, for example, can be transformed with a touch of cozy convenience.
"A great way to add more function to a bedroom would be to forego the traditional nightstand or chest, opting instead for a beautiful desk and chair that doubles as a work surface and bedside table," she says. "Depending on your personal style and needs, an appropriately scaled console table could also serve the same purpose as a desk. You may need a drawer or two (or three) to stash things away! Either way, it's an area that helps take care of your day-to-day tasks—a place to put a laptop, but with room for a great lamp and curated accessories that blend perfectly with the rest of the space."
To see more from Matherne and Linsi L. Cenac Interiors, LLC, check out her website at linsicenacinteriors.com.