Designer tip: Kenneth Brown on trusting the process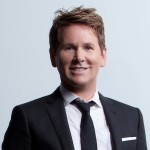 The eaves weren't an afterthought on Jason Guerin's home. Bold and black, the trim plays perfectly off the home's bright white facade, which was inspired by the beach community Alys Beach on Florida's 30A. But such a gutsy accent color required an intrepid homeowner who was committed to staying the contemporary course he and interior designer Kenneth Brown had initially forged.
"I think everyone thought we were sort of out of our minds," Brown says of passersby and neighbors in the Settlement at Willow Grove who saw the black paint being applied.
If the homeowner were ever going to falter, this would have been the time. Changing the paint color would have required only a little extra effort and would have raised no eyebrows from onlookers. But this moment–in the midst of a design project, when the finished product is not yet in sight and the current state is outside of the comfort zone–is exactly when a design client should hold firm to the mapped-out plan.
"A lot of times the biggest mistakes happen when homeowners change their minds halfway through," says Brown. "It's like when you're cooking, and midway through you decide to leave out one ingredient because you don't like it or you're not comfortable with it. Doing that changes the flavor of the whole meal."
In the case of Guerin's home, "the black eaves are so important," Brown says. "They play into what's happening inside."
To see exactly how Brown brought Guerin's modern vision to life, check out the story on this home in inRegister's May issue, available on newsstands now.