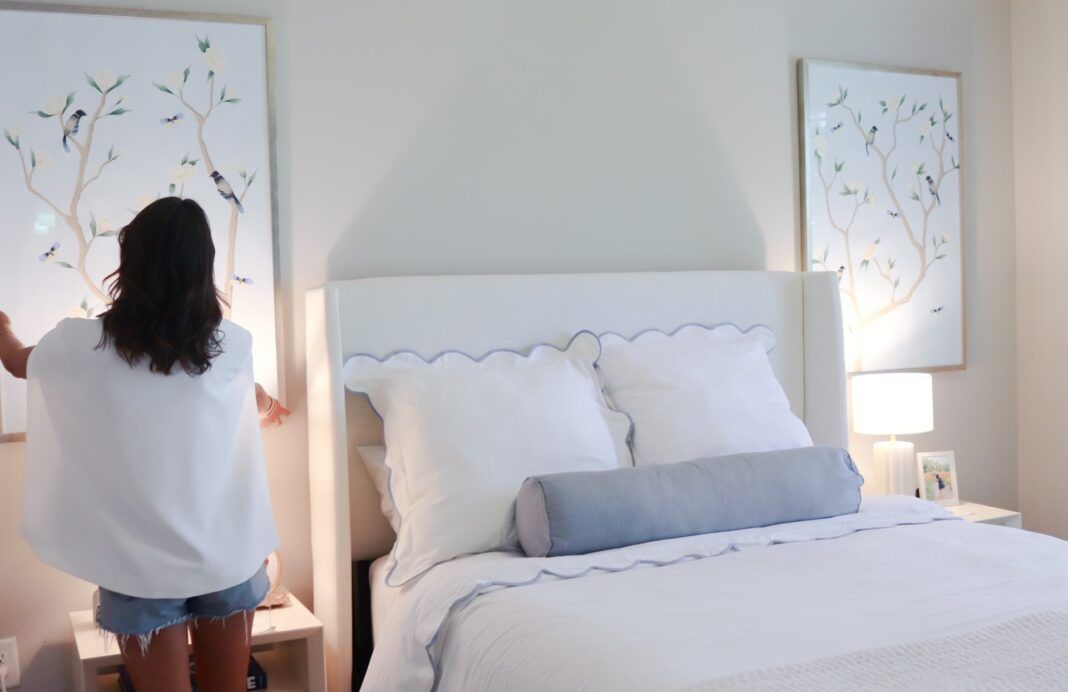 Birds, butterflies and baby blue hues create a calming bedroom retreat
While we'll always have a love for bright colors and loud prints, there's something about the simplicity of this bedroom retreat that feels serene. After a long day of college classes and stressful exams, Annie Pizzolato can regain her calm thanks to the help of LSU senior interior design student Mae Moore. With this being Moore's first solo project, she admits she was hesitant at first.
"But I realized the potential that this opportunity held, and it was a learning experience that I'm forever grateful for," Moore says. With her first project in the books, she has gained a sense of confidence in her abilities as a designer.
"My primary objective was to select furnishings and color palettes that would generate a sense of warmth and coziness while upholding an air of chic sophistication," Moore says. "Given that Annie is still in college, I wanted to bring a youthful energy into the room, while still ensuring its timelessness."
Moore has previously interned with a few local designers, including Ty Larkins and Colleen Waguespack, who have helped her to develop her design skills while finding her own individual style.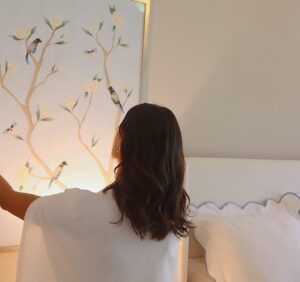 "When it came to my most cherished aspect of the project, selecting the artwork comes to mind. I was certain I wanted to collaborate with Cora," she says of local artist Cora Barhorst. "My vision involved infusing the space with a French design influence, which led me to commission two large chinoiserie paintings, customized to align perfectly with my design concept."
Featured on inRegister's April cover, artist Cora Barhorst also got out of her comfort zone while working on this project, creating pieces like these for the very first time.
"I have always imagined taking my backgrounds and making them into larger pieces," Barhorst says in an Instagram post. "When one of my favorite clients asked me to do exactly that, I was scared at first. Before I could change my mind, I said yes! I'm so happy I did."
Moore and Barhorst both agree this was a learning experience in many aspects, but they are thrilled with how everything turned out. "As a longtime friend of Cora, I'm really looking forward to collaborating with her more in the future," Moore says.
---
To keep up with the budding design duo, follow Moore and Barhorst on Instagram.