Sylvia is coming to town: Toy drive for local kids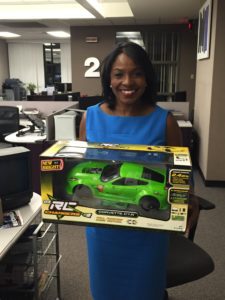 This year marks the third year of WBRZ News anchor Sylvia Weatherspoon's annual toy drive, Sylvia's Toys for Christmas. The program, which serves hundreds of children throughout Baton Rouge, Zachary, and Central, was founded by Weatherspoon in an attempt to "practice what she preaches on TV."
"I was inspired by so many of the wonderful people I feature every Friday night in my 2 Make A Difference segment," explains Weatherspoon of the special, which airs during the 10 p.m. news. "People in all age groups, from all walks of life who see a need and do something to help."
Taking a step back from the blessings she and her family are so fortunate to enjoy during the holiday season, Weatherspoon noticed the many children throughout the community who would not be able to experience the joy of receiving what was written on their list to Santa Claus. Through her annual drive, Weatherspoon aims to bring the community together in service to families throughout the Baton Rouge area that would otherwise go without.
"Last year, I had the honor of standing next to Bishop Robert Muench to help distribute about 1,000 toys," says Weatherspoon. "Seeing those big smiles while getting tons of hugs from happy little children and even some parents–honestly to me, that's what making a difference looks like."
From November 24 to December 17, Weatherspoon encourages Baton Rougeans to generously donate unwrapped, new toys for children between the ages of 1 and 12 to one of the Sylvia's Toys for Christmas collection locations. The locations include any area location of Chick-fil-A, the WBRZ studio, as well as St. Vincent DePaul. Financial donations are also greatly appreciated.
To donate or learn more about Sylvia's Toys for Christmas, visit wbrz.com. And read more about Weatherspoon's life on and off the camera in this article from the inRegister archives.