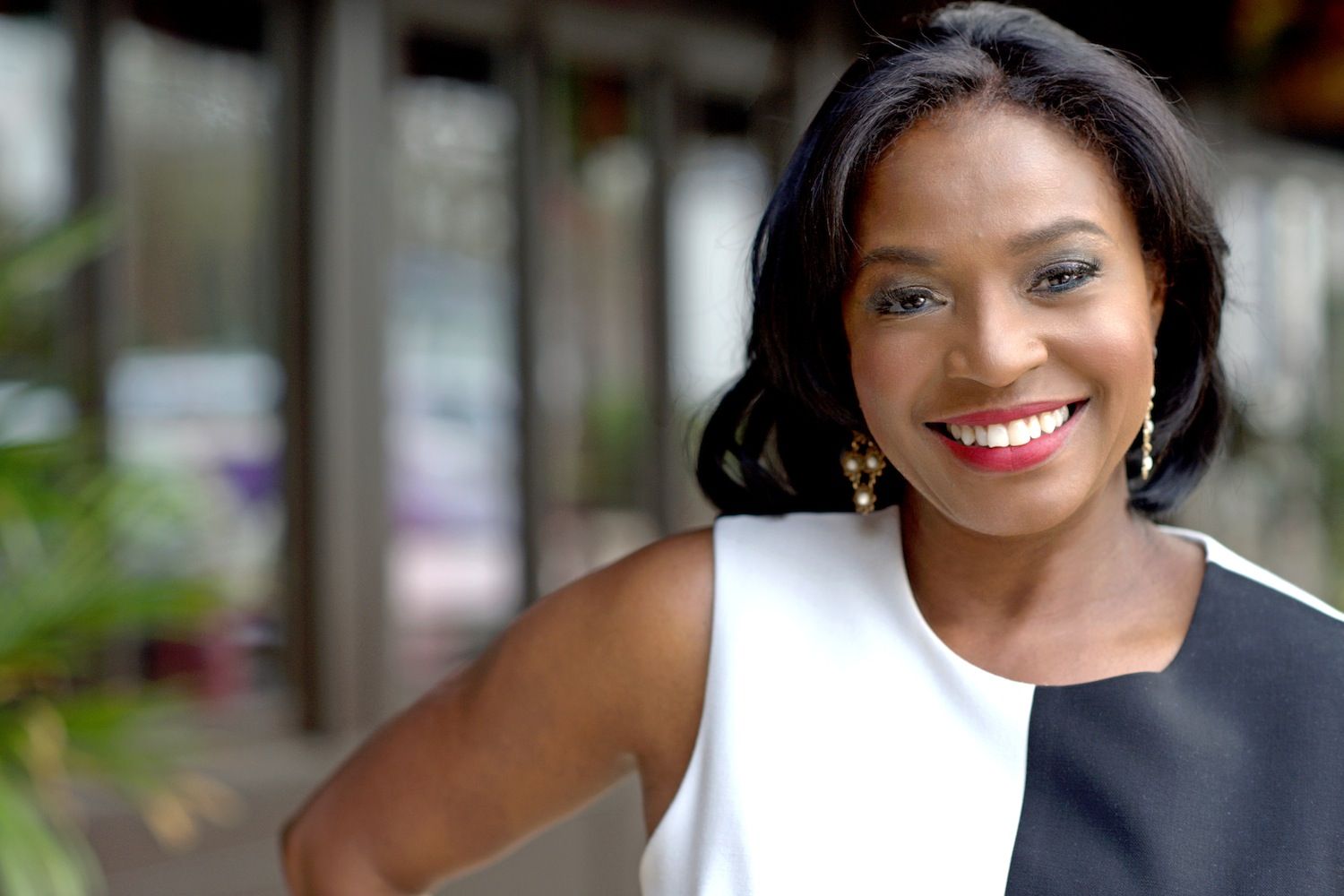 Photo by Jeannie Frey Rhodes
Behind local news personality Sylvia Weatherspoon's sunny smile is a steadfast determination to highlight everyday heroes
Artificial flowers were piled high in the buggy before her. The woman pushing the cart, Charlene Johnson, confided that she was making more than 60 corsages and a few dozen table arrangements for a senior citizens' Christmas party at Shiloh Baptist Church. And she was struggling with breast and bone cancer. Within a matter of moments, local journalist Sylvia Weatherspoon had made a new friend and found an encouraging story to share.
"She has a servant's heart, always looking for ways to help or encourage others," says Weatherspoon, who featured Johnson on WBRZ's "2 Make a Difference" news segment in December. "She hopes to be an inspiration for others battling cancer or any challenge."
Weatherspoon loves to spotlight the simple goodness in others. As a longtime WBRZ news anchor, she has covered everything from crime to politics with a keen sense of reporting. But it is the inspirational stories of everyday people that fuel her passion for journalism. She is interested and sincere.
"One of the things I love about Sylvia is that she really loves people," says friend Kathy Moise. "She is genuine in her love for others."
Weatherspoon, 52, has been working in local journalism for about 30 years. Her career started in radio, a consequence of accompanying an LSU classmate to a radio show taping at a now defunct station. She was asked to read a line of copy, and the producer liked the way she sounded. It led to return trips to the station to read more and more copy and, eventually, to a job as a DJ.
After graduating from LSU with a degree in journalism, Weatherspoon was picked up by AM station WJBO, where she read news spots. She later moved to WAFB-TV, where she delivered morning news cut-ins. In 1993 she began her career at WBRZ.
"I remember when she applied for that job and had an interview. She called to tell me," recalls Ed Pratt, a longtime friend and a former editor at The Advocate, who now serves as Southern University's assistant to the chancellor for media relations. "It was interesting to see her determination to get a job in that area. In fact, 'determined' is a word I would use to describe her."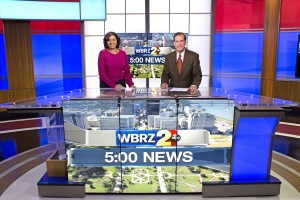 Born in the Mississippi Delta town of Clarksdale, Weatherspoon moved to Baton Rouge as a small child and was brought up by her great-aunt and great-uncle in Old South Baton Rouge. Her birth mother was unable to take care of her, Weatherspoon says, but her great-aunt had always wanted a baby girl; her only child had been stillborn. She became like a mother to Weatherspoon, who always referred to this aunt as "Mom."
"My mom was a housekeeper and an entrepreneur. She baked and sold pies and cakes. She also provided child care sitting services," says Weatherspoon. "I grew up in Old South Baton Rouge on a street where most of the women were widows, so many of them were my first examples of successful entrepreneurs, including my mom. One neighbor built a hair salon on the back of her home; she did hair and nails. Another was a seamstress. Another leased her property. They all instilled great values in me about setting goals, about family, and about serving others and giving back to the community."
Despite her adopted mother's lack of formal schooling, Weatherspoon was raised believing education was a crucial step to future success. Her mom made sure she stayed on track in school and unwittingly planted the seed for Weatherspoon's future profession.
"My mom was a serious news junkie," Weatherspoon recalls. "When the evening news was on, you did not talk or she would make you leave the room. She enjoyed knowing what was going on in the community and the world."
Weatherspoon met her husband Donald while she was a student at McKinley High School. Their son Donald Jr. is now 26, and their daughter Taylor is 21. Her adoptive mother died when Weatherspoon's son was young, but she still had a chance to see Weatherspoon as a happy and successful adult.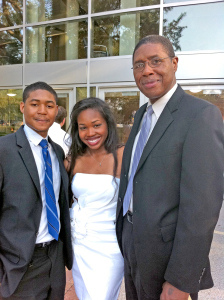 "I know her prayers and belief in me are the main reasons why I have accomplished many of my goals," says Weatherspoon.
During her tenure on the air, Weatherspoon has covered plenty of hard news, including crime, a dramatic house fire, and an accident on the Mississippi River Bridge. The story that stands out most in her mind, however, is her 2013 coverage of Trevor Sims, the young terminal cancer patient who encouraged people everywhere to give to the hungry as his dying wish.
Weatherspoon was originally covering another young person with cancer when she heard about Sims, who had been given a short life expectancy. "Talking to him was like talking to an older man who had lived this long life," recalls Weatherspoon. "I would ask him how he dealt with the idea of dying, and he said, 'Well, I'm going to get to see my grandma and God.' He was just amazing."
When Sims began encouraging people to donate food to help fight hunger, the phenomenal response spread across Baton Rouge. The story was picked up in 40 states before the boy died in October 2013, recalls Weatherspoon. "I will never forget him," she says. "I am so thankful that God gave me the opportunity to share his story. It affected me in an amazing way."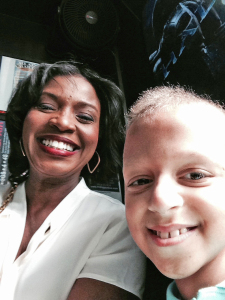 The news, indeed, is heart wrenching at times, but Weatherspoon balances it with a relentlessly positive outlook, say her friends.
"She is fun-loving, encouraging and upbeat, and she sees the best in people," Moise says. "She notices their good qualities and tries to affirm them."
Friend Leslie Bostick, a Baton Rouge pediatrician, says the kind and focused demeanor that Weatherspoon transmits on-air is exactly how she is in person. "She's not one of those people who's different on camera," says Bostick, who has counted Weatherspoon among her closest confidants for 15 years. "She is genuine. There's no arrogance, presumption or pride."
Over the course of Weatherspoon's career, she has found a way to juggle work and family, placing a high priority on spending quality time at home. She's an avid gardener (another of her mom's many influences) and a big fan of HGTV and floral expert P. Allen Smith. She also loves to travel. Cooking, however, isn't her favorite pastime.
"I like entertaining and I like to eat, but I don't like to cook," she says. "My mother-in-law and my daughter are both great cooks, and I cook now more than I used to. I make a few things, like roast and red beans and rice."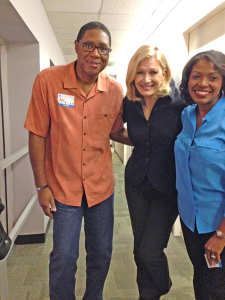 Weatherspoon says balance and prayer are her means of keeping her head above water. Her personal Twitter feed is a tidy example. She tweets numerous news headlines, but occasionally she will toss in a few words of inspiration and a Bible verse. And helping to offset the often grim subject matter that dominates her newscasts at 5, 6 and 10 p.m., Weatherspoon's special "2 Make a Difference" segment allows her to highlight good news in the community. It features regular Baton Rougeans driven to give back and effect change. Trevor Sims appeared more than once on the segment, which airs on Fridays.
"There is so much good in the community, and I wanted to show it," she says. "Since we started [the segment], I have been bombarded with story ideas. I feel like it's my responsibility to share the good news."
Inspiration sometimes comes from standing in line.
"I don't meet strangers," she says. "I just talk to everybody. That's how I get a lot of stories."