From the September issue: Dare to dance
From competitive dancer with Tari's School of Dance to Catholic High Bruinette to LSU Golden Girl and finally Dallas Cowboys Cheerleader, Tess Guidry has the impressive dance resumé that most young dancers dream of. However, Guidry's career has not been one of uninterrupted success. After two failed attempts at LSU Golden Girls, Guidry found herself re-evaluating her future in the dance world.
"At one point she wasn't going to try out a third time, but I encouraged her to, and I'm glad because that might've been the end of it," says Guidry's teacher and friend, Blair Buras Guillaume.
Making the Golden Girls team on her third try, Guidry credits her early struggles with giving her the confidence, and skill set, to reach for the far-fetched goal of Dallas Cowboys Cheerleader.
"After Golden Girls, I knew how much preparation had to go into every audition," says Guidry. "I pretty much faced any type of failure there was in the sport of dance. So failure wasn't as much of a fear in my audition because I knew I could handle whatever happened."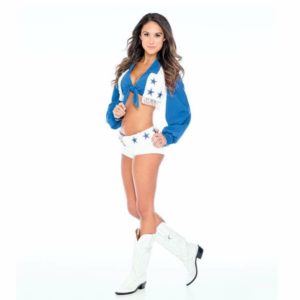 Now a proud occupant of the DCC locker room, with her own cowboy-boot-clad photo hanging prominently above her space, Guidry looks fondly on her past failures and encourages others to use the struggles in their lives as motivation rather than discouragement.
"I had a lot of friends in high school and in college who said 'this is my last time dancing' and that was heartbreaking to me," Guidry says. "I know it is in my heart that I want to keep dancing. Making DCC validated that I should keep doing what I love."
For more about Guidry and her tenacious journey through the world of dance, check out this story from the September issue of inRegister, available on newsstands now.