Ringing up and reaching out
Christian Outreach Center Executive Director Brian Sleeth inside the nonprofit's thrift store
Photos by Lindsey Holland
Brian Sleeth told God this sort of thing wasn't supposed to happen to him. He was the overachiever. He went to seminary school. He built churches.
He wasn't supposed to be homeless.
But after the recession, Sleeth found himself in that position. Now the executive director of a homelessness prevention ministry, the Christian Outreach Center in downtown Baton Rouge, he believes God was preparing him for the road ahead. Sleeth, who has been in his position a year and a half, says he can relate to the clients he helps and is able to better understand their dynamics because of his past.
"This is a calling, not a job," he says.
The nonprofit is supported by four member churches—First Methodist, First Presbyterian, First Baptist and St. Joseph Cathedral. It helps individuals from square one to self-sufficiency and offers transportation to and from the worksites of its day-labor ministry, Christian Outreach Transitional Employment Services. Other services include counseling, mentoring, job training and life coaching.
The Purple Cow thrift store opened in 2004 on Jones Creek Road as a means to financially support the nonprofit. Some of the clients work there through the transitional job and day-labor ministry. A second location opened in August 2014 on Perkins Road.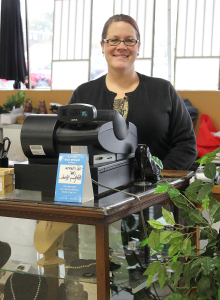 Melinda Colson, general manager of the Perkins Road store, says for her the Purple Cow isn't just a job, nor is it simply a good deal for the customers. She says she's encouraged her friends and family to visit and shop the Purple Cow because of its mission.
"I tell them with an honest face, 'Our executive director doesn't live in a mansion in California,'" she says, smiling. "Our customers know where their money is going."
Sleeth says he is striving for a qualitative ministry rather than a quantitative one.
"Numbers may be important, yeah, but we just want to be found faithful in what we're doing," he says.
At the end of one of the ministry events the Christian Outreach Center offers, those in attendance hold hands and recite the Lord's Prayer.
"It sends chills down my spine to see and help make incredible changes in people's lives," Sleeth says. "To me, that's a life well spent."
How you can help:
If you have a project day laborers can help out with, contact the Christian Outreach Center at 377-8582.
Donations to the Purple Cow are accepted during regular business hours at 6586 Jones Creek Rd. and 3651 Perkins Rd. The stores are especially in need of household items and furniture. To schedule a pickup of items you wish to donate, call the Jones Creek store at 751-3262.