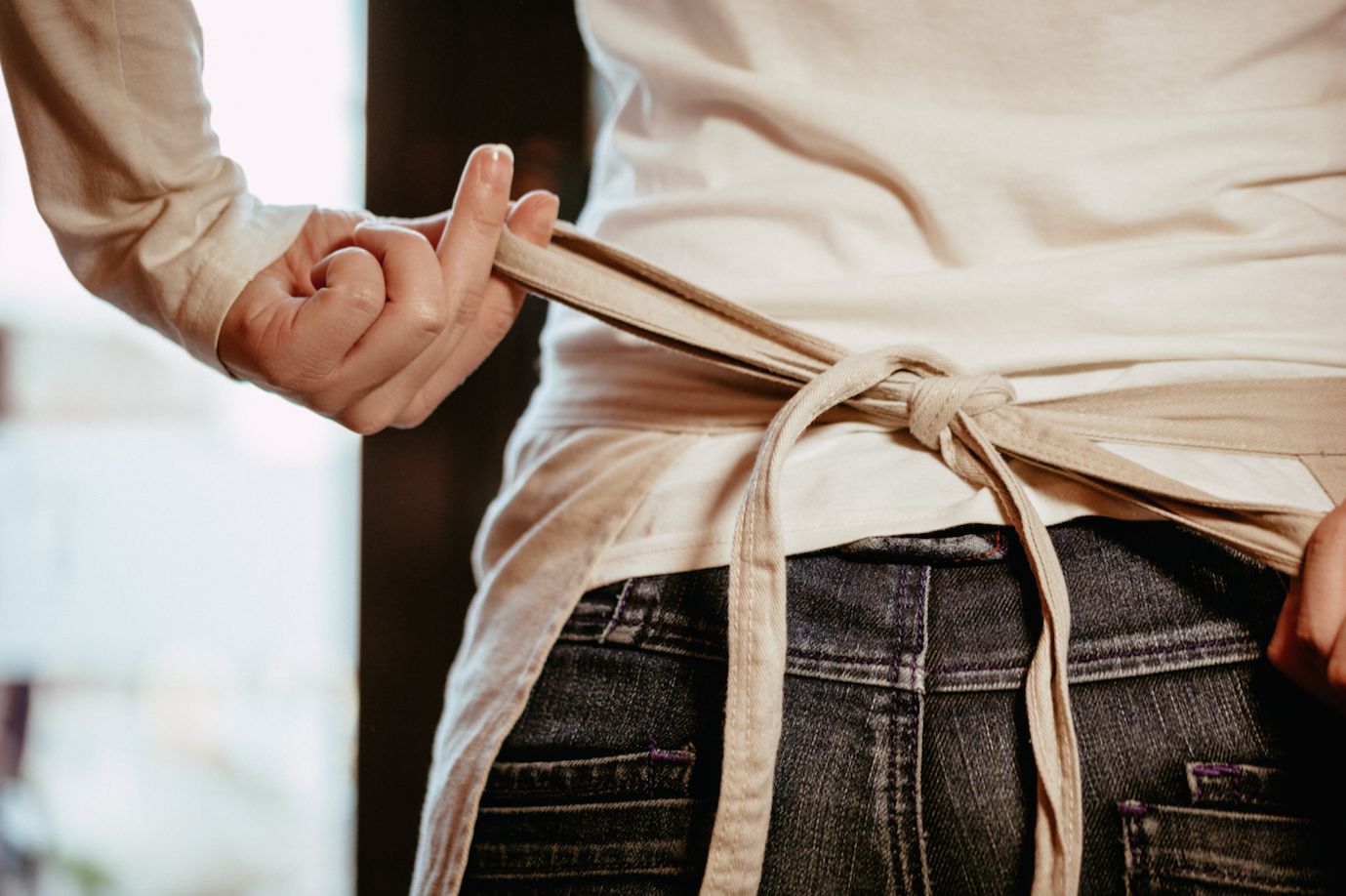 Publisher's view: I'm not really a waitress
Life would be incredibly more interesting if we each had an intriguing backstory, wouldn't it? If we carried with us an air of mystery beyond the high school we attended and the city we were born. If we had a history that was magnificent and glamorous and courageous.
If we were someone else entirely, that is. Someone fabulous.
The J. Peterman catalog—not just a Seinfeld joke—thrives on this concept. The company was founded in 1987 and its first product was a horseman's duster, an unusually antiquated choice given 1980s fashion. But the owner knew that consumers wanted a history. We wanted clothes that wove romantic tales. A single dress that could change our life's course.
The Aegean Sea is a mere backdrop.
You are in an even more mysterious shade of blue.
Enveloped in a long, flowing silhouette coupled with a certain bearing that has managed to intimidate everyone except that persistent shipping magnate who has followed you on the wraparound terrace. It's not easy being a Greek goddess these days, but you'll manage.
This is the J. Peterman ad selling the Greek Goddess Dress, in the color Mystery Blue. I'll have one of those, please. My college English professor, in the early 1990s, made us subscribe to this catalog to prove that good writing could entice people to action. In this case, it entices us to buy expensive clothing that can only be seen in illustrations. You are buying the story.
And what stories they are.
Whisky-scented words describe vintage-style men's attire which may hint at hidden hedge funds or, at the very least, the ability to wrangle cattle. Charm and allure make a simple seersucker dress the perfect choice for a seaside picnic (if one ever goes to a picnic by the sea) and the vintage lace dress would be ideal for a night out in Montmartre.
Doesn't Montmartre sound chic?
Must like French cooking. Etta James. Broadway. Movies made between 1937 and 1962. Disturbing literature. Spirited horses. Ability to pack light. Open to impromptu world travel.
The 1940s Cord Dress, advertised above, sounds right up my alley. As long as it is an interesting alley filled with intrigue and glamour and excitement. I love Etta James. I like French cooking. I can pack light.
But reality hits when I realize that my alley is filled instead with mildewed clothes found under a teen's bed, an overflowing bucket of kids' shoes by the back door and a grocery list a mile long. And I can't find a working ballpoint pen in the house. This alley doesn't seem so romantic after all.
At the end of the 1990s, OPI came out with a bold red nail polish called "I'm Not Really a Waitress." Brilliant. I wore it for the name alone, although the color itself is fantastic. Other favorite nail color names include "You Don't Know Jaques" and "My Address is 'Hollywood'." And how can you not own the room with nails lacquered in "She's a Bad Muffuletta"? And it's not just nails. When I'm having a frumpy day, I lather my lips in Revlon's "Wine with Everything" and pretend I'm sipping a pinot on Place Saint-Sulpice in Paris.
Words matter. Words make a difference. Words can transform us, only for a minute, from the mundane into the magnificent.
And I think every last one of us strives for something a bit more magnificent than what we are. Because a simple life seems so mundane.
But is it really?
Certainly, a simple life lived under the radar is what one craves when our lives are in crisis. A critically ill parent, a wayward teen, or a marriage on the outs makes us recognize that the blessings of an ordinary day are more than enough to sustain us. It allows us to see the sunrise with anticipation and be thankful for the familiar people in our lives. It reminds us that health is a gift and every day should be celebrated for the regular day it is.
But it is so hard to do.
It's hard to appreciate the hand that wants to hold yours when that hand is sticky and snotty and attached to a three-year-old. It's hard to appreciate the checks that come in when they go right back out to pay for schools, and car notes and a new air conditioner. It's hard to appreciate the meal on the table when the meat is overcooked because you were distracted taking clothes out of the washing machine.
It's hard to be satisfied in the now.
Thankfully, there is a mother lode of simple goods out there with the ability to change you into something magnificent. At least it will change you out of your yoga pants.
Did you find the meat to be a bit well done for your liking?
So sorry.
I'm not really a waitress.