Publisher's view: Don't stop believin'
---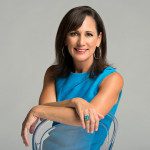 "The client isn't pleased with your work," the editor said over the phone. "We are having a face-to-face meeting on Tuesday, and we'd like you to be there so we can all discuss in person." I was petrified. I had been hired by the Baton Rouge Business Report to write an article for a particular client—and the client was angry. After the Tuesday meeting, in which the client did claim that I didn't properly describe the essence of his company, the Business Report paid me off then hired a new writer to rewrite the story for publication.
I was a failure. I had let myself down and the company who hired me as a freelance writer. I cost them money. I cried all the way home.
The year was 2001, I was 27 years old, and my writing career was over. Kaput. What else was I decent at? I couldn't sew, I couldn't tell a tibia from a fibula, and I wasn't the best at simple math. All I had ever wanted to do was write in a creative way and tell stories. But my embarrassment at failure paralyzed me. I was a fake.
Three days later, the Business Report special project editor called me to offer me another writing assignment. I was stunned.
"Are you sure you want me to do it—after Tuesday, and all?" I asked. I was sure I would never hear from the Business Report again.
"Oh, of course," said the editor. "You're a good writer. That was one story. Don't let that bother you."
Oh, it bothered me, all right. But I took the assignment, and the next one, and the next one after that. And I slowly regained some confidence, and I grew in my technique, and I didn't quit my craft.
But I never forgot that acidic taste of failure.
Certainly, I had failed before, but this failure involved accusations and finger pointing and new promises made and money—not my money—exchanging hands. I was mortified.
But it's the getting back up and moving forward that matters.
We've got to let our kids fail so they will know how to get back up.
Because failure happens, whether you are fabulous or not. You won't always be spectacular. You won't always knock it out of the park. You won't always make the client happy. You won't always make the team.
The most successful people have significant failure in their past. Of course, the first to come to mind is Michael Jordan, who didn't make his varsity basketball team as a sophomore in high school and was devastated. He increased his effort, and the pattern of defeat followed by success would lead Jordan to the University of North Carolina and later to the NBA.
"I've missed more than 9,000 shots in my career," Jordan says. "I've lost almost 300 games. Twenty-six times, I've been trusted to take the game-winning shot and missed. I've failed over and over and over again in my life. And that is why I succeed."
Most writers have a mass of rejection letters from agents or publishing houses to go along with their success. William Golding's Lord of the Flies was rejected 21 times, Margaret Mitchell's Gone with the Wind was rejected 38 times, and C.S. Lewis reportedly received over 800 rejections before he sold a single piece of writing.
But J.K. Rowling's always stands out most to me. She was a penniless, jobless single mother with a restraining order against her ex-husband. Many months she could not pay her rent and barely put food on the table. But she had an idea for a story. And even though she had never been an exceptional student—she was denied admission to Oxford University—and despite that she had never had a story published, she wrote. It took her five years to finish the first Harry Potter novel, and she was rejected by 12 publishing houses. On the 13th try, Rowling got lucky when Bloomsbury agreed to publish her novel. But it was advised that she find a day job because Bloomsbury estimated the book might make her a few thousand dollars, max.
We know how that story ends.
"Had I really succeeded at anything else, I might never have found the determination to succeed in the one arena I believed I truly belonged," says Rowling. "I was set free, because my greatest fear had been realized, and I was still alive, and I still had a daughter whom I adored, and I had an old typewriter and a big idea. And so rock bottom became the solid foundation on which I rebuilt my life."
Rowling learned through failure how to succeed. And she also recognized that persistence, determination and effort are critically important. She did not let failure define her.
Everyone is going to fail. Some publicly, some privately. And it hurts. And it hurts to watch your kids fail, but it's part of the growing process. Get out of their business, and let them fall down a time or two.
It's the getting back up and moving forward that matters.