From the October issue: Arts Routes program broadens artistic perspectives through travel
This past June, 10 members of the Baton Rouge community found themselves sitting in the private theatre of the Yusupov Palace in Russia, taking in the dreamlike luxury of Russian wealth and art. They were surrounded by curtains of rich red velvet, gilded walls, and mesmerizing Renaissance paintings on the sky-high ceilings. And through the air rang the serenades of an a capella quintet.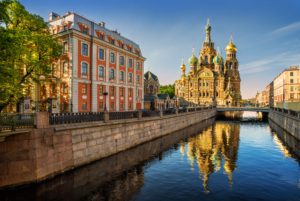 "It is one of the really beautiful things about traveling when you happen upon this genuine, sublime moment," says Renee Chatelain, president and CEO of the Arts Council of Greater Baton Rouge. "We were just in awe."
This was only one of countless such moments in Russia on the Art Routes inaugural excursion. The Arts Council's newest initiative, working in conjunction with Astrid Solo Travel Advisor, promises to provide "opportunities for travelers to deepen their understanding of the world through the arts and to generate innovative and creative ideas for the local community."
Though this initiative takes travelers across the world, Chatelain emphasizes its purpose is to bring new perspectives back to Baton Rouge. "To see other parts of the world and to bring that experience back to your own home is invaluable," she says. "Bringing community leaders, artists and passionate residents together in this way can develop some really great ideas that, then, the Arts Council can implement to improve where we live."
Chatelain is already preparing for future excursions, including this summer's trip to San Miguel de Allende, Mexico. She is also looking to create adventures closer to home in other parts of the United States and even to other cities here in Louisiana.
To read more about the group's time in Russia and about the Art Routes program, read this article from the October issue of inRegister, on stands now.